This post may contain affiliate links, which means I may receive a small commission, at no cost to you, if you make a purchase through a link!
Striped Grey Maxi Dress with Pockets is today's featured look and one I am so excited to talk to you about. I got so many messages about my new profile photo dress and my IG post featuring Karen McManus. THANK YOU to everyone who wrote in. I love hearing from all of you and hearing what you think of my outfits! So today, I am showcasing this striped grey maxi dress with pockets!
First of all, this maxi dress has pockets!
Yes, you read that correctly…POCKETS. I discovered this after I tried it on, and literally, it made my day. I love outfits with pockets because you cannot go wrong with a dress with pockets! They are deep enough too for me to put stuff in them, which is great.
Second of all, this maxi dress is striped!
I love stripes, BUT I love stripes when they are vertical because they make you look slimmer. This maxi achieves just that. The vertical stripes on top add a dimensional look to this maxi that I love.
Third of all, I love the length!
I will say this maxi dress was a tad long for me being five feet. It was also tight at the bottom, so I couldn't walk fast. BUT I discovered you can tie the hemline of the maxi. It adds a trendy twist, so when I want to wear white tennis shoes, I can.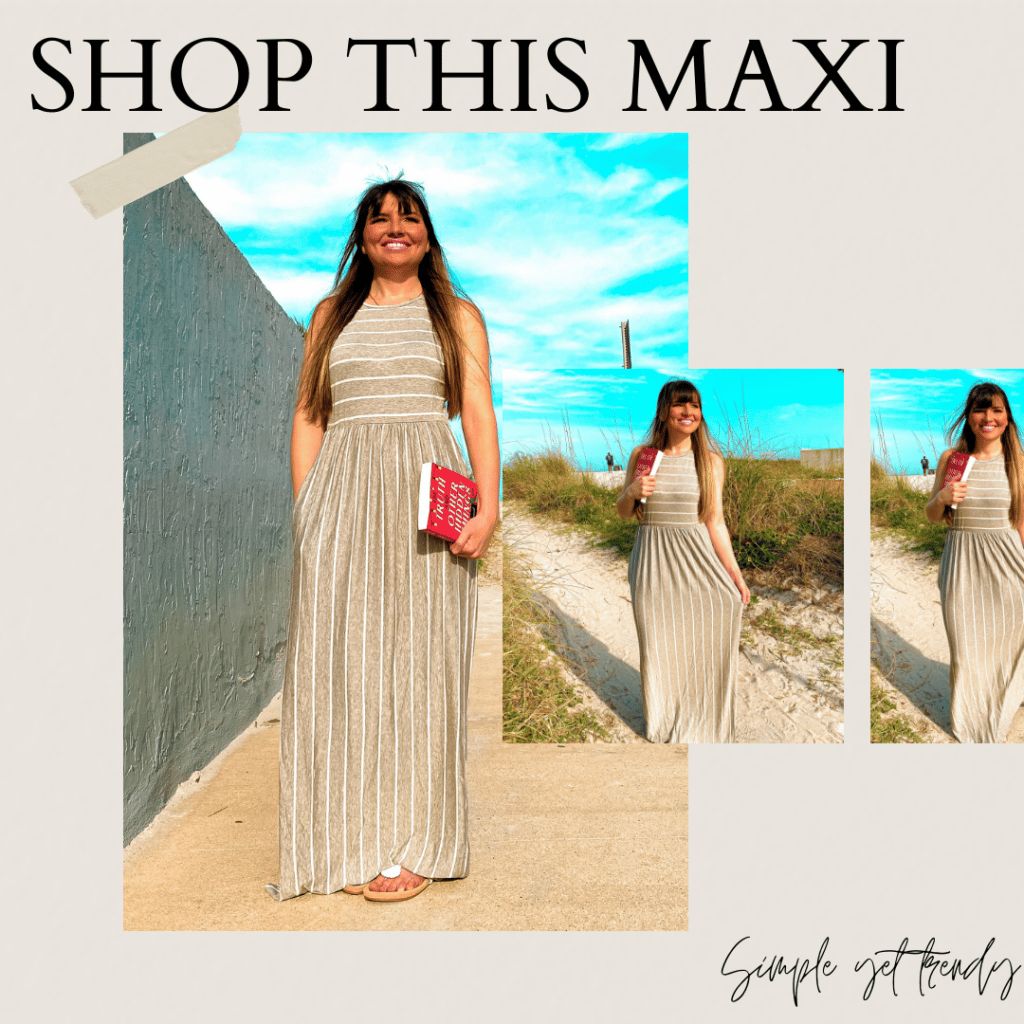 Finally, the price!
This maxi dress comes in at $26.98…yes, you read that right. It is SO worth the price. The quality, the material, the print…it is all pitch-perfect.
Overall, I do recommend this maxi. It is super soft and casual with a trendy twist. You can add a long necklace for a night out or a denim jacket. It is the perfect mix for a day or night out. I personally wore this for a beach day and then a fun night out at a café. For the chillier weather at night, I added a denim jacket and still felt cute.
What do you think of this look? YAY or NAY?
SHOP this look on AMAZON!
Do you have more questions or want to see your business/product featured? Contact me. Also, don't forget to check out my feature on Feedspot's Top 100 YA Book Blogs!