This post may contain affiliate links, which means I may receive a small commission, at no cost to you, if you make a purchase through a link!
I'm beyond excited to chat with Viola again! Viola was on my Book Hour, and we had so much fun chatting. When I heard about Viola's new book out, The Edge of Summer, I couldn't wait to chat about it. So let's not wait any longer!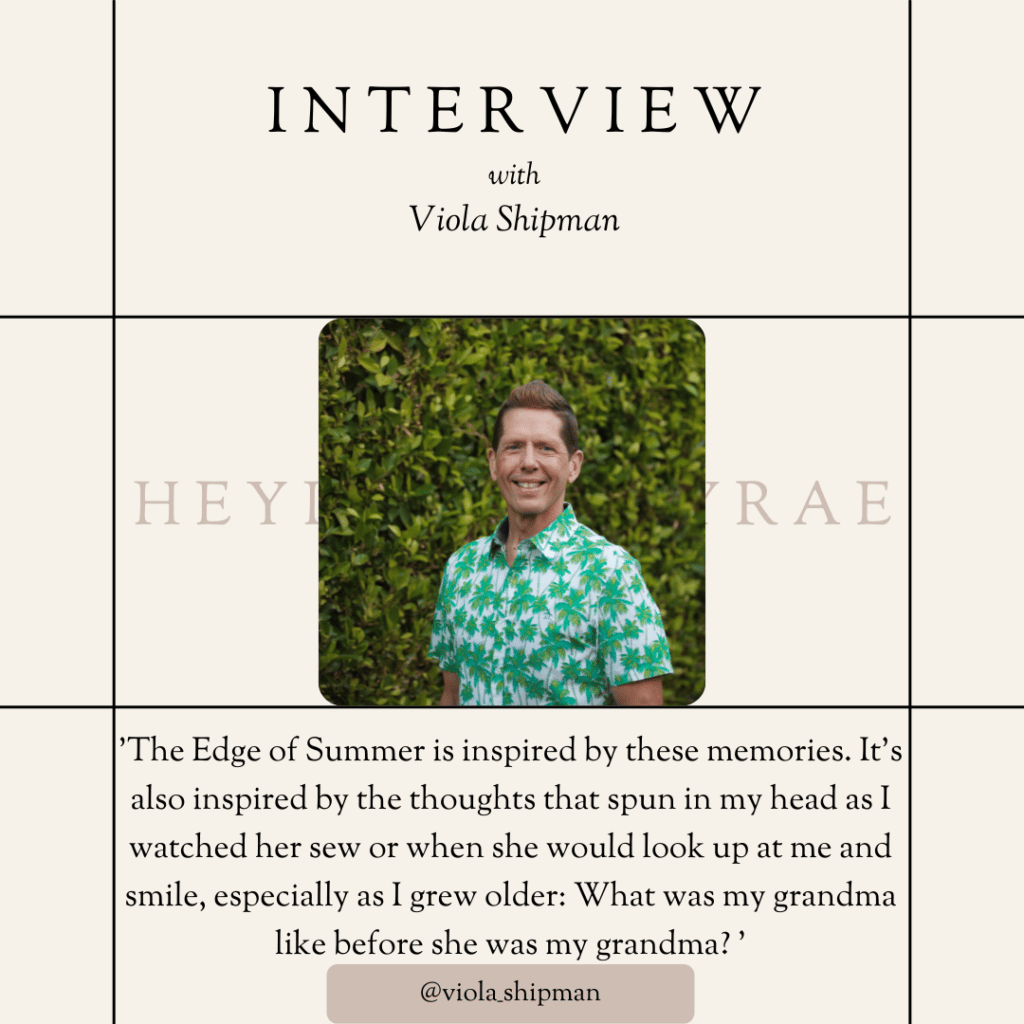 Welcome Viola! Tell us more about The Edge of Summer.
Not only is it the perfect beach read (and my favorite novel to date), but it's also deeply personal. The novel was inspired by my Grandma Shipman's (my pen name in honor of my working poor Ozarks grandmother) buttons and button jars. I grew up in my grandma's sewing room, watching her make my school clothes, dresses from McCall's patterns, or turn scraps into beautiful quilts.
My Grandma Shipman stitched overalls at a local factory until she couldn't stand straight. But even after sewing all day for work, nothing brought her more joy than taking a seat at her Singer. It represented one of the first times in my life I was able to witness in real-time what happens when talent meets inspiration: Incredible joy. Work is no longer work. That changed my life. My grandma had a Singer sewing machine, and I thought it was the most beautiful thing in the world: Black with a beautiful gold inlay pattern atop the original, old treadle oak cabinet, glowing with a rich patina.
My grandma was like a ballerina at her Singer, her body in motion and in tune with the machine. It was a gorgeous dance to watch. She was also the first "artist" I ever knew, though she would blush at the mere utterance of such a fancy word.
The Edge of Summer is inspired by these memories. It's also inspired by the thoughts that spun in my head as I watched her sew or when she would look up at me and smile, especially as I grew older: What was my grandma like before she was my grandma? Did I know everything about her? Where did this love of – and great skill for – sewing and design come from? And although I knew of her sacrifices, I wondered how much she truly had to sacrifice – and maybe even hide – in order to get here, right now, happy and sewing in a home with her grandchild watching her work?
The Edge of Summer is a captivating summertime escape set along the sparkling shores of Lake Michigan, where a woman searches for clues to her secretive mother's past.
Devastated by the sudden death of her mother—a quiet, loving, and intensely private Southern seamstress called Miss Mabel, who overflowed with pearls of Ozarks wisdom but never spoke of her own family—fashion designer Sutton Douglas makes the impulsive decision to pack up and head north to the Michigan resort town where she believes she'll find answers to the lifelong questions she's had about not only her mother's past but also her own place in the world.
Recalling Miss Mabel's sewing notions that were her childhood toys, Sutton buys a collection of buttons at an estate sale from Bonnie Lyons, the imposing matriarch of the lakeside community. Propelled by a handful of trinkets left behind by her mother and glimpses into the history of the magical lakeshore town, Sutton becomes tantalized by the possibility that Bonnie is the grandmother she never knew. But is she?
As Sutton cautiously befriends Bonnie and is taken into her confidence, she begins to uncover the secrets about her family that Miss Mabel so carefully hid and about the role that Sutton herself unwittingly played in it all. Reminiscent of the complex, uplifting family stories by Nancy Thayer, Sunny Hostin, Elin Hilderbrand, and Mary Alice Monroe, my poignant new novel explores the relationship between a curious woman and her secretive mother, taking readers from their hardscrabble life in the Ozarks to her search for answers along the sparkling shores of Lake Michigan.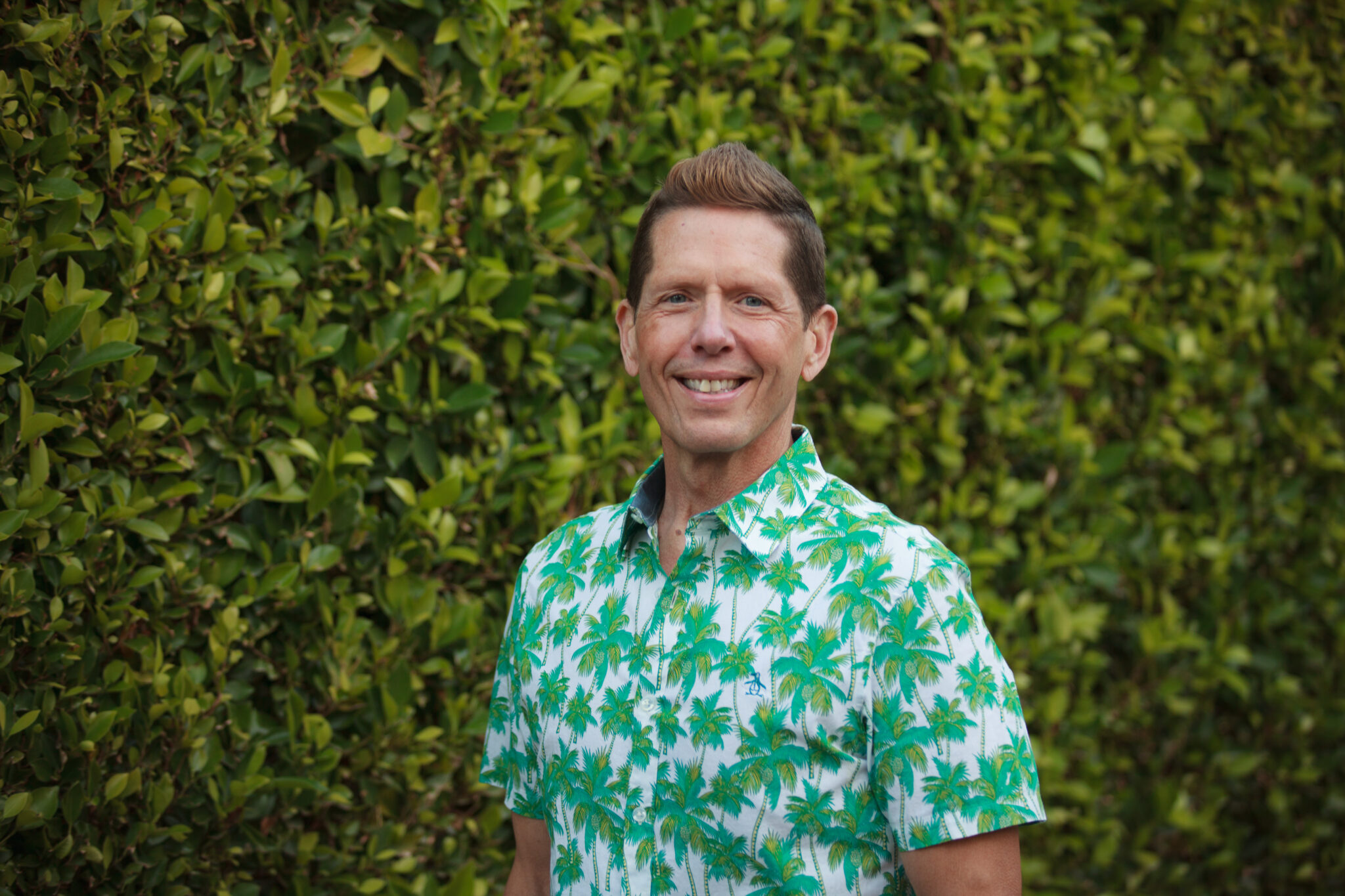 What made you decide to set The Edge of Summer along Lake Michigan?
First, I live in (and love!) the stunningly beautiful resort towns of Saugatuck-Douglas, Michigan, where the novel is set. It's akin to Nantucket or the Hamptons with gorgeous beaches, dramatic dunes, blue, unsalted Lake Michigan, and a rich history of being a mecca to artists (it's known as the Art Coast of Michigan). All of that drew me here to live and create, and it does the same for the novel's protagonist, Sutton, who follows what she believes are clues in the buttons and sewing notions her mother left behind in these towns. Art and creativity play a huge role in the novel, and the town's incredible arts scene (including historic Ox-Bow, an artist retreat affiliated with the Chicago Art Institute) changes Sutton.
Moreover, the novel includes the real and fascinating history surrounding the pearl button industry in the United States, one of the largest employers in the U.S. at the turn of the century, much of which took place in and along the rivers in the Midwest and Great Lakes from Iowa and Indiana to Missouri and Michigan (this is truly the "story behind the story" in my new novel). The stories of the clammers (the men who would pollywog and rake rivers for the clams), how button cutters created the blanks from the mussel's pearly shells, and how women sanded those on emery wheels to turn them into beautiful buttons before bringing them home to sew onto cards, earning one cent for every five cards they made fill the pages, shape the characters' back stories and inform us of our past and future. It all came together here!
What inspired you to create the story of protagonist Sutton Douglas?
You! I know how much you love fashion (as I do). Honestly, I've long been fascinated by fashion designers, starting with my grandma. The skill and creativity (and understanding of shapes, bodies, colors, trends, and fabrics) has long intrigued me, and I have a couple of dear friends who are in the industry. I thought this career would make for a fascinating lead character, especially one whose roots started in her mother's sewing room.
A character who has been successful in taking something old-fashioned (heirloom and pearl buttons) and making them trendy again via her own label (Sutton's Buttons). She's also emotionally complex because, despite her success, she feels a bit ashamed of her poor working roots in the world in which she lives and works. Sutton is a fascinating woman seeking to find herself – and new inspiration – and I think readers will love her.
Do you go to a lot of estate sales?
Ha! Did you microchip me? I LOVE this question. I do. I'm a junker (as we used to say in the Ozarks). I love to antique, hit estate sales, stop alongside the road … whatever, whenever. My Michigan cottage is populated with an eclectic mix of antiques, heirlooms, art, and new furnishings. Our Palm Springs home is filled with mid-century finds. I love to collect McCoy vases, vintage Helmscene lighted pictures, camp blankets and summer camp pennants, and mid-century lamps, furniture, glass, and glassware. I could go on and on and on …
Did you have a favorite part of crafting The Edge of Summer?
I truly loved everything about writing this novel. It was the first time I incorporated where I grew up (the Ozarks) with where I now live. Doing the research for the novel was also fascinating. I learned how the buttons my grandmother loved got into her sewing basket (and those of women all over the world).
Also, I loved making a statement in this novel about how our past shapes us and how we too often go in search of shiner, prettier, more expensive, and important objects, and people to make us feel more worthy and so easily toss aside those things and people who made us made us who we are.
Each chapter is centered around a sewing term (zigzag stitch, embellishment, drape, ease). More deeply, how it relates to Sutton as well to our own lives. For instance, have you ever felt "bumble bunched," which is that tangled loop of stitching on the bobbin side of the fabric that results when improper tension is applied to the sewing machine? My grandma used to say that if her day was not going particularly well. Language, like sewing, is fascinating, filled with beauty, history, and fascinating roots.

How long did it take you to draft this story?
I'd been thinking about how I might craft a story based on my memories of my grandma's buttons and button jars for years. I was waiting to find the right time and character to relay exactly what I wanted to say. It all coalesced. But my deadline for the novel (as my deadlines are for my next four novels) was very short: I finished this in about six months. Did I sleep much? No. Did I drink a lot of coffee? Yes. I got so lost in this story I couldn't sleep, though.
What is it you hope readers take away from The Edge of Summer?
I wrote this novel to remind readers that true value and worth lie within and before us. If we just open our eyes and hearts enough to see it. I also wrote this story to remind readers that families are not perfect. They never will be. But – if we were blessed to be loved by our families, as flawed as it may have been, and even if our parents were not who we wished they had been or the love they gave was not as much or as demonstrative as we would have liked – we were still blessed to be loved. At its heart, this novel seeks to ask if we should be thankful for those sacrifices. If maybe, just maybe, that love is enough for us to stitch together a beautiful life and a future.
Before I let you go, tell readers where they can find you on social media.
Readers can find me all over social media (like you)! My website is: www.ViolaShipman.com Facebook is: AuthorViolaShipman Instagram is: viola_shipman Twitter is: @waderouse TikTok is: Viola_Shipman

Anything else you want to add before I let you go?
Yes! I adore you! And I truly hope your readers and followers love this beautiful book as much as I loved writing it! XOXO!
Thank you so much for joining us, Viola! Definitely don't miss your chance to get your copy of The Edge of Summer! Stay tuned for more author interviews! Comment below any questions you have for Viola!
You can follow me on Instagram, Twitter, Facebook, and Pinterest. Don't forget to check out my feature on Feedspot's Top 100 YA Book Blogs! You can also contact me about new reads today!