This post may contain affiliate links, which means I may receive a small commission, at no cost to you, if you make a purchase through a link!
Bookish Besties, today is my interview with author Kristin Beck, and we are talking all about her latest historical novel, The Winter Orphans!
Kristin, tell us more about The Winter Orphans. What can readers expect from this historical novel?
Based on real people and events of World War II, The Winter Orphans tells the story of a hundred Jewish refugee children who escaped from Austria and Germany on the eve of war and the women who fought to save their lives.
Having fled her home in Germany along with her little sister, Ella Rosenthal shelters in a Swiss Red Cross children's colony in southern France. The colony is managed by Rösli Näf, a young woman who vows to do whatever is necessary to keep the children under her care safe. She is joined in this fight by Anne-Marie Piguet, whose expertise in the wilderness becomes indispensable as the danger heightens in France, and the children must consider escaping over mountainous borders.
Readers can expect a moving story about people who lived courageously in the face of staggering risk, choosing to do what was morally right against all odds. Though this is a book that may inspire tears, it is ultimately hopeful because it's about resilience, bravery, and light shining through the darkness.
How did you discover the little-known true story this novel is based on?
While researching my first novel, Courage, My Love, I found numerous references to people escaping into Switzerland during the war. Curious, I began researching related stories and learned about Anne-Marie Piguet forging escape routes from France into Switzerland. Like Anne-Marie, I spent much of my childhood hiking and camping, so I was captivated by the notion that she used her skills in the wilderness to save lives. As I began researching her story, I encountered the tale of Rösli Näf and the home she managed for the Swiss Red Cross in southern France, which was spellbound again. Soon after, the novel began to take shape!
What inspired you to write The Winter Orphans?
I've long been fascinated by stories of women in World War II, who were largely overlooked for many years. My grandmother was a nurse for the Canadian army during the war and served on some of the most notorious battlefronts. I grew up hearing stories of muddy field hospitals in France, bombed-out buildings that became medical units, and hospital trains and gravely wounded men. When my grandmother shared these stories, she was a tiny, elderly woman.
Most people would have imagined that she'd lead a conventional life, yet she had this remarkable and unexpected background. This is what inspires me to look for stories like hers. I love to unearth similar forgotten tales of women in the war and learn about the tremendous bravery with which they navigated unthinkable circumstances. The characters in The Winter Orphans are such people. Thus, their story immediately resonated with me.
---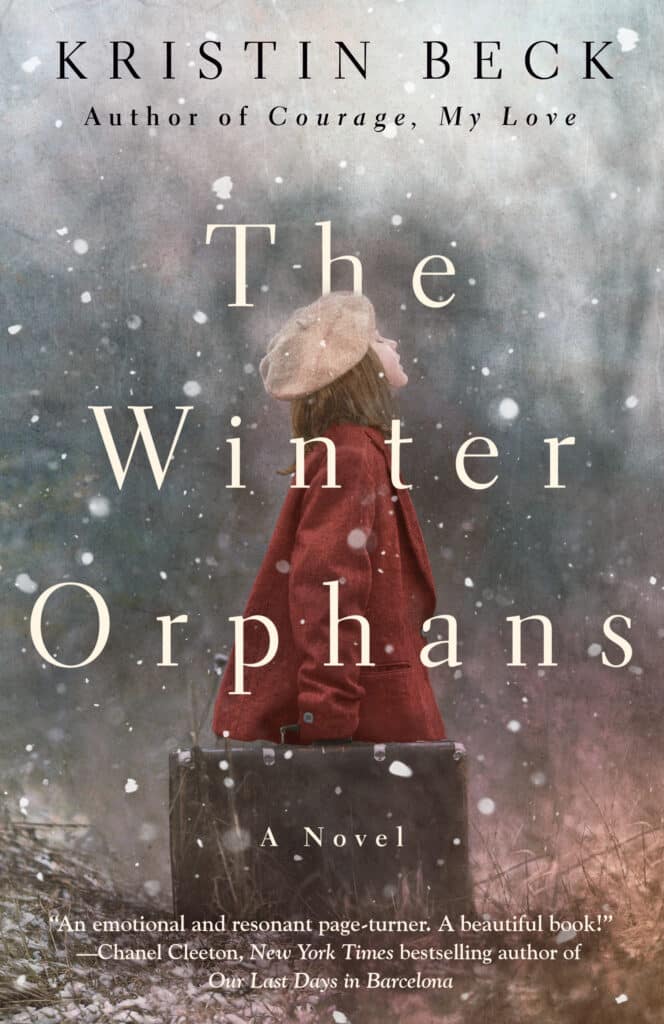 The Winter Orphans by Kristin Beck
Genre: Historical Fiction/ Romance
The Winter Orphans takes place in 1942. It centers around Ella Rosenthal who is a Jewish refugee who is living in France with her younger sister after leaving their parents to flee the Nazis. But when Nazis invade there is no where safe. Will Ella be safe with her sister?
Buy this Book: Amazon | Books-a-million | Barnes & Noble | Audible
---
How many hours of research went into this novel while you crafted the story?
I generally begin novels with several months dedicated exclusively to research, and then the reading and fact-checking continue throughout the writing and editing process. So, overall, I research for a few hours each day, give or take, for about two years.
Who was your favorite character to craft? Which one are you most similar to?
I loved writing about Rösli. She is a strong, complicated character, and she became very real in my imagination. However, I think I have the most in common with Anne-Marie. Having grown up in the Pacific Northwest, I can relate to her affinity with the outdoors; it was easy to imagine how nature might have shaped the way she saw the world and the strength she likely drew from it.
I also identify with the easygoing manner with which she relates to children. I was a high school teacher for several years and wasn't much of a disciplinarian. I tended to value relationships over rules and formalities, which is how I imagine Anne-Marie would conduct a class. Rösli, in contrast, was a strict and organized leader, which certainly served her well in the chaotic circumstances of wartime France.
Did you travel to France while writing this book?
Unfortunately, I wrote most of this book during the pandemic when travel was highly restricted. By the time a trip to France would have been feasible, the novel was already through copyedits! Luckily, I have spent a significant amount of time in France in the past, and I was able to do quite a bit of virtual "traveling" to fill in the gaps.
Walk us through a day in your life while writing this book.
Since this book was largely drafted during the early lockdowns of the pandemic, my writing days looked different than usual! I tended to get up early, joining the ranks of the "Five AM Writer's Club" despite the fact that I'm not a morning person. Coffee in hand, I would write for a couple of hours before it was time to leave my desk to help my children with online school.
During school hours, I would dip in and out of my research books and notes as I supported my children. Then, after dinner, I would sit down and write past bedtime, making use of a quiet house. As it was for most parents, balancing work and pandemic schooling was difficult, but I felt lucky to be writing this story during those months. I found the characters and events of the novel to be both compelling and inspiring and was thus encouraged by my work during that unprecedented period.
What is it you hope readers will take away from this novel?
Having written this novel during the early days of the pandemic, I look back and realize that, in many ways, it sustained me through those strange, uncertain months; it was affirming to write about people who lived with such unwavering bravery. I hope readers will have a similar experience with this story, finding themselves swept away and left with a sense of hope when they flip the final page.
What are you currently working on?
My next novel is about an amazing group of Scottish women who created and staffed frontline hospitals in World War One. They were both groundbreaking and unconventional individuals, and they forged new paths amid daunting odds. Currently, it's scheduled to release in the fall of 2023.
Before I let you go, where can readers find you on social media?
Facebook: @KristinBeckAuthor Instagram: @KristinBeckAuthor Website: www.kristinbeckauthor.com
I hope you enjoyed my interview with Author Kristin Beck!
Drop a comment below and let me know. If you'd like to see another author interview or if you're an author wanting to get interviewed contact me today!
Popular books from the author
---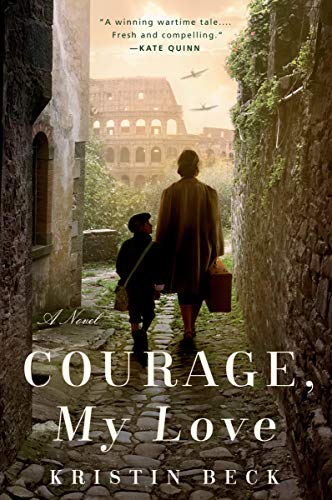 Courage, My Love
Genre: Historical Fiction/ Romance
Courage, My Love centers around Lucia Colombo and Francesca Gallo in 1943 in Rome. Lucia and Francesca's stories end up intertwining, and both are searching for ways to survive through the Nazi occupation. But one thing is for sure they won't give up without a fight to save their loved ones.
Buy this Book: Amazon | Books-a-million | Barnes & Noble | Audible