This post may contain affiliate links, which means I may receive a small commission, at no cost to you, if you make a purchase through a link!
Hocus Pocus and the All-new Sequel by A.W. Jantha Review is here.
It's Halloween, and what better way to spend it than reading a Hocus Pocus novel? This Disney book came out to celebrate the 25th anniversary of the beloved Hocus Pocus. In this novel, there are two parts. First, we get taken back to the original Hocus Pocus.
Synopsis:
Max Dennison moves to Salem from California. He immediately has a crush on Allison. A popular girl in his new school. Unknowingly, though, Max unleashes evil witches, and it is up to him to rid Salem of them before the sun rises. With his younger sister Dani, a black cat named Binx, and Allison, the three must do the impossible and return to witches where they belong.
Fast forward twenty-five years, and we meet Poppy. Max and Allison's daughter. She ends up casting a spell that brings the Sanderson sisters back and puts her family at risk. With the help of her friends Travis and Isabella, Poppy must do what her parents did twenty-five years ago…the impossible. While she can't stop her feelings towards Isabella, Poppy must stay focused. Can she stop her sister witches a third time? You'll have to read this book to find out.
Review:
Overall, I really enjoyed Hocus Pocus and the All-new Sequel. It was fresh, and I loved Part 2. Poppy is a great character and crafted very well-rounded. What I really enjoyed was the fact that Jantha did not craft Poppy as the traditional protagonist. The literary world needs more characters like Poppy! The biggest reason I enjoyed this book was due to the return of the Sanderson sisters. At first, I was hestiate about how Hocus Pocus would be able to top the original. But I was pleasantly surprised. This is a book you need to read, even if it isn't Halloween. Hocus Pocus is always a novel that is a classic on your bookshelves.
Did you all enjoy my Hocus Pocus and the All-New Sequel by A.W. Jantha Review?
Have you read this novel? Drop a comment below and let me know! OR give this post an emoji! You can also contact me if you want to see another book featured.
---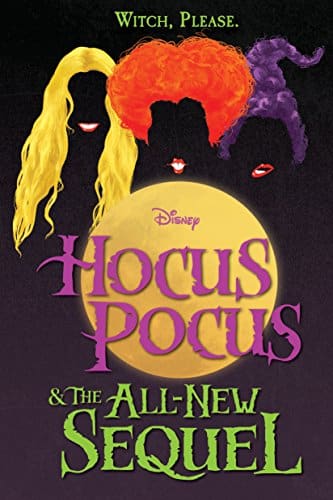 Hocus Pocus and The All-New Sequel
Genre: Fiction/ Young Adult
This story takes places 25 years after the original Hocus Pocus. We follow the story of Max and Allison's daughter, Poppy who brings the Sanderson sisters back.
Read more reviews on the book index
Buy this Book: Amazon | Barnes & Noble | Books-a-million | Audible