This post may contain affiliate links, which means I may receive a small commission, at no cost to you, if you make a purchase through a link!
Good Girl, Bad Blood by Holly Jackson Review is here.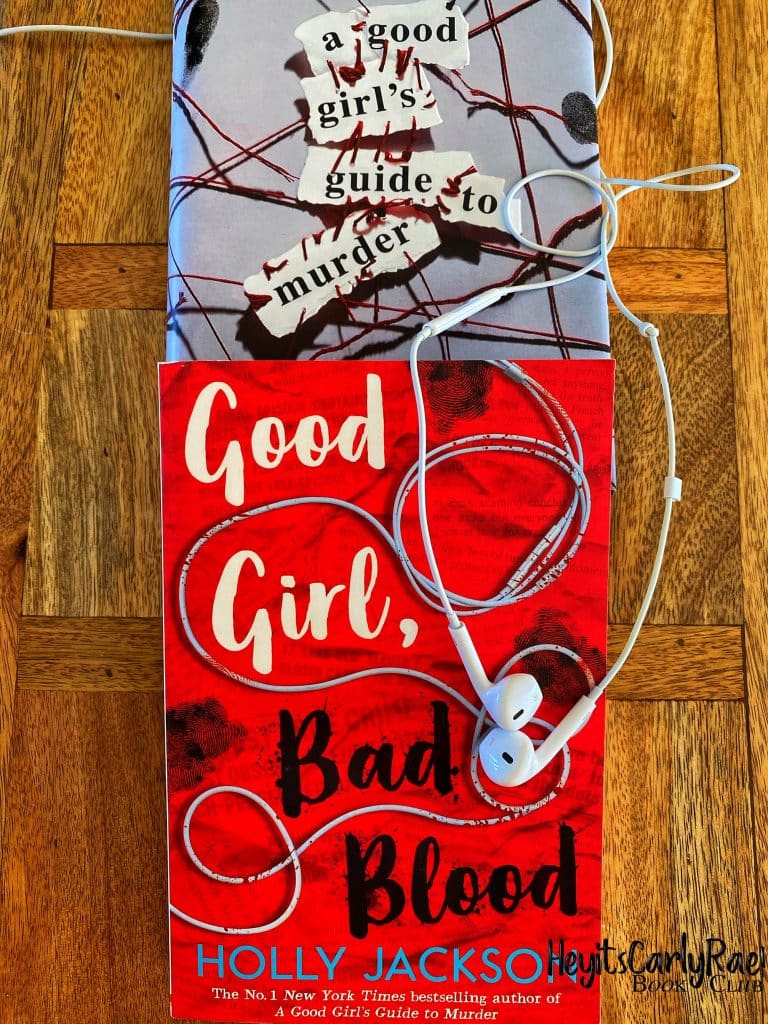 This novel brings back Pip Fitz-Amobi as this is the sequel to Good Girls Guide to Murder. We pick up a little while after the first book ended. Pip now has a successful podcast where she documented solving her first case. She has amassed a HUGE following in her podcast with sponsors contacting her left and right to advertise. However, Pip is reluctant to accept their offers because she is done solving crimes.
Pip sacrificed so much while trying to figure out Addie and Sal's case, putting her family, herself, even her dog at risk. Now she is done…or is she? When her friend Connor Reynolds tells her his older brother Jamie is missing, and police won't do anything, Pip finds herself at a crossroads. It isn't until she believes that Jamie, someone she knew growing up, really is missing that she helps. To do that, Pip starts up another season of her podcast documenting everything she finds.
However, what she finds out about Jamie proves he is hardly the boy she grew up knowing, not only to herself but to his family too. The strangest part about Jamie's disappearance is his father wants nothing to do with any of it. He won't talk to the family about it and won't participate in any podcast episode. This raises questions not only with Pip but her audience as well, causing a rift in the Reynolds household. But once Pip is determined to do something, she doesn't give up.
With Jamie's secret life revealed comes deadly consequences. Meanwhile, Max Hastings is facing a trial for his crimes. Will the justice system hold him accountable, or will he walk free? That's a question this novel unfolds as you read the story within the story.
One thing is for sure in the second novel—Pip is hardly the girl she used to be before solving crimes. With Jamie gone, this new Pip rises to the surface and won't allow anything to stop her. But even Pip can't stop the actions of others. When Pip uncovers Jamie's secrets are intertwined with a much darker secret, the consequences are deadly. It's something Pip will never forget if she survives to tell her side of the story.
The mystery in the second novel was terrific. The twists and turns, I never saw it coming! The introduction of Pip's podcast and her crime-solving skills in this YA novel was great! However, I will say comparing this book to the first novel. I liked Pip in the first novel better. This novel, yes, she stood up for herself, but at times her reactions felt immature.
Good Girl, Bad Blood by Holly Jackson was a fast read. Have you read this novel? How do you think this book compared to the first one?
Have you read this novel? What did you think?
Want to get your book feature? Contact me! Also, don't forget to check out my feature on Feedspot's Top 100 YA Book Blogs!
Title: Good Girl, Bad Blood
Author: Holly Jackson
Pages: 413
Where to Purchase: Amazon
I rate it: 4/5