This post may contain affiliate links, which means I may receive a small commission, at no cost to you, if you make a purchase through a link!
Cooking for Cannibals by Rich Leder feature is here.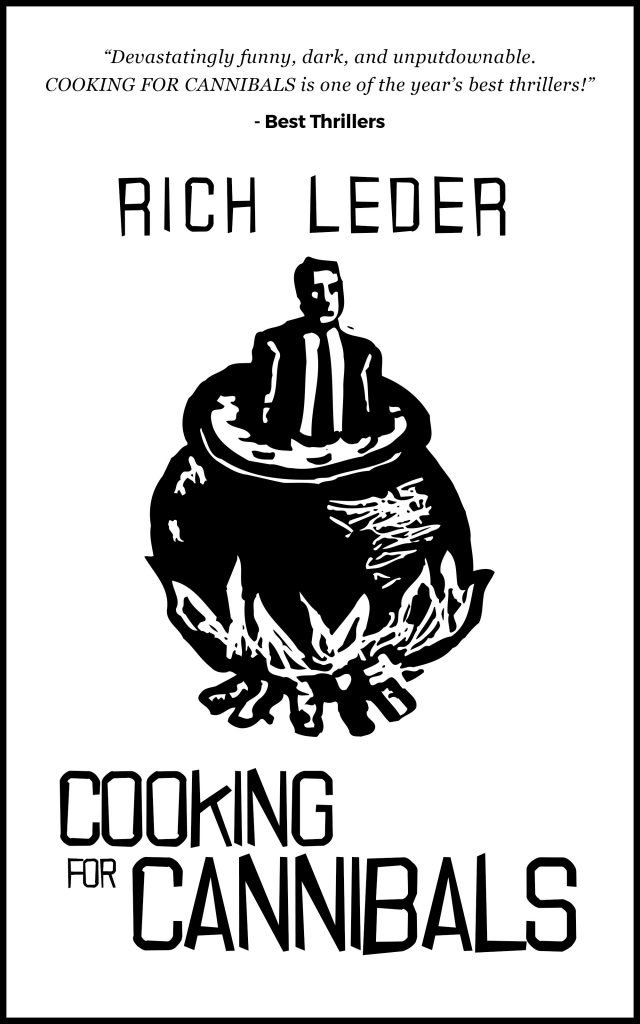 Award-winning Wilmington author to release 'wild, dark, and
outrageous romantic thrill ride' Cooking for Cannibals
Screenwriter and novelist Rich Leder's sixth novel, set in Southern California, is a dark comic romantic thriller about a reverse-aging drug with hilariously outrageous consequences.
[WILMINGTON, NC, Oct. 16] – Award-winning Wilmington, North Carolina-based novelist and
screenwriter Rich Leder releases his sixth novel, Cooking for Cannibals, the wildest, darkest,
most outrageous romantic thrill ride of the year, on January 14, 2021.
Cooking for Cannibals is for readers who like fast-paced plots, unconventional characters, and humor that crosses the line. Its two main characters are Carrie Kromer, a behavioral gerontologist who steals her lab's top-secret, experimental medicine for aging in reverse, and two-time
ex-con cook and butcher Johnny Fairfax. When Johnny's corrupt parole officer is murdered by the young-again residents of the nursing home where he cooks and where Carrie has distributed the stolen miracle
drug, they request Johnny fix them an evidence-devouring dinner to satisfy their insatiable side-effect appetite. As their unexpected mutual attraction gets hot, Carrie and Johnny find themselves caught up with the authorities
who arrive to investigate the killing. But even more dangerous than the man-eating not-so-senior citizens could be the arrival of death-dealing pharmaceutical hitmen. Can Carrie and Johnny find true love in all this
bloody madness?
"For readers with strong stomachs, a dark sense of humor, and a need for some off-the-rails, comically violent catharsis in these dull Covid-infested days, Rich Leder's delightfully bizarre Cooking for Cannibals may be just the ticket." –Indie Reader Review
"Leder mixes his dark humor with a compelling storyline full of twists and turns that is immensely readable and hard to put down. Cooking For Cannibals is ideal for lovers of fast-paced high-concept thrillers. As the insanity continues to build exponentially throughout the book it becomes more and more difficult not to read "just one more chapter" as you find yourself craving to find out just how crazy things are going to get. This is the perfect book for a binge read." –Bestsellers World
"Cooking for Cannibals is brilliant and entertaining from the start until the end." –Readers' Favorite
Presale for Cooking for Cannibals begins in October ahead of its December release. It will be available for purchase on Amazon in both ebook and paperback formats.
GET COOKING FOR CANNIBALS ON PRESALE HERE!
Rich Leder has been a working writer for more than three decades. His credits include 19 produced movies—television films for CBS, Lifetime, and Hallmark and feature films for Lionsgate, Paramount Pictures, Tri-Star Pictures, Longridge Productions, and Left Bank Films—and six novels for Laugh Riot Press. Learn more about Rich at www.richleder.com or email
[email protected] to request an interview.
Below is Rich on Book Hour and we talk all things Cooking For Cannibals as well as his writing process!
Have you read this novel? Want to get your book feature? Contact me! Also, don't forget to check out my feature on Feedspot's Top 100 YA Book Blogs!
Note: Laugh Riot Press provided press release and photos.