This post may contain affiliate links, which means I may receive a small commission, at no cost to you, if you make a purchase through a link!
I am so excited to have Amanda Bouchet of the Kingmaker Chronicles here for an interview. We actually 'met' on Instagram. She also sent me a copy of her entire series, which was amazing! So without further ado, let's welcome Amanda!
Amanda! So excited to have you join me! Tell us more about the 4th book in your Kingmaker Chronicles, A Curse of Queens.
Hello and thank you so much for inviting me. I'm excited to be here! My latest book, A Curse of Queens, is the first spinoff to the Kingmaker Chronicles trilogy. It's book four in the series but also the start of a new storyline that's closely related to the original trilogy. It picks up just a few months after the previous story ends and features a new couple, Flynn and Jocasta. These are characters readers already met in earlier books and who played an important role in the novels without being the main focus. I've been teasing their relationship from the beginning and now finally got to tell their story.
In A Curse of Queens, Flynn and Jo make it their mission to try to reverse a devastating curse that threatens the people they love and the stability of their kingdom. While not being a retelling of any particular myth, the entire Kingmaker Chronicles series has a foundation in Greek mythology, and that aspect is strongest in this book as the main characters and their team embark on a high-stakes quest with elements of Homer's Odyssey sprinkled throughout. Embarking on this perilous journey together really helps heat things up between Flynn and Jocasta after years of denying their longing for one another. These strong, loyal, resourceful characters were a joy to write, and I loved being able to blend the greater fantasy adventure and mythological elements with their developing romance. You'll find all my signature things to write in this new book—strong female friendships, found family, the hero's journey, forced proximity, banter, fated mates, and spice!
What are you most excited for readers to read in A Curse of Queens?
There are so many parts of the book I'm eager to share. Definitely the romance and the death-defying adventures and also the insights into other characters whose stories are yet to be told (there are big hints in this book as to what comes next). There are also a few showdowns with some very famous Greek mythological monsters that were exciting to write and so fun to integrate into my own fantasy world. I can't wait for readers to see how the characters handled these challenges and worked as a team to overcome terrible odds and terrifying situations. But if I had to choose just one thing, it would be Jocasta's character development. She's smart, determined, and knows her strengths from the beginning, but this novel sees her consciously decide to take her future into her own hands and fight for the life she wants with the man she's loved forever. I think she's one of the most relatable characters I've ever written and a reminder to never give up on our dreams. She learns how to cut out all the noise around her and the weight of other people's expectations and the roles they've automatically fitted her into and just do what she knows she must—for herself and for the bigger story.
---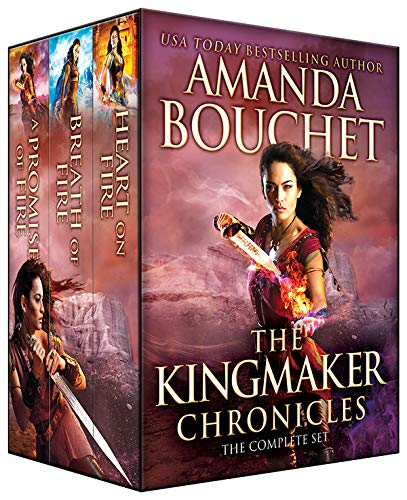 The Kingmaker Chronicles Set by Amanda Bouchet
Genre: Fantasy
Get the entire series set. It includes books one through three, and you can follow the adventure!
Read more reviews on the book index here
Buy this Book: Amazon
---
Do you have a favorite character?
I'd have to say Jocasta for all the reasons above! I love her resourcefulness, too. She's neither a magic-wielder nor a warrior, but she manages to become a leader and spearhead a mission thanks to her resilience, smarts, and courage. She also understands the importance of teamwork. She doesn't believe she can do everything alone, which is another sign of intelligence. Added to that, through a mix of persistence and compassion, she manages to overcome Flynn's relationship fears—a feat that takes many slow-burn pages of the novel! She has a quietness about her, a determination, and so much empathy, and yet she's a true force to be reckoned with and not afraid to stand her ground. I loved seeing Jocasta come into her own while remaining true to herself. If I had to write her over again, I wouldn't change a thing.
Was it difficult to write the fourth book in this series?
Yes! For so many reasons. It had been a few years since I finished the original Kingmaker Chronicles trilogy, so it was a slow process to get back into the world. This book follows a new couple, so it also needed to stand alone for new readers coming into the series. I had to maintain a difficult balance between giving too much and too little information on what had come before and the impact of those events on the characters now, going into this new book. While I do think A Curse of Queens can stand alone, I also think that diving into it with the background of the original trilogy will make for a richer reading experience overall. Lastly, I wanted to begin setting up books for the remaining characters whose stories I want to tell, which meant planning out several new plotlines, or at least the bones of them, when this is actually a stand-alone novel. Honestly, this book had me worried for a while when I was writing it, but when it finally all came together, it felt like magic, and I was thrilled.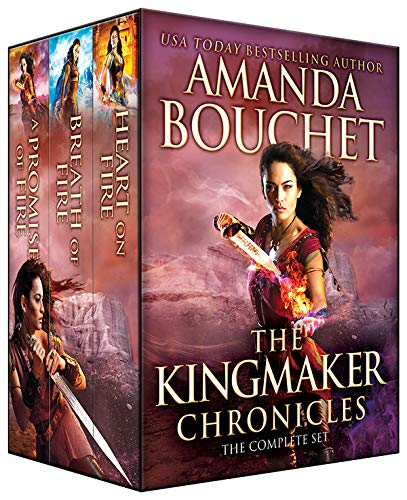 Is the Kingmaker Chronicles now concluded?
Not yet. I'm in the process of writing the next book now, and I've set up the storyline for at least one more after that. Once that's finished, I'm not sure. We'll see!
Did you think when writing the first book, A Promise of Fire, that the series would have four books?
Not at all! I just started writing. Then the story—both the romance and the fantasy plot—got so big and sweeping that I knew I had to cut the book into parts, or no publisher would ever want it. A gigantic fantasy romance from a debut author? I was sure no one would bite. So I finished the first book and submitted it as the first in a trilogy. That worked, and suddenly, I had two more books to write to complete the contract. Since the series seemed to work well, I always imagined launching straight into the spinoffs about the characters I'm writing about now. It didn't work out that way, but I'm so happy to have finally been able to come back to them, and I can't wait to give them the happy ever afters they deserve.
Let's talk about your writing process. Do you outline, or do you just write?
I'm the epitome of a pantser—I just write! I jot down notes sometimes and have little post-its with plot points or character reminders around, but mostly I just see what happens day by day. I know I plot in my head, though. I keep it there where it's really fluid, and I can add, change, rearrange, adapt… I might not feel so free to just go where the muse takes my characters and their story if I had an outline written down that I was supposed to follow. I make up most of the story as I go, writing what I can in a day and with my mind thinking a few steps ahead. Rewriting is very important for me. I usually do it chapter by chapter as well as once the whole book is done. Since I don't really know where the story is going until I've written it down, I use the rewrite to add hints and detail and tie it all together once I know how each chapter ends.
Is it more difficult writing a series than a stand-alone novel?
I'm not sure I'm qualified to answer this question! Lol. The only true stand-alone I've written is a wonderfully romantic, fairytale-like novella called A Curse for Spring. Otherwise, all my novels are fantasy romances connected to imaginary worlds spanning many-book storylines with big casts of characters that are part of the framework of the whole series.
Can readers expect more books from you soon?
I have a new Kingmaker Chronicles novel in the works. I'm not sure yet when it'll come out, and I'm not known for releasing books in quick succession, but I'm definitely hoping for a second half of 2023 release date. After that, I have more Kingmaker books and the final book in my Nightchaser trilogy to write, too.
Before I let you go, tell readers where they can find you on social media!
Thank you so much for these fun and thoughtful questions! I'm most active on Instagram and Facebook, and I'm also trying to increase my TikTok presence (all are @amandabouchetauthor). I also have a Facebook group called All Booked Up with Amanda Bouchet. There are other social media links (BookBub, Goodreads, Twitter…) and a newsletter sign-up on my website: amandabouchet.com.
Thank you for reading!