This post may contain affiliate links, which means I may receive a small commission, at no cost to you, if you make a purchase through a link!
Today, I am so excited to welcome Andrea Bartz Author of The Herd, out now! I have been looking forward to chatting with Andrea since I first heard about her book from Random House. So without further ado…let's welcome Andrea to HeyitsCarlyRae!
The Herd AKA, the H-E-R always purple is another crime read for the books. Tell us more about The Herd.
Thanks, Carly-Rae! The Herd is a thriller set in an exclusive all-female co-working space in Manhattan that's upended when Eleanor, its enigmatic founder, vanishes the night of a major company announcement. It's told from the alternating perspectives of two of Eleanor's closest friends, who are also sisters: pragmatic, competent Hana, who met Eleanor in college and now heads up PR for the Herd, and Katie, a blunt, quick-witted journalist who secretly hopes she's found her next book subject in Eleanor. The two narrators have very different worldviews, but they both have ambition in spades—not to mention their own agendas. THE HERD is dark, twisty, and fast-paced, and it explores some topics I find fascinating: commercial feminism, ambition, and the pressures of being a woman in the world.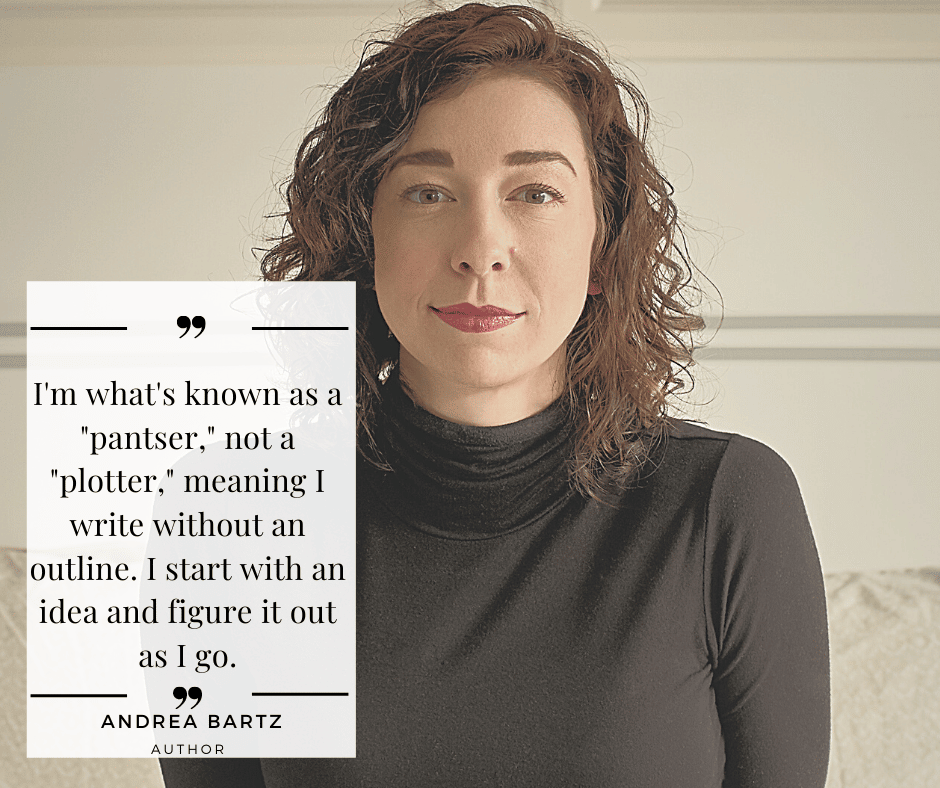 Without giving away spoilers, did you always know in The Herd who the 'red herring' or 'bad guy/girl' would be?
I didn't know! And in fact, my theories and suspicions kept changing as I was writing the first draft—but when I got to the big reveal, it all clicked into place. I'm what's known as a "pantser," not a "plotter," meaning I write without an outline. I start with an idea and figure it out as I go. So I had my money on different characters being the "bad guy" at different points in the writing process. But some of those suspects turned out to be red herrings. It always cracks me up when a reader says, "I knew how it was going to end from Page 1," because I myself had no idea!
How did you come up with the storyline of The Herd? Was this something on your mind for a while?
I love trying to capture the complex dynamics of a close-knit, closed-door social milieu—that's why I set my debut, The Lost Night, inside Calhoun Lofts, a hipster playground in deep-recession Brooklyn. I wanted to set my second book inside an exclusive and equally fascinating world. I'd visited a number of all-female coworking spaces (including The Wing) and read articles debating their merit as "flashpoint[s] for debates over feminism, money, and power," as one thinkpiece dubbed them. So I thought it would be fun to set a thriller full of secrets, lies, and hidden agendas inside an airy, beautiful, positive setting. As I was struggling to come up with a name for this so-called feminist utopia, I saw THE HERD's logo with the H-E-R in purple, and I was off and running.
Do you have a favorite part of The Herd you are most excited for readers to read?
Great question! As I mentioned, the story is told from the alternating POVs of two sisters: brash, outspoken Katie and mature, conscientious Hana. I had a lot of fun trying to capture their sister dynamic; they share many of the same friends and are super close in some ways but competitive and withholding in others. There's a big fight between the sisters in the second half of the book. It was absolutely gutting to write—they say things they can't take back, and when I was drafting it, even I wasn't sure their relationship could ever recover. I'm always excited for readers to experience the scenes where the characters are brimming with emotions. Beyond that, I'm always thrilled when someone gets to one of the twists…and, pro tip, when people read the epilogue, they should be sure to flip back to the prologue to see how they relate!
I'm curious if you always wanted to write thriller/suspense novels?
Thrillers are my favorite genre to read, so I figured I should write something I'd love to pick up myself! That said, I'm crossing my fingers that eventually, I'll have the chance to try out some other genres…I'd love to write horror and speculative fiction, in particular.
Some readers may not know this, but you are a journalist as well. Does that help you in writing suspense/thrillers?
Correct! I was a magazine editor at Glamour, Self, Psychology Today, and other magazines, and I've written for many other publications. Journalism feels like a very different beast from fiction. When I freelance-write articles, I'm beholden to the truth—I dig for the facts and then try to present them in a compelling way. Writing a novel is both easier and harder because there are no rules; a character or location, or detail doesn't exist until I craft it on the page. It's both overwhelming and freeing! Being a journalist means I'm used to writing and editing quickly, though, and comfortable working on a deadline. My editor was always shocked by how quickly I could turn around revisions!
Take us through your writing day. Do you have a set schedule when writing?
I'm not super regimented about my schedule—before the pandemic, I'd bounce around to midday fitness classes, work dates with friends, museums or movies during the day so I could work at night, etc.! Nowadays, I wake up, make coffee, and handle admin in the morning: sending emails, updating my website, that kind of thing. Then I work out, make lunch, and start writing. When I start a new book, I use pacemaker.press to calculate how much I need to accomplish every day to hit a goal (say, a 100,000-word first draft complete a few months before my publisher's deadline so that I'll have time to revise it myself). I use the pomodoro method to write every day. I use tomato-timer.com to time 20 minutes of uninterrupted work followed by a 5-minute break. Then I repeat as needed until I hit my word count goal.
Before we let you go, I heard you have another book coming out called WE WERE NEVER HERE. Can you tell us about it?
Absolutely! We Were Never Here comes out July 13, and it's another twisty thriller with a female friendship at its center. It follows two globetrotting best friends whose relationship is stretched to the limit after they kill a backpacker during their travels…and things only go downhill from there. It explores how society heaps violence and trauma on female bodies without allowing them to dish it back—and I think it's my darkest, most addictive thriller yet!
Thank you so much for joining me, Andrea! Comment and let me know your thoughts on today's interview!
Shop The Herd by Andrea Bartz on Amazon!
Are you an author, publicist, or publisher? Want to have an exclusive author interview featured on my site? Contact me. Also, don't forget to check out my feature on Feedspot's Top 100 YA Book Blogs! Photo Credit to: Bill Wadman for Andrea Bartz.