This post may contain affiliate links, which means I may receive a small commission, at no cost to you, if you make a purchase through a link!
Amy E. Reichert Exclusive Interview is here. Amy joins me in an exclusive chat to talk all about her latest novel, The Kindred Spirits Supper Club!
I'm so excited to have you join me! Tell us about The Kindred Spirits Supper Club!
Sabrina Monroe is forced home to the Wisconsin Dells after losing her fifth job. She can tolerate reunions with frenemies and kisses from old boyfriends, but not the literal ghosts that greet her, except her best friend, the rom-com loving ghost, Molly, who wants Sabrina to get the happy-ever-after she never did. Moving back home means returning to the Monroe family curse: the women in her family can see spirits who need help with unfinished business. Growing up with this ability left Sabrina alone,

When she meets the new local supper club owner, Ray, they make a deal to help each other. He's charming and handsome, but Sabrina tells herself she doesn't have time for romance–she needs to focus on finding a job and getting back to her real life, never mind keeping her family secret. Except the longer she's in the Dells, the harder it is to resist her feelings for Ray.

When the Dells starts to feel at home for the first time and with Ray in her corner, Sabrina begins to realize that she can make a difference and help others wherever she is.
The story follows Sabrina Monroe and literal ghosts. What inspired you to write this novel?
My books come together in pieces, little nuggets of inspiration that I twist and press into (I hope) a cohesive and satisfying story. For The Kindred Spirits Supper Club, I knew I wanted to write a novel set in the Wisconsin Dells, the Waterpark Capital of the world. It's a quirky, touristy town set along the stunning Wisconsin River.
I wanted one of my main characters to be a reluctant tour guide for a duck tour company (tours given in World War 2 vehicles that can go on land and in water), and another to work in a supper club—a unique Wisconsin dining tradition. During a research trip to the Wisconsin Dells, the vague history of Ghost Molly of the Showboat Saloon caught my attention. Many, many revisions later, it all came together.
Have you ever had a ghost stuck at your side?
I wish, assuming it was a ghost-like Molly and not a creepy, chain-dragging one.
What was your favorite part of this novel while you were writing it?
I loved writing Molly and her story and creating an alternate version of how history may have happened, then taking a tragedy and giving it a happy ending.
When you write, do you plot out all the details, or do you dive into the story headfirst, writing what comes to mind?
Before drafting, I like to have the big moments sketched out, but not too many details so the story can evolve as I write. It gives me the freedom for the story to go in unexpected directions.
The cover of this novel is perfect. Did you design it?
Thank heavens, no! My publisher's brilliant art department can take credit for that. My favorite part is the beer bottles. Wisconsinites will recognize them as Spotted Cow, a popular local beer only available in Wisconsin. And the adorable white duck, who I named Norman after the duck boat that Sabrina drives in the book.
Can we expect a sequel?
As of now, I have no plans for a sequel, but you never know when past characters from my books might pop up in future books. In my mind, they all exist in the same fictional version of Wisconsin, so who knows when you might see them again.
Finally, before I let you go, tell us a fun fact about yourself!
I play the violin, not well, but I do. Someday, I hope to work that into a book.
Thank you for joining me Amy!
Get your copy of The Kindred Spirits Supper Club on Amazon today!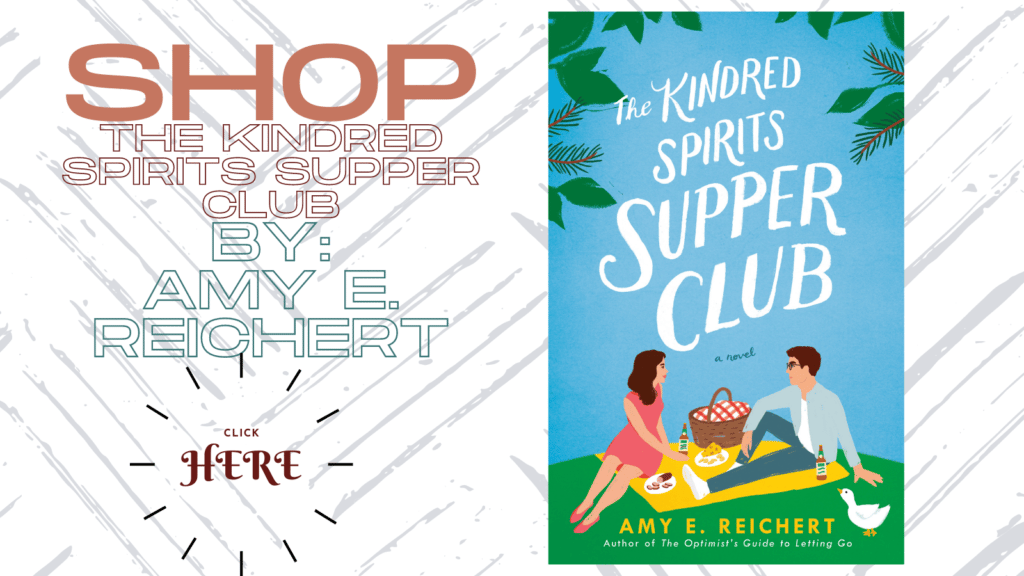 Be sure to comment below too and let me know what you think of today's exclusive Author Interview with Amy!
Are you an author, publisher, or publicist? Want to get an author interview? Contact me! Also, don't forget to check out my feature on Feedspot's Top 100 YA Book Blogs!