This post may contain affiliate links, which means I may receive a small commission, at no cost to you, if you make a purchase through a link!
Kelly Bowen Exclusive Author Interview is finally here! Today, Kelly joins me on my site to chat all about her new novel, The Paris Apartment. We find out where the idea for the storyline came from and what her favorite part of crafting the book turned out to be. So, without, further delay let's get started!
Welcome, Kelly! I cannot wait to talk more about The Paris Apartment. It is a historical novel centering around Aurelia, who, after inheriting a Paris apartment, discovers her grandmother's hidden secrets. Tell readers more about what they can expect from this heart-wrenching novel.
Thank you so much for having me! And yes, the story does begin in Paris with an apartment left to Aurelia (Lia) by her grandmother – an apartment, at first glance, filled with an extraordinary collection of fine art, expensive furnishings, and what appears to be Nazi propaganda from the Occupation. A single, enigmatic painting links Lia's grandmother with the family of a renowned art restorer, Gabriel Seymour. Together, Lia and Gabriel delve into the mysteries hidden behind the walls of the apartment.
What emerges is a story of two very different women who found themselves unexpected allies, fighting for very different reasons against the cruelty and hatred of the Nazis during the Second World War. The legacy they leave behind is one of trust and sacrifice. It becomes a legacy that Lia is able to realize and come face to face with seventy-five years later.
Was it difficult writing a storyline that took place in 2017 and 1942?
In my previously published books, I've chosen to write in a historical context because I adore history. I love bringing the past to life. The Paris Apartment was no different – the rich history of the people and places where the novel is set provided so much inspiration. I found writing a contemporary narrative to match the historical one in this book a new and immensely enjoyable experience.
So to answer the question, I don't think that writing dual storylines was difficult as such. But what was a challenge was effectively intertwining the two narratives so that the story wasn't diminished. The characters in both storylines are meant to tell the tale together through their connections and own viewpoints. I hope I was able to do that!
Were any of the characters based on real-life storylines of real people?
Absolutely! The character of Sophie Kowalski was inspired by Special Operation Executive agents like Virginia Hall, Nancy Wake, and Pearl Witherington Cornioley. Virginia Hall, an American who had been working in embassies across Europe, was recruited by the SOE for her intelligence and impressive command of both French and German. Nancy Wake, a New Zealand-born journalist working in France, whose husband was executed by the Nazis, was recruited for her knowledge of the country and its underground networks. Pearl Witherington Cornioley, an Englishwoman who had grown up in Paris, joined the SOE with a fierce desire to fight the Nazis and posed as a cosmetics representative while couriering critical information throughout France.
The character of Estelle Allard was inspired by the many, many women involved with the French Resistance and Freedom Line —who risked their lives daily smuggling people out of Occupied France.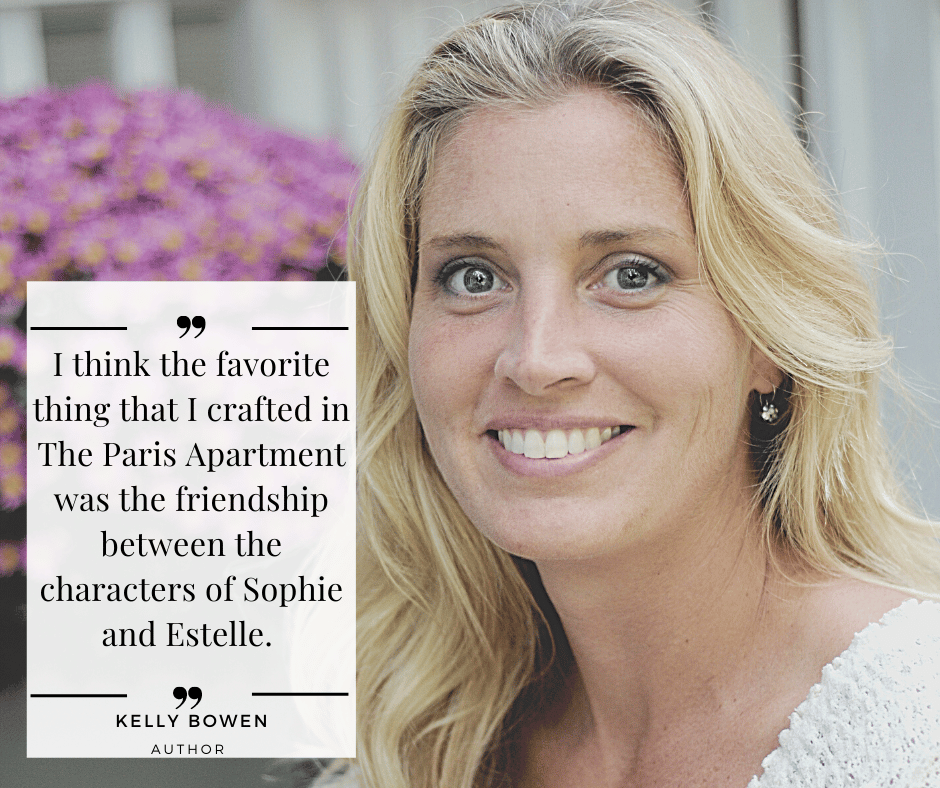 Did you have to do a lot of research to capture Paris in 1942?
No matter what period or subject matter you write, there is always a significant amount of research to be done before and during the construction of a novel. The Paris Apartment was certainly no different. Quite honestly, research is one of my favorite things about being an author. It's like being assigned the best kind of homework. I did a lot of reading before plotting out this boo. I read biographies, memoirs, diaries, and accounts found in libraries and online journals, and declassified archived documents now available.
Photographic records of places and people were invaluable, and ironically enough, the Nazis took a plethora of photographs of everyday Paris during the Occupation (and even published visitors' guidebooks). For anything that I couldn't find, I reached out to historians and experts who graciously directed me to resources or provided information themselves. The Bletchley Park Trust was very helpful, as was historian David Kenyon when I was seeking information about the Lorenz cipher. The Monuments Men Foundation provided me valuable information about the Nazi-looted artwork and the processes in place for the recovery of those stolen works.
At the back of The Paris Apartment, I've included the list of resources I used to write this story for any reader who might wish to know more about the events that serve as the foundation for this novel, or the real-life heroes and heroines who inspired my own characters. They are well worth the read!
I'm curious, where did the idea of creating the storyline for The Paris Apartment come from?
My family is well-aware of my fascination with history. As such, I am often the recipient of 'old things' found in relatives' basements and attics. A number of years ago, one of those items that came into my possession was the diary of my great-uncle, who was killed in action during WWI in France. In his diary, he wrote in great detail about his wartime experience. Twenty-two years later, my grandfather would serve in WW2 (RCEME). While he was lucky enough to make it home, he didn't keep a diary. Nor did he speak at all about his experiences.
But he did share his service in the RCEME with me in a way that I didn't recognize until I was much older. By the time I was ten, I could read radio schematics and identify and solder the correct capacitor, resistor, or transistor into place. Together we rebuilt a hulking '38 RCA Victor and a pretty '42 Northern Electric, the latter of which he presented to me for my thirteenth birthday. Those hours fueled my fascination with radios and their many uses during the war. I've subsequently found the stories of the individuals who relied on those radios to send vital and clandestine information back to the Allies riveting.
'More recently, I've followed the real account of the discovery of the Gurlitt Hoard.'
The massive collection of stolen Nazi art hidden for decades in an apartment in Munich and a residence in Salzburg. And in 2018, I stumbled across the story of a Paris apartment found locked and untouched since WW2 when its owner, Mme. De Florian fled the occupying Nazis, never to return.
So when I sat down to write The Paris Apartment, I very much focused on the questions those discoveries provoked and the similarities that were reflected in my own family tree. What makes people choose to either share or keep private an experience that so drastically impacts their life? Is it better to share such an experience in detail with those left behind the way my great-uncle did in his diary? Or is it better to leave the past sealed, sharing the only aptitude from those years, the way my grandfather did with me?
I don't think that there is a right or wrong answer to any of those questions, and the characters in The Paris Apartment make their own choices for their own reasons. I'll let the readers of The Paris Apartment decide for themselves if those reasons matter.
If you had to pick one thing in The Paris Apartment that was your favorite to craft, what would it be?
I think the favorite thing that I crafted in The Paris Apartment was the friendship between the characters of Sophie and Estelle. On the surface, they could not be more different – Sophie the intense, driven scholar, and Estelle the outgoing, wealthy socialite. Yet as each tells their own story throughout the novel, we get to see that they are not so different at all. In fact, when they become unexpected allies, the honesty and vulnerability that they trust each other with didn't come as a surprise as I was writing. By recognizing their own strengths and weaknesses and being unafraid to confide in each other, they were able to accomplish more together than alone (I don't want to share spoilers here, so I'll leave it at that!)
Before we let you go, have you ever owned a Paris Apartment?
Paris is one of my favorite cities in the world to visit! And while I have had the pleasure of spending time in Paris and traveling throughout France, I have not owned a Paris Apartment. Yet. 😊
Thanks so much for joining me Kelly!
WATCH Kelly Bowen on Book Hour!
Shop The Paris Apartment on Amazon!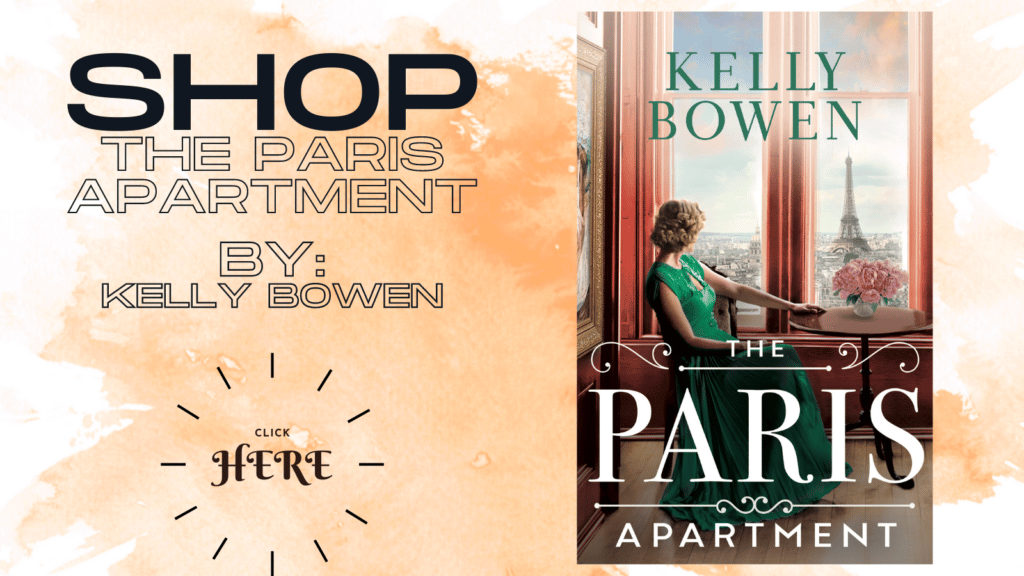 Be sure to comment below too and let me know what you think of today's exclusive Author Interview with Kelly Bowen!
Are you an author, publisher, or publicist? Want to get an author interview? Contact me! Also, don't forget to check out my feature on Feedspot's Top 100 YA Book Blogs!