This post may contain affiliate links, which means I may receive a small commission, at no cost to you, if you make a purchase through a link!
If you know my reviews, you know I am a sucker for YA romance novels, especially good ones. Time of Our Lives is my first Emily Wibberley and Austin Siegemund-Broka book to read. The cover caught my eye, and I decided to give it a read.
Fitz Holton and Juniper Ramírez are the protagonists of Time of Our Lives. Yes, this book takes place from TWO characters' perspectives. Fitz has decided that he is going to attend college close to his single mother, whether he really wants to or not. She is battling early-onset Alzheimer's, and Fitz feels that it is his job to take care of her. After all, his older brother, who is away working, doesn't come home to help. It isn't just the thought of leaving his mom for ten days to tour out-of-state colleges. Fitz thinks it is pointless, AND he has to do it with his brother, who he isn't exactly a fan of. Yet, Fitz agrees only because it is his mother's request.
Juniper Ramírez, however, cannot wait to leave home. Her house is crowded with siblings and her parents. She dreams of the day she can be on her own. It is partially why she is looking forward to touring out-of-state colleges. Her goal is to get as far away as possible. Together she and her current boyfriend, Matt, embark on the tour.
Her path and Fitz's cross path's in Boston first. Fitz immediately is drawn to Juniper, but he sees she has a boyfriend. However, when that changes and fate brings them together again, will it be a YA love that lasts? Find out when you read Time of Our Lives by Emily Wibberley and Austin Siegemund-Broka.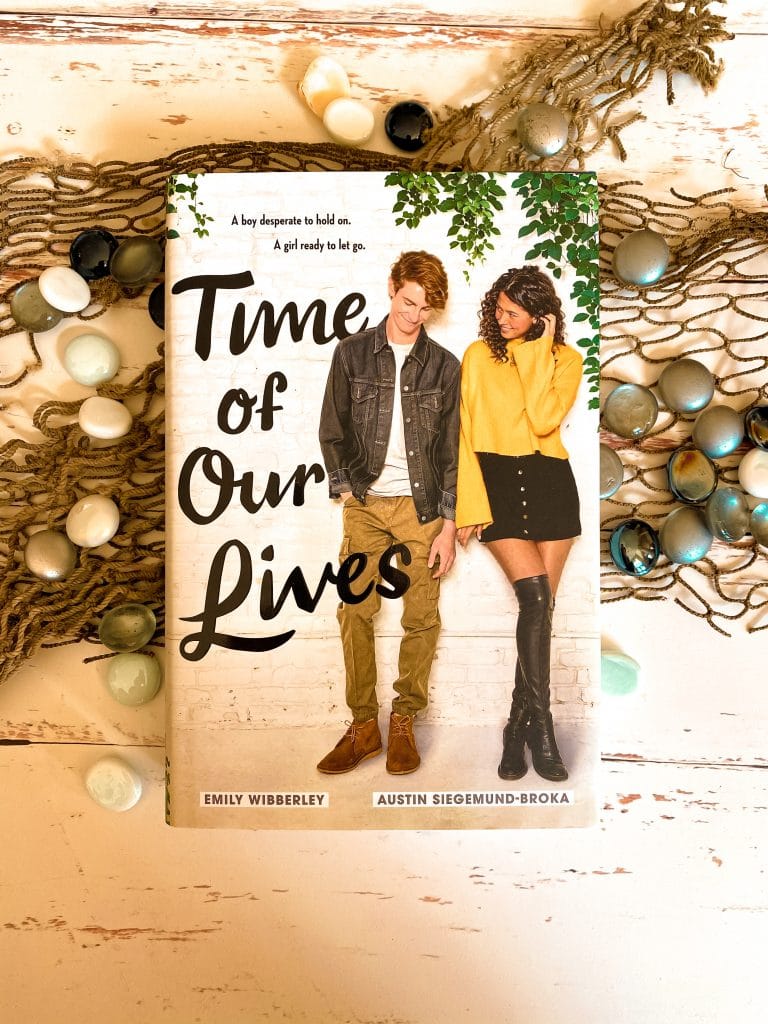 One thing is clear: Fitz needs to learn he cannot control everything, especially things out of his control. At the same time, Juniper needs to learn to enjoy things around her more, including her family. Will she end up missing her family more than she cares to admit? Will Fitz decide to follow his own path and go to a college away from home like he wishes he could?
This is a young adult romance novel for the books. My favorite part of this novel is having two perspectives: one from Fitz and one from Juniper. We get to see his and her sides. Usually, that is something that can be tricky to do, no matter the genre. However, in this novel, it definitely won out. Hearing their thoughts as they occur with the dual timelines is great. I loved Fitz's voice. He is a character to remember. I really can feel his struggles and his emotions. Still, I enjoyed Juniper too, but Fitz won me over for sure!
I also liked the storyline!
As many of you know, I read a lot. This is the first novel I have come by with a college tour's backdrop mixed with a road trip. It is great! Now, I am sure there are other novels with a similar plotline, but this one's vividness is one I recommend.
Let's talk about the ending now…OMG! I seriously need another chapter of this novel! I read the last page, stood up, and mentally demanded another chapter. If you have read it, do you agree?
I will say I wanted to change the fact Juniper has a boyfriend in the beginning.
It was frustrating. I wish I could have erased a part of this book, giving us more time to spend with Fitz and Juniper. In my opinion, I felt like Juniper could have grown more as a character without Matt added it. With that said, maybe it is because I love Fitz with Juniper? You decide.
Let me know your thoughts of Time of Our Lives by Emily Wibberley and Austin Siegemund-Broka below!
Are you an author, publisher, or publicist? Want to get your book feature? Contact me! Also, don't forget to check out my feature on Feedspot's Top 100 YA Book Blogs!