This post may contain affiliate links, which means I may receive a small commission, at no cost to you, if you make a purchase through a link!
The Magnificent Lives of Marjorie Post Book Dress is something I am so excited to unveil! For quite a few months, I have been working with Jacqueline Firkins (Click here to see her exclusive HeyitsCarlyRae Interview). I first came across her dresses on Instagram. One of my close author friends, Danielle Paige, reposted the dress she made to match her book cover. I admired Jacqueline's passion for turning a book cover into a dress. I contacted her and Random House to coordinate a book dress for an upcoming title.
Fast forward until now, and ta-da! This dress is absolutely stunning. Not only does it match the book cover, but it also captures Marjorie Post and her fashion style during that time. It is a gorgeous dress, and I'm in awe of how it all came together. Jacqueline is so talented and did a fabulous job. I have never seen anything quite like it, and I have to say it really is my favorite thing I've ever done with books.
The Magnificent Lives of Marjorie Post by Allison Pataki is a fabulous read too.
It tells Marjorie's life in a way that made me feel I was right there with her. Marjorie Post is genuinely inspiring. I recommend checking this book out if you haven't already. You can purchase it on Amazon!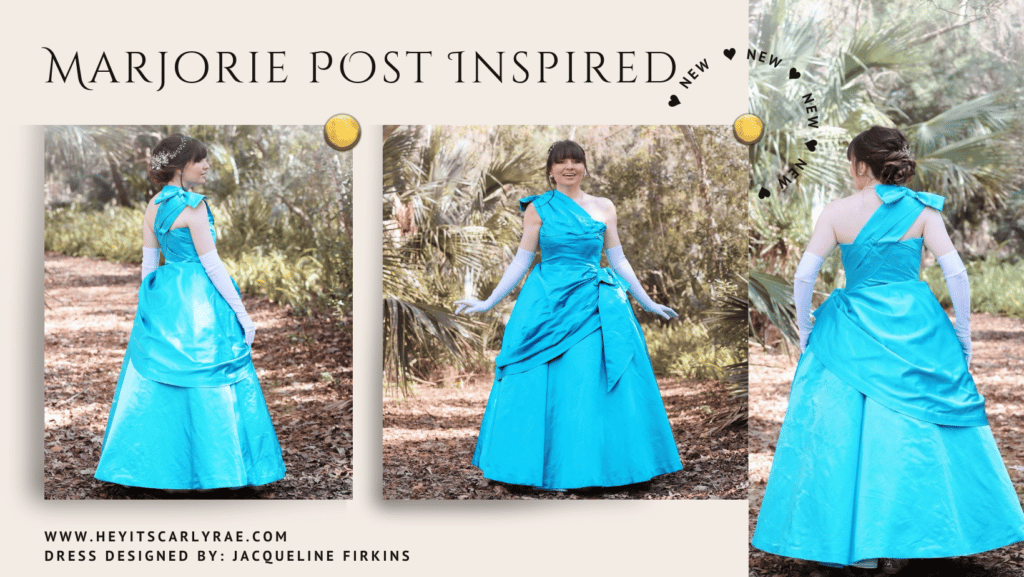 Sass Beauty Salon in Florida did an updo that I picked out to go with the dress, and I got the hairpiece from Amazon. Again, it all came together in a way that I could not believe. I decided to break things up and wear my favorite Golden Goose shoes instead of heels. I'm not much of a heel person and figured why not add my spin on it! 😊
Be sure to share your comments with me. I'd love to hear what you think about this book dress! Stay tuned because I have more book dresses coming your way! You can follow me on Instagram, Twitter, Facebook, and Pinterest. Don't forget to check out my feature on Feedspot's Top 100 YA Book Blogs!