This post may contain affiliate links, which means I may receive a small commission, at no cost to you, if you make a purchase through a link!
My July TBR Picks are here!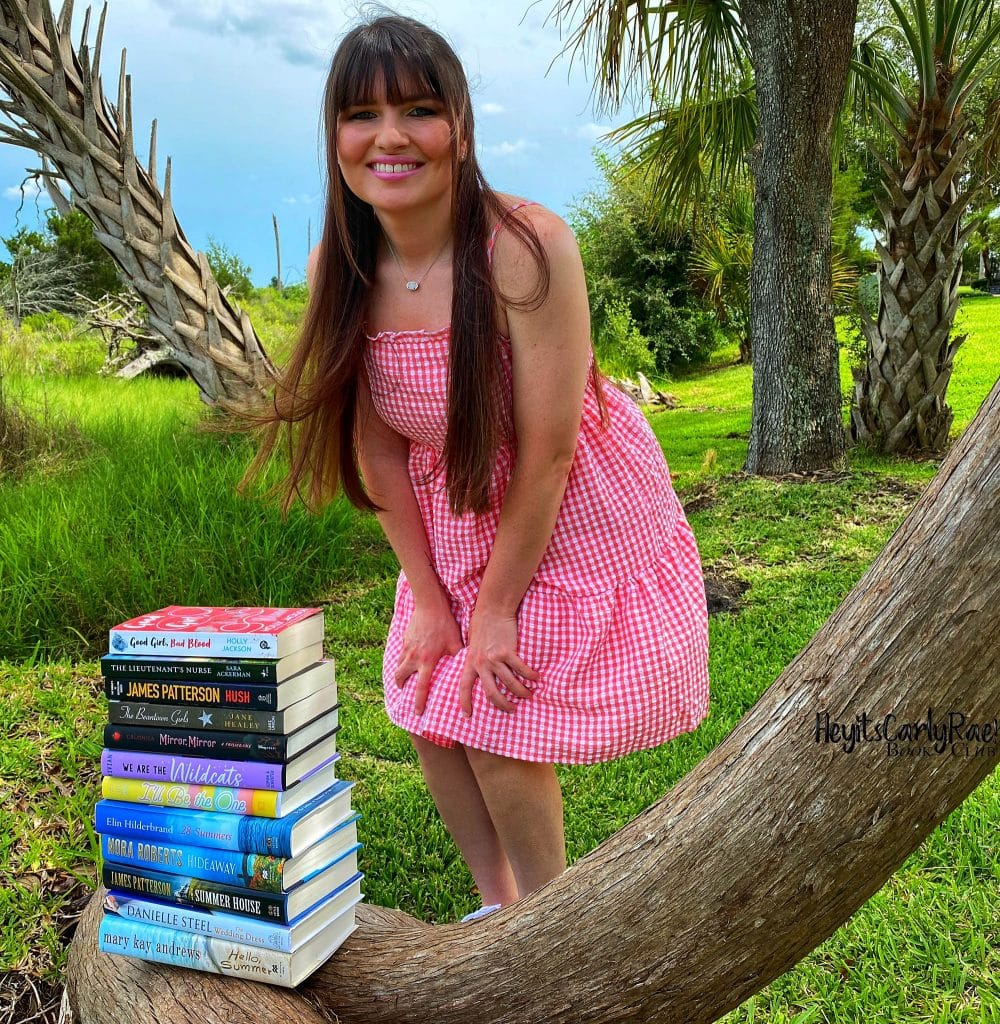 I am so excited for July because it's a marvelous adventure reading time. I picked historical fiction, YA fantasy, YA novels, romance, thrillers, and more.
28 Summers by Elin Hilderbrand centers around Mallory Blessing. Her nineteen-year-old son, Link, is instructed by his mother, who's now on her deathbed to call a phone number. It connects him to Jake McCloud. The husband of Ursula de Gournsey, who's running for the presidential election. But it's no mistake whisking the story back to 1993, starting with Mallory's summer spent in Nantucket.
Hello, Summer by Mary Kay Andrews follows Conley, who returns to her hometown Silver Bay, where her family owns the local paper. With her job lost, Conley starts working at the paper under her big sister Grayson. The two of them aren't exactly close, but when Conley comes upon a horrific crash with an old crush, Skelly, will the old town be different than Conley remembers? Will working with her family, living in her hometown, rekindle what's been missing in Conley's life, or will she keep running?
The Summer House by James Patterson is a summer thriller. When seven bodies are discovered in the once pristine summer house, Major Jeremiah Cook is called in by the Army to investigate. It gets worse when evidence points to the accused Ninja Squad. Did the war heroes commit a horrific crime? Or is there more to the small town and summer house then anyone thinks?
I'll Be The One by Lyla Lee is a fun, spunky, heartfelt novel. Skye Shin wants to be a K-pop star. The problem is K-pop stars are skinny, and Skye is fat according to their standards. However, Skye is determined to show her weight doesn't affect who is she is because she is Skye. She can sing and dance amazingly, earning her a spot in the TV show You're My Shining Star. It there she comes to face to face with Henry Choo, basically the Kardashian back home. Will Skye be able to remain who she is against her mother's wishes? Or will Skye fold under pressure?
Good Girl, Bad Blood by Holly Jackson is the sequel to Good Girls' Guide to Murder. Pip Fitz-Amobi is back with her friends. This time, though, she is not trying to solve any crimes. Pip wants to put the past behind her, but with a huge podcast following Pip can't seem to give it up entirely. Especially when her friend's brother goes missing, and the police won't help. What Pip isn't prepared for is this time the secrets are darker, and the stakes are way higher.
The Lieutenant's Nurse by Sara Ackerman is a historical fiction novel. Eva Cassidy is running from her past in Michigan as boards a ship to Pearl Harbor, Hawaii. Instantly, before the boat departs, she meets Lieutenant Clark Spencer. The problem is Eva is focused on being a nurse, and she already has a sweetheart waiting at Pearl Harbor for her. But will fate win out? Either way, neither are prepared for the bombing at Pearl Harbor. Even if they do survive, do either want to find each other after how they departed?
The Beantown Girls by Jane Healey is another historical fiction novel on my list. This novel follows Fiona Denning, who has her entire future planned out with her fiancé. They will get married when he returns from the war and buy a house in the suburbs of Boston. But when he goes missing, Fiona decides she can't just sit and wait. She joins the Red Cross Clubmobile girls and heads overseas along with her friends Viviana and Dottie. Together they learn to be the bright light to soldiers, handing out coffee and donuts. But Fiona is trying her hardest for one reason: to go to the front to find her fiancé. The question is…is he alive?
The Wedding Dress by Danielle Steel is a new epic novel that takes place over generations of women in one family. The family goes through wealth and loss, getting married, heartache, motherhood, and tragedies. One thing all the women have in common is a beloved wedding dress designed in 1928. Can a single dress bind the generations of women? Travel through one family and see how they embrace living life.
Hideaway by Nora Roberts follows the royal acting Sullivan family. When Caitlyn Sullivan gets kidnapped at a young age, it exposes a family betrayal and other secrets they've kept from one another. Will staying in Ireland be able to help Caitlyn come to peace with what happened? Will, her heart take her back to the love that was planted that horrid night?
We Are the Wildcats by Siobhan Vivian tells the story of a group of girls who play field hockey. In one day, they go from earning a spot as a Varsity Wildcat to reuniting as a team that night. Each girl throughout the novel is hiding something. Will they be able to come to terms with losing their championship title and admit what's been bothering them? Or will the one person manipulating the team make sure the Wildcats never rise again?
Hush by James Patterson and Candice Fox brings the beloved characters of Harriett Blue back into action. Blue is locked up in prison and never expects to see Joe Woods again. He's the Deputy Police Commissioner who, as you may recall, locked her up. Now his daughter Tonya and two-year-old granddaughter are missing, and he has a special request for Blue.
Mirror, Mirror A Twisted Tale by Jen Calonita is a Disney retelling of Snow White. The question in this novel is what if the Evil Queen poisoned the price and not Snow White? With the Kingdom in the hands of the 'Evil Queen,' Snow uncovers a plot to kill her. Can she get ahead of them and stop the Evil Queen once and for all?
Those are my July TBR picks. Have you read any of these novels yet? Which book are you most excited to read? Want to get your novel featured in next month's TBR pile? Contact me TODAY!