This post may contain affiliate links, which means I may receive a small commission, at no cost to you, if you make a purchase through a link!
Interview with Jane Porter Author of Flirty with Fifty, is today's guest on Chit Chat. I'm so excited to welcome Jane. I absolutely adore her book Flirty with Fifty and cannot wait to chat with her. Let's get started and find out more about Flirty with Fifty!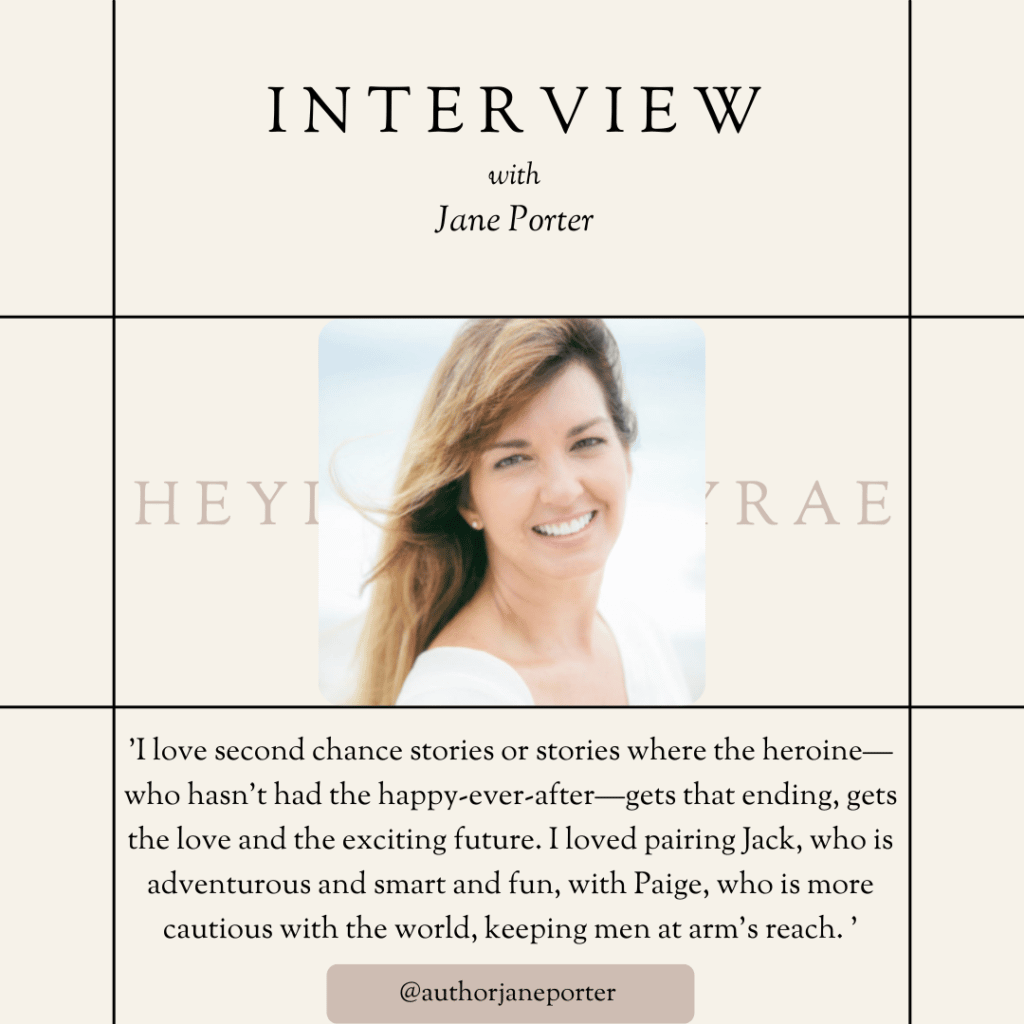 Flirty with Fifty is officially out! Tell readers more about it.
Flirting with Fifty is about a strong, smart, successful divorced woman who is quite happy being single and isn't interested in dating or marriage because it would require compromising, and she's done enough of that in her life. But in Paige's desire to be safe, she's also somewhat stuck and a little too risk-averse. Enter popular, handsome world traveler, renowned scientist Dr. Jack King, and everything changes pretty quickly. And probably far too quickly for our cautious Paige!
Paige Newsom is a refreshing protagonist. Tell us what inspired you to create her story.
I have a very close friend–a smart, funny, loving, youthful 50-something-year-old– who decided years ago, after her divorce, that she would never get involved with a man again. And yet men are intrigued by her, and attracted to her, and ask me to introduce them to her. So I've had conversations with this friend, asking her what it would take to want to date again, and she said nothing. I still don't accept this answer, and so I created a hero that I knew my friend would fall for (I mean, he looks like High Jackman!), and he's brilliant, as well as successful and a great dad. And that's how Dr. Jack King came to exist. I thought he'd appeal to my friend, as well as the book's heroine, Paige Newsome.
What was your favorite part of crafting Flirty with Fifty?
I love second chance stories or stories where the heroine—who hasn't had the happy-ever-after—gets that ending, gets the love and the exciting future. I loved pairing Jack, who is adventurous and smart and fun, with Paige, who is more cautious with the world, keeping men at arm's reach. Jack is pretty much perfect for Paige….she just has to develop trust and be open to change. (And can I say, I'm a sucker for a great hero, and Jack is a great hero. Some readers have said he's a little too perfect, but come on! I live with flawed men. I'm a mom of three sons. I could use the fantasy!!)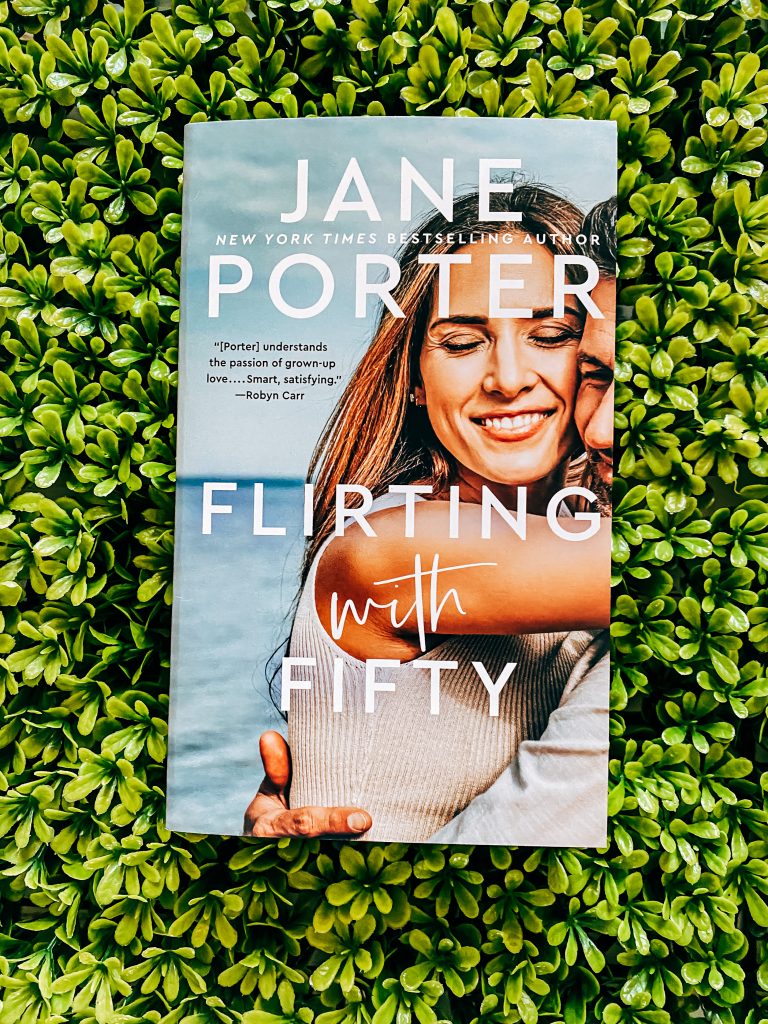 Paige Newsom is a college professor, and so is Jack King. What made you decide to craft them as professors?
My close friend, a former teacher, helped inspire Paige Newsome, and the hero was inspired by a cousin of mine, who is one of the world's leading epidemiologists. He's a British scientist—unlike Jack King, who is Australian—but they have very similar curriculum vitae. In fact, I liberally borrowed from Andy's travels, education, and experience to flesh out Jack. I come from a family of academics.
My great-grandfather was a professor. Also, my dad was a professor. My older brother is a professor, and then there are the East Coast cousins who teach at Yale and Princeton as well as semesters at Cambridge. It was fun writing a world that is so much a part of my world. I love learning, and higher education has been stressed all my life and then let's be honest, I was writing this during COVID, which sent my two college-age sons home for remote learning from their universities, and they weren't happy to be 'trapped' at home, and I was in a bit of shock that suddenly I had to become their dorm RA, cafeteria lady, counselor….when none of us expected them to be home again!
Did you go on an international field study like your characters to capture that adventure in the book?
I did go on an international field study program, spending the middle of my junior to the middle of my senior year in South Africa on AFS. It was a really hard year, and I wrote endless letters every day. It was 1981, and there was no internet, no email, and there were no phone calls, so it was all letter writing which meant it would take a couple of weeks for my letter to get to my family or friends, and then several weeks for them to reply to that specific letter.
I was incredibly homesick and had some struggles with host families (I'd started out in an English girls' boarding school and didn't thrive there, and then proved almost impossible to place with a long-term family, so I bounced around from short-term placement to short term placement, for the rest of the year, which was intellectually stimulating but emotionally challenging.) During that year, I read voraciously every South African novelist I could get my hands on, from Nadine Gordimer to Andre Brink.
I've also studied in Ireland, attending university in Galway for a summer, getting enough credits so I could graduate from UCLA. I spent a summer living with host families in Japan on a Rotary program, and then my own family lived in Europe when I was 13, as my dad was teaching for the military. I include a lot of international settings in my books as I love that tug of exhilaration and fear from stepping out of one's comfort zone and leaving the familiar for the unknown.
Travel is a metaphor for life—you never know what's going to happen, so it's important to rise to the occasion, have a good attitude, be open to new experiences, and savor the small pleasures. Travel isn't always comfortable. In fact, travel—especially international travel– can be very uncomfortable, and it creates change, whether you like it or not. Which, as a writer, is awesome for creativity and story conflict.
What inspires you to create your stories? You've written numerous novels. Did you always want to be an author?
I don't remember why I wanted to be an author. For me, I just knew I did. I learned to read young, and it was my natural response to reading—read and then write about it. Read some more, and then write my own version. When Beth in Little Women died, I wrote a poem called Ode to Beth. When Laura Ingalls was punished in Little House on the Woods, I wrote a fiery response to the pain she suffered. I'm not sure why I started writing, but at five or six, I wrote my first short story called The Christmas Elf.
I did a picture book series in second grade, working with a friend who illustrated the text. In fourth grade, I wrote my first novel. It was 100 pages of single-spaced writing. In the beginning, there was no dialogue, no paragraphs, just a story, and by the end, I had my dialogue quotes and tags down, as well as proper punctuation and format. That novel was a knockoff of Louisa May Alcott's Little Women and Little Men.
From there, I branched into poetry and plays, and then late in high school, I started my first romance, hoping to target Silhouette Romance with Struck Out in Love, a story about a professional baseball player still in the minor league who falls in love with a girl from a small town. Of course, it was inspired by my own life, as I had dated a minor-league pitcher my senior year of high school. Mark was on the traveling team and had stayed at the motel adjacent to the coffee shop I waitressed at.
Inevitably, I was not the chosen one, so writing a reunion romance once he'd made the big leagues (as he did), was very satisfying for me. That story did not sell, though, despite many rewrites, nor did the next 13. Happily, I did finally sell, getting that important call in January 2000. Since then, I've written 74 books that have all been published. My dad was a professor and a writer, and his brother did a lot of writing, so I suppose it's in my blood. I just can't breathe without words, and the words must go on paper.
Do movies trigger an idea or reading a book?
Music does, and sometimes just hearing someone say something gives me pause, and an idea will come. I get frustrated by the world that wants to relegate women to a back burner after a certain age. Our culture places too much importance on beauty and youth and doesn't honor or respect women with wisdom and worth.
My books hopefully will highlight how amazing women are at all ages—and how beautiful we are, whether we have gray hair, or have chosen to color our hair, whether we are lean or have added weight. Our value shouldn't be in externals but in our hearts and minds, as well as the support we give to others. We rarely ask for support in return, but we should. Women are my heroes. And that belief triggers story after story.
You write multiple books a year. How do you keep all the stories straight?
I actually write better when I have multiple things in the works. I'm not a linear writer. I write almost like shooting a movie, so it's often out of sequence. I'm very visual, and I can see where I want my story to go, so I generally get ideas for the next book or future books while writing the current one. It's almost as if my mind rebels and doesn't want to work on the current story and comes up with new ideas to distract me.
Truthfully, writing for me is the hardest when I step back, and there's too much time between projects, so staying productive and agreeing to new deadlines, keeps me on task and focused. My family would love it if I would write one book a year, but it would be too much free time for me, too much time where I would dillydally, panic and procrastinate. Better to keep me working, as it also means I don't have time for real or online, shopping. J

Before I let you go, is there anything else you want to add?
I was thrilled to be able to write this series for Berkeley. I would love to write more. I'm on the third book of the Modern Love series now, and it would be amazing to write another three or start a new series featuring mature heroes and heroines—but romances at the core, not women's fiction, as that doesn't always end with a solid HEA, and I need the happy ever after, not just for my characters, but for me, and my readers as well.
I've discovered that many readers crave romance because it is redemptive and hopeful, and people need hope. They need to laugh and feel safe. Good. To be reminded that love is probably the most important thing we can do, and love requires forgiveness, compassion, courage, and change. And women in their 40s, 50s, 60s, and beyond deserve these stories of hope and courage and change as much as women in their 20s and 30s.
I do write stories featuring younger characters, too, but this is my passion right now and I hope readers will pick up Flirting with Fifty, and enjoy it, as the next book in the series, FLIRTING WITH THE BEAST, out in late November, is one of my favorite books I've ever written!
Where can readers find you on social media?
Twitter handle : @authorjaneporter (not my fav place!), Facebook page : https://www.facebook.com/authorjaneporter/ Instagram page : @authorjaneporter Website: janeporter.com Email: [email protected] (I love reader email. I always answer!)
Thank you so much for joining us, Jane! Definitely don't miss your chance to get your copy of Flirty with Fifty! Stay tuned for more author interviews! Comment below any questions you have for Jane too!
You can follow me on Instagram, Twitter, Facebook, and Pinterest. Don't forget to check out my feature on Feedspot's Top 100 YA Book Blogs! You can also contact me about new reads today!