This post may contain affiliate links, which means I may receive a small commission, at no cost to you, if you make a purchase through a link!
Emily J. Taylor Author of Hotel Magnifique Interview is here. Emily joins me for an exclusive interview on Chit Chat. Emily wrote a fun debut fantasy and has quickly become a book I've seen over and over again on bookstagram. I was so excited when she agreed to come chat about the book with us.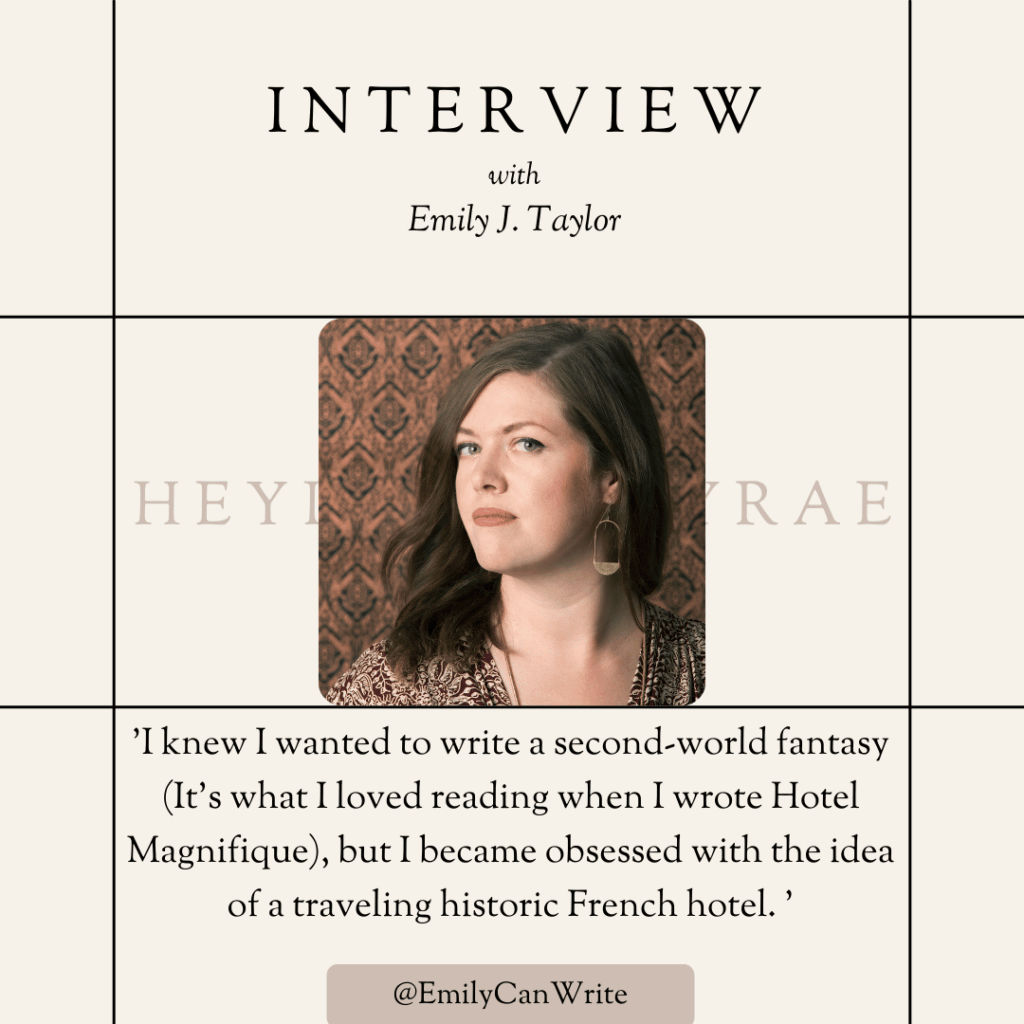 Welcome, Emily, I'm so excited to have you on Chit Chat and talk about this world you created in Hotel Magnifique. Tell readers more about this book!
This is the story of a legendary traveling hotel where guests wake up each morning in a different location across a fantastical world. But when two sisters take jobs there, they discover too late that their contracts are unbreakable and the hotel is hiding terrible secrets. It's perfect for anyone who likes lush, magical fantasy with darker elements.
You created such unique world-building in your story. What inspired you to create this fictional world?
I knew I wanted to write a second-world fantasy (It's what I loved reading when I wrote Hotel Magnifique), but I became obsessed with the idea of a traveling historic French hotel. So I decided to put the hotel in a secondary world where I could have fun creating the magical rules of the world and all the places the hotel would travel. The secondary world setting lets me do things that might feel anachronistic or odd in a truly historic setting. But it worked in the context of the story.
Once I settled on the big hook of the traveling hotel, I started brainstorming ideas that could bring the world to life. I'm a total magpie when it comes to weird places to dig up ideas. I love mining music videos and fashion and history, then combing things to create something that feels fresh. The magic system was inspired by the props of 19th-century French magician's tricks combined with my love of video games. I also worked as an art director for years before switching to writing books, and I think my brain is still wired to take inspiration from visuals.
If you're interested, I have a whole Pinterest board for my book here: https://www.pinterest.com/emilyjoy/hotel-magnifique/ But the biggest boon when world-building HM was that a hotel already had an incredible amount of built-in world-building, from guest rooms to itineraries to windows looking out. I filled an entire notebook with these built-in things, then brainstormed how I might twist them with magic.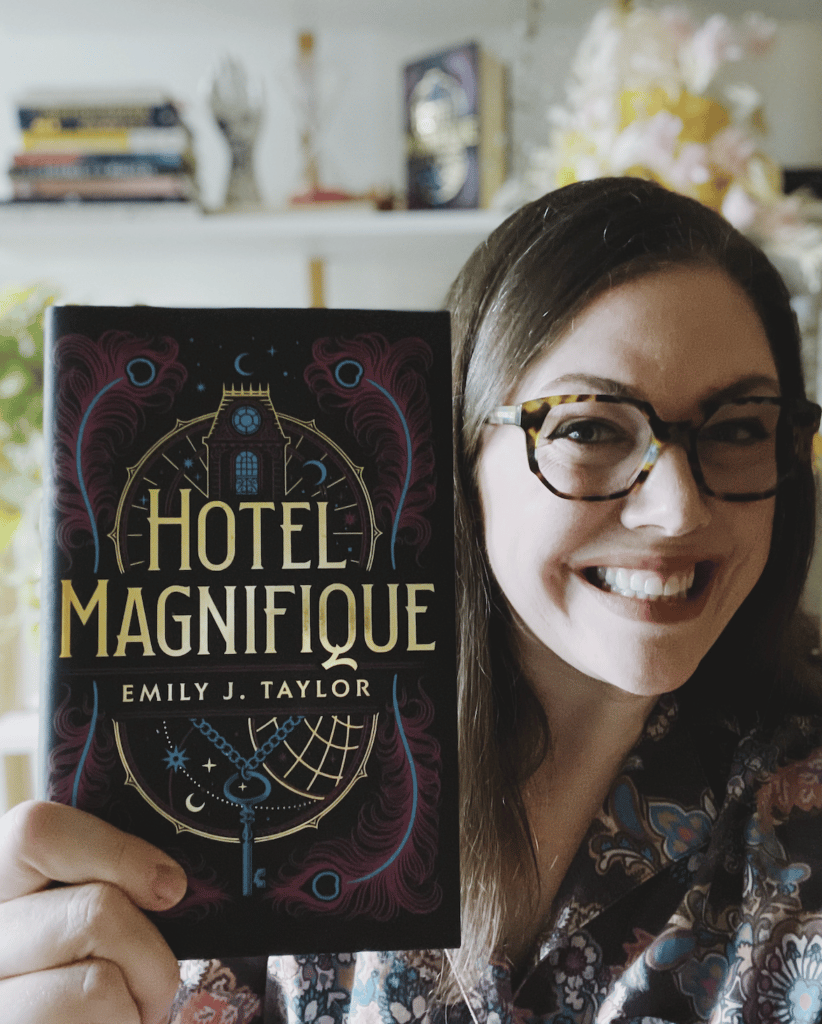 Did you always want to write YA fantasy?
YA, yes! I have such a crush on that category! You can do such daring, strange things in YA. But I didn't start writing fantasy until after drafting a couple of contemporaries, mostly because I was intimidated by world-building in fantasy. It's funny thinking about it now because world-building is my absolute favorite part of the process!
Who's your favorite character in Hotel Magnifique?
I love all my characters, but especially Bel. About five minutes after I thought of the idea for Hotel Magnifique, Bel popped into my mind and refused to leave. His role within the power structure fascinated me. Developing his character helped inform the plot and the magic system. For instance, his "switchblade" existed long before Yrsa's teacup. I also have such a soft spot for mysterious characters.
What is it you hope readers take away from your new novel?
I want readers to have fun! Seriously. This novel, I wrote during a dark period in my own life when I was experiencing burnout. I wanted a story to sweep me away from reality. I hope this book brings people that same sense of escapism.
Let's talk about the writing process. How do you go about crafting your novels?
I'm a big premise + setting-first writer in that I need to know the premise and be able to picture the world I'm playing in before I come up with characters and plot. Premise and setting ground everything, and then characters usually fall out of the power structure of the setting for me. Plot always comes last because it takes me the longest to think through. Maybe I'll surprise myself one day.
When I actually sit down to write a scene, I use the Freedom App to block distractions. Then I'll use little tricks to get my brain in the right headspace. I'll scroll through my Pinterest board. I'll listen to a good song on repeat a few times. I even had a couple of ridiculous candles I would light when I was working through certain scenes in Hotel Magnifique.

Do you prefer the developmental stage or a line-editing stage?
Definitely, the developmental stage, when I can break things apart and rearrange the story. I added a number of scenes when I was in this stage of writing Hotel Magnifique. I have a tendency to noodle my prose to death, so line-editing was an all-consuming hell and quite nerve-wracking knowing there weren't more chances at bigger edits. My absolute favorite part of the process, however, is the pre-drafting stage, when everything looks so shiny and polished in my mind, and the possibilities are endless!
Did you always want to write novels?
Not at all. I actually didn't start writing until I was in my thirties! Mostly because I didn't know I could. I had been working as an art director for design and ad agencies for a number of years and had a baby, and was feeling creatively burned out. I had always been a voracious reader, and a friend suggested I try a creative hobby that was just for me. It also happened at the end of October, and National Novel Writing Month began the following week–a community challenge where you sign up to write a 50K-word novel in a month. I took a few days off work, opened a google doc, and just typed. It was bliss! By the end of the month, I not only fell in love with the process of writing, but I developed a habit that's stuck with me to this day.

Before I let you go, tell readers where they can find you on social media.
You can usually find me on Instagram and sometimes on Twitter @EmilyCanWrite
Thank you so much for joining us, Emily! Definitely don't miss your chance to get your copy of Hotel Magnificent! Stay tuned for more author interviews! Comment below any questions you have for Amelia too!
You can follow me on Instagram, Twitter, Facebook, and Pinterest. Don't forget to check out my feature on Feedspot's Top 100 YA Book Blogs! You can also contact me about new reads today!