Criss Cross by James Patterson Review is finally here! Now, ask yourself what happens when an unknown serial killer targets the 'Sherlock of our times' Detective Alex Cross? That's the question that circles the plot of Criss Cross when the haunting M returns and targets Alex stronger than ever.
When Alex Cross enters the Greensville Correctional Center to witness the execution of Mickey Edgerton. A mass murderer, he sits with his long-time friend and partner John Sampson in the audience. The Edgerton family makes it no secret that they think their Mickey was framed for his crimes, and Alex made a mistake. Did he? Alex keeps questioning that as he leaves Mickey and his horrendous crimes behind him along with the elusive M that still plagues his nightmares. But when a murder is called in, and Alex is called to the scene, his world spins.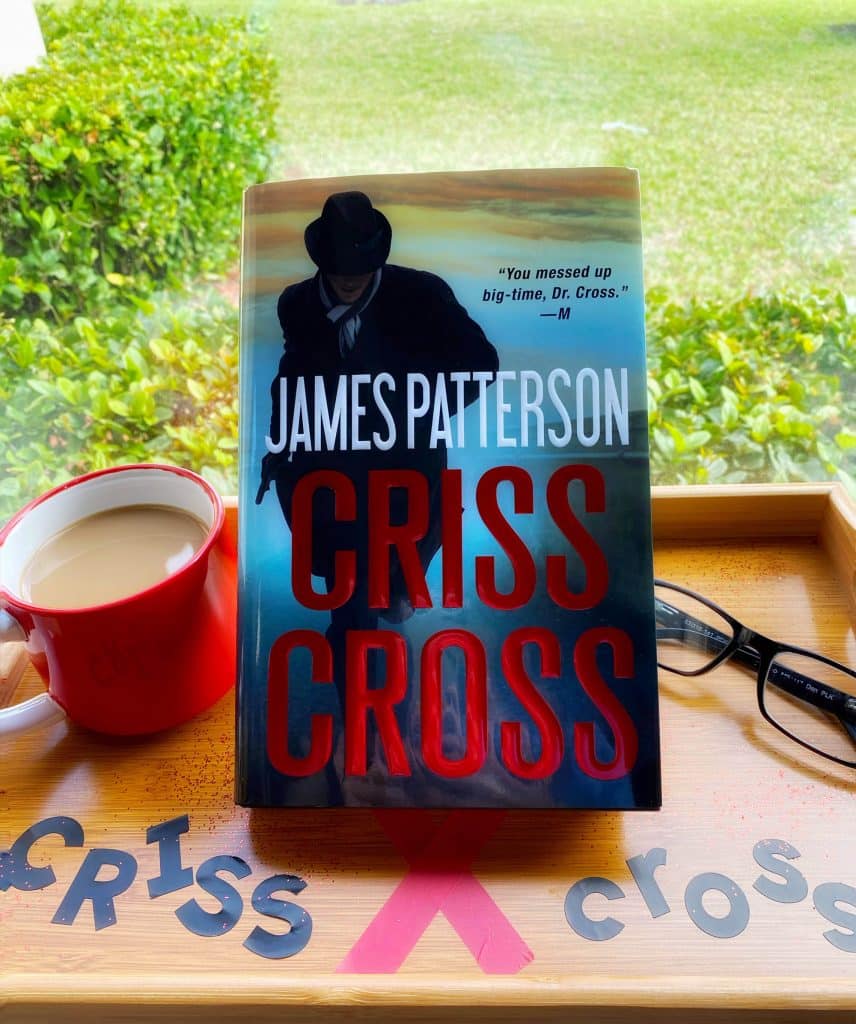 There on the body is a note addressed to Alex from M. Now, more than ever, Alex doesn't know if he made a mistake and caught the wrong guy when he put Mickey away. Did Alex get the wrong man executed for crimes he didn't commit? That question keeps Alex focused on his mission—finding out who M is and stopping his mass murder spree. But that isn't stopping anytime soon as body after body turns up.
Things get even eerier when Alex agrees to meet with Martin Forbes, aka Dirty Marty. He was a former coworker of Alex's during his time working for the FBI. Martin is being accused of a mass murder spree of the ring leaders of a slavery option Martin was tasked to investigate. He was taken off the case originally because of a lack of evidence, and the ring leaders hardly ever came into the USA. Martin, however, spent his spare time tracking them leading him to a hunch. This leads to Martin claiming he is being framed by none other than M.
This turn causes Alex to become obsessed with ending M, exactly what M wants of Alex…
It isn't until a lead guides Alex and John to wealthy Dwight Rivers, causing them to break the rules, that Alex realizes he's letting M get the better of him. A hard lesson that only gets harder when Bree, Alex's wife, narrowly escapes an explosion that leaves a fellow officer dead. Little does Alex realize though M is watching much more closely than he ever suspected.
Will Alex be able to stop this serial killer from tracking his family, or is he already too close? As it stands, his son Ali is very independent with a current obsession with mountain biking. While Jannie is struggling to get back on track with her running, and his Grandmother holds her own in being the glue to the family unit. Does M think they're an easy target? You will have to read this novel to find out. You also must brace yourself for who M is and see if Alex does indeed catch him. And if he does…can M be contained?
Criss Cross is a heart-pounding mystery that had me on the edge of my seat the entire time. I read it in a day and could not put it down until I knew for sure who this M was. Dang, was I surprised by the turn of events! I kept holding my breath every chapter I read!
I recommend grabbing your copy. It's an Alex Cross mystery you don't want to miss out on. What I love is how Patterson interwove the family dynamics of Alex with his job. It makes Alex a multidimensional character and a true crime legend of a character. The brave actions and strong nature of Alex make him one of my all-time favorite characters. James Patterson did another excellent job on this novel. It was brilliantly constructed with twists and turns, leaving the reader with no idea of the ending and their heart thumping with anticipation.
What I also enjoyed was not only the characters, but the descriptions of the places pulled into this novel. I am going to read this book again and again. Have you read it?
Want your novel featured? Contact me today!
Title: Criss Cross
Author: James Patterson
Pages: 387
Where to Purchase: Amazon, Barnes and Noble, Target, Books A Million
I rate it: 5/5