This post may contain affiliate links, which means I may receive a small commission, at no cost to you, if you make a purchase through a link!
I am so excited to share this plaid shirtdress on my site. Plaid shirtdresses have been trending for a while now, but I never found one I had to have. I wanted something that accented my figure and still could be casual.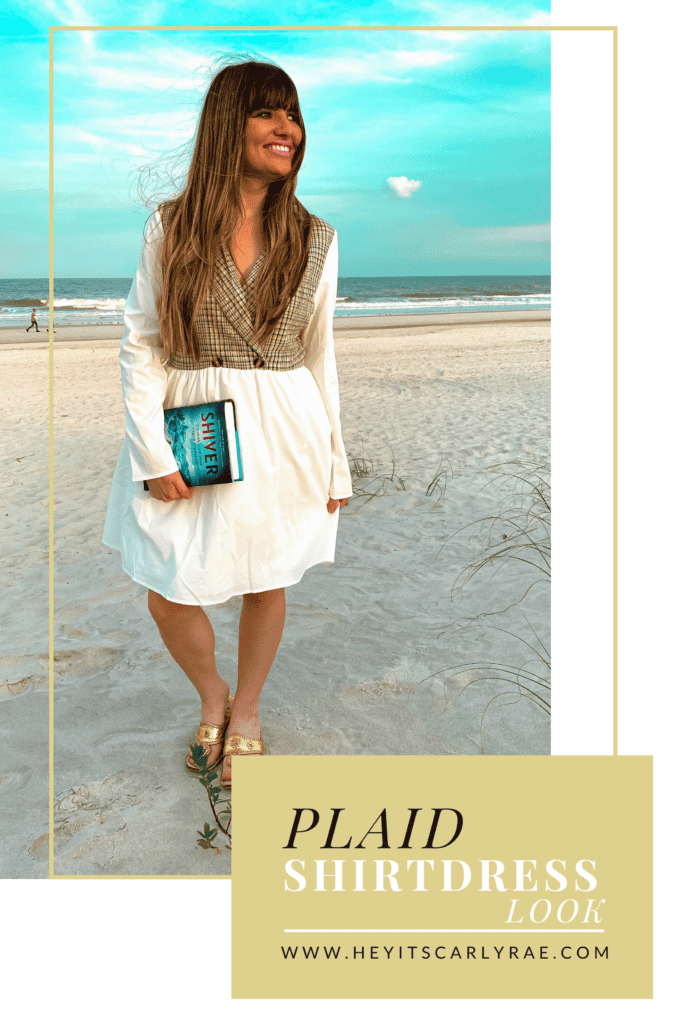 While shopping on Shein (yes, I am obsessing over this site), I came across this plaid shirtdress. I LOVED the plaid top with the accented buttons and solid bottom. I decided to take a chance and get this dress. It was only $17! Now, one thing that made me pause was I had NO idea what size to get. As I said, I am size small or size medium. It just depends on the outfit. I decided on this dress because it said there was not a lot of stretch to the fabric to get a size medium.
The size medium was definitely too big!
The top shirtdress was a size too big as well as the waist. I wore it in this photo but had to tuck in the side. There is no stretch, BUT there doesn't need to be if you get the right size. I will say when ordering this dress to get your TRUE size. If you are in between, I would say to size down because I wish I would have to get the fit I wanted.
For me, I was doing errands and in between meetings. I wanted to keep this look simple, so I paired it with my favorite Jack Rogers sandals. They are my gold and rose gold pair that literally go everywhere with me. My hair was loosely curled, and I felt confident in this look. Of course, I had a book in my hand because I literally go nowhere without one.
The times I do forget to bring a book, I always regret it! Anyways, yes, this plaid shirtdress was a size too big, but I still felt comfortable. The length of the dress was good too. I feel like the plaid shirtdress look is one you do not need to think about. You can grab, go, and wear to have a complete outfit.
I would LOVE to hear what you have to say about this trend. Are you a plaid shirtdress kinda person? OR do you love the dresses that are simply a blazer?
I am always on the hunt for upcoming trends and upcoming outfits to wear. Be sure also to let me know what it is you are wearing.
Shirtdress Trend 2021 FAQ's
Anything oversized, face masks, neutral colors, ruffles, flowy dresses, romantic floral patterns, and denim is back.
There are a wide array of colors in fashion for 2021. Pastels are making a comback as well as bold bright colors such as bright pink or yellow.
Yes! Do leggings EVER go out of style. Spring of 2021, is going to have a wide array of leggings available in various colors.
I say YOU do YOU. If you want to wear a shirtdress, wear it. If you want to wear a cardigan, wear it. Be your best self in what makes you feel your personal best.
Do you have more questions or want to see your business/product featured? Contact me. Also, don't forget to check out my feature on Feedspot's Top 100 YA Book Blogs!