This post may contain affiliate links, which means I may receive a small commission, at no cost to you, if you make a purchase through a link!
My navy blue short outfit is all I can talk about today! OMG! How many of you love a good short outfit? I do, but seriously have you tried shopping for short outfits? I feel like nothing I search for I like, OR none of it fits properly.
When I was younger, I always wore short outfits. They are probably the easiest thing to wear next to a maxi dress. You grab and go, allowing the short outfit to do the talking. Over the years, though, it became harder and harder to find a good short outfit. The trend seemed to fade, and so did the outfits.
While I was in my Amazon shop, I decided to search for short outfits. Those two words pulled up so many short outfits. I could not contain my excitement. I wanted to order like 20! They were all so cute! I decided on this navy blue short outfit pictured above. I LOVED the pattern, the halter style top, and matching shorts. It IS short outfit goals!
For sizing, I was a little hesitant.
Some reviewers say the shorts fit small, while others say they fit large. I decided to go with a size small. The shorts honestly looked to be an oversized fit in the photos. With the elastic waistband, I decided to would stretch if the shorts did in fact, fit snug.
When the size small arrived, I immediately tried on the navy blue short outfit. The top fit perfectly. You can tie the back, so even if it is a little small, you can adjust the tie to fit you. The neckline can be adjusted as well, meaning if you want the necklace more narrow or wider. It is up to you. All you had to do is pull the material across the tie-top neckline. For the bottoms, I did find them to be a little snug and short. However, if I did go up a size, I feel like they would have been too big and baggy.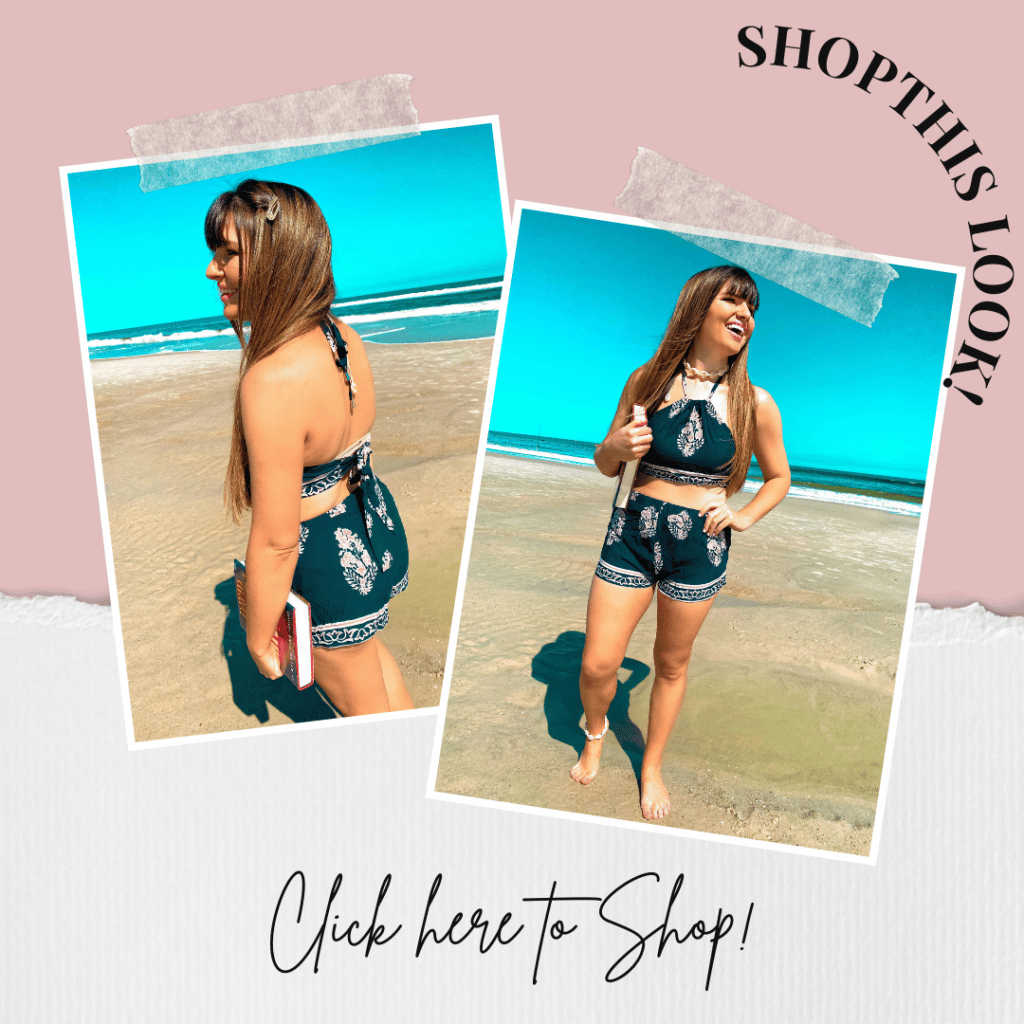 Keep in mind when ordering these shorts. They are meant to be high-waisted and on the shorter side. It is the fit, and even if you do go up a size, it will not change that.
Overall, I love this look. It is perfect for a vacation or a day at the beach. It is trendy and fun! What do you think? Would you wear this look?
Current Read is Daylight by David Baldacci! Click here to Shop!
Do you have more questions or want to see your business/product featured? Contact me. Also, don't forget to check out my feature on Feedspot's Top 100 YA Book Blogs!