This post may contain affiliate links, which means I may receive a small commission, at no cost to you, if you make a purchase through a link!
Gingham bikini swimsuit is all I can think about. When I spotted this gingham bikini swimsuit set on Amazon with the triangle top and ruffle trim, I immediately purchased it in black and white. Is it just me, or are you always on the hunt for a cute gingham bikini to wear? This Cupshe gingham bikini set also comes in two other colors: yellow and white along with blue and white.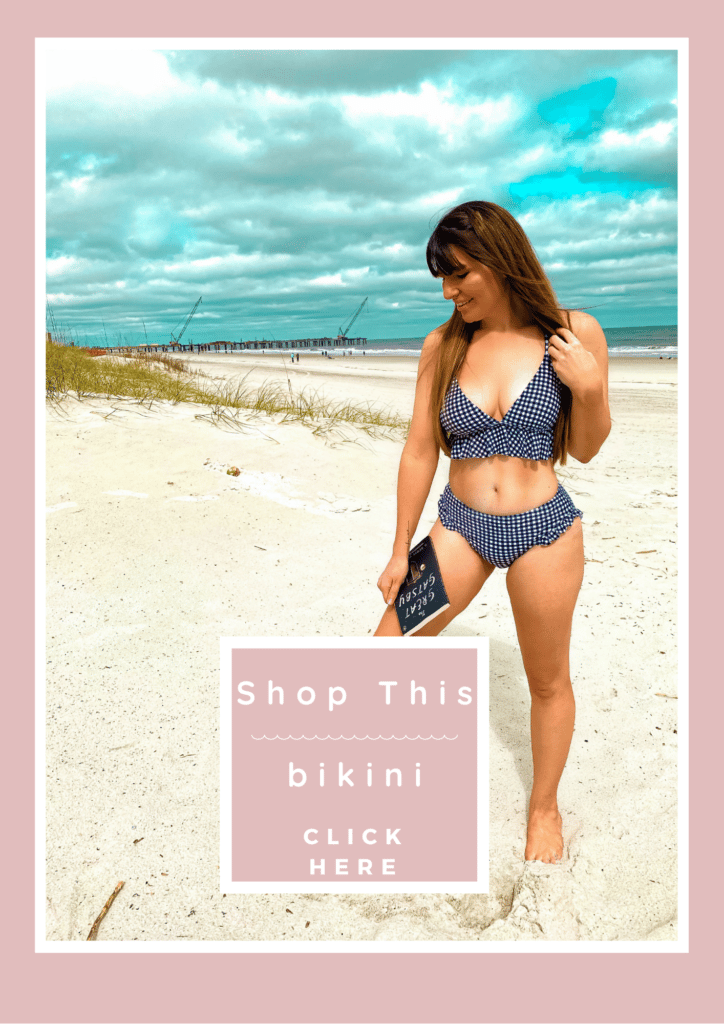 I LOVED the triangle top with the added ruffle detail under the bustline. The bottoms with the added ruffle sides caught my attention too. I mean, hello, can you ever go wrong with GINGHAM, a TRIANGLE top, RUFFLES?! Nope, I say you get a cute bikini swimsuit set to rock at any beach or pool!
I looked through the photos on Amazon of this bikini and the reviews. Now, reading the reviews, I hesitated. The top and bottom come as a set. MEANING the top and bottom have to be the same size when ordering. Don't freak out like I did because I am with you. The same size on top and bottom in a bikini? Yeah, that NEVER happens. There are times I am a size medium on the top and small on the bottom. OR I can be a large in the top and medium in the bottom. It always depends on the material.
Admittedly, I went back and forth about six times, trying to figure out between a small and medium. I had to get a size because this gingham print in the bikini with the ruffles I could not pass up. In the end, I ordered a size medium and held my breath. The bikini arrived two days later, and I immediately tried it on, super anxious.
The size medium fit perfect!
The top has a crisscross back with adjustable straps. So, I can adjust the fit of the top even if it is a little bit big. The bottoms in size medium fit me good too! The back has an add rouge that accentuates my figure too. Overall, this gingham bikini swimsuit set is one I will be wearing again and again. It is so comfortable and made me feel great in my own skin.
If you are like me, you like finding bikini sets that not only accentuate your figure but give you confidence.
This gingham set did just that! My favorite part about this entire bikini swimsuit set has to be the print combined with the ruffles. The ruffle triangle top is definitely the cutest part of this set. The fact it matches the ruffles added on the bottoms is perfect. This bikini set will be coming with me on vacation and when I go to read that beach.
For those asking, I am holding The Great Gatsby from Random House that just released this all new cover!
Do you have a favorite gingham bikini set you wear? What's your go-to bikini? Shop this bikini on Amazon and let me know what color you get!
Gingham Bikini FAQ's
Do you have more questions or want to see your business/product featured? Contact me. Also, don't forget to check out my feature on Feedspot's Top 100 YA Book Blogs!