Fuzzy Loungewear Trend 2021
Fuzzy Loungewear Trend 2021
The fuzzy loungewear trend 2021 is here, and I have officially joined in! If you have not felt fuzzy material, it is basically like wearing a teddy bear! Seriously, this fuzzy loungewear trend is my favorite because it is SO soft.
Fuzzy loungewear comes in a variety of colors.—from cream to brown to black to white—fuzzy loungewear is everywhere. It also comes in shorts, pants, long sleeves, short sleeves, and one-pieces! At first, I admit, I was hesitant about this trend. I wasn't sure how it would look on me. Would it be too soft? Would the material be too hot depending on the temperature outside? I just could not justify a price tag of over $50 for a fuzzy pair of pants plus another $50 for the matching top. Not when I had no idea if I would like the look or not.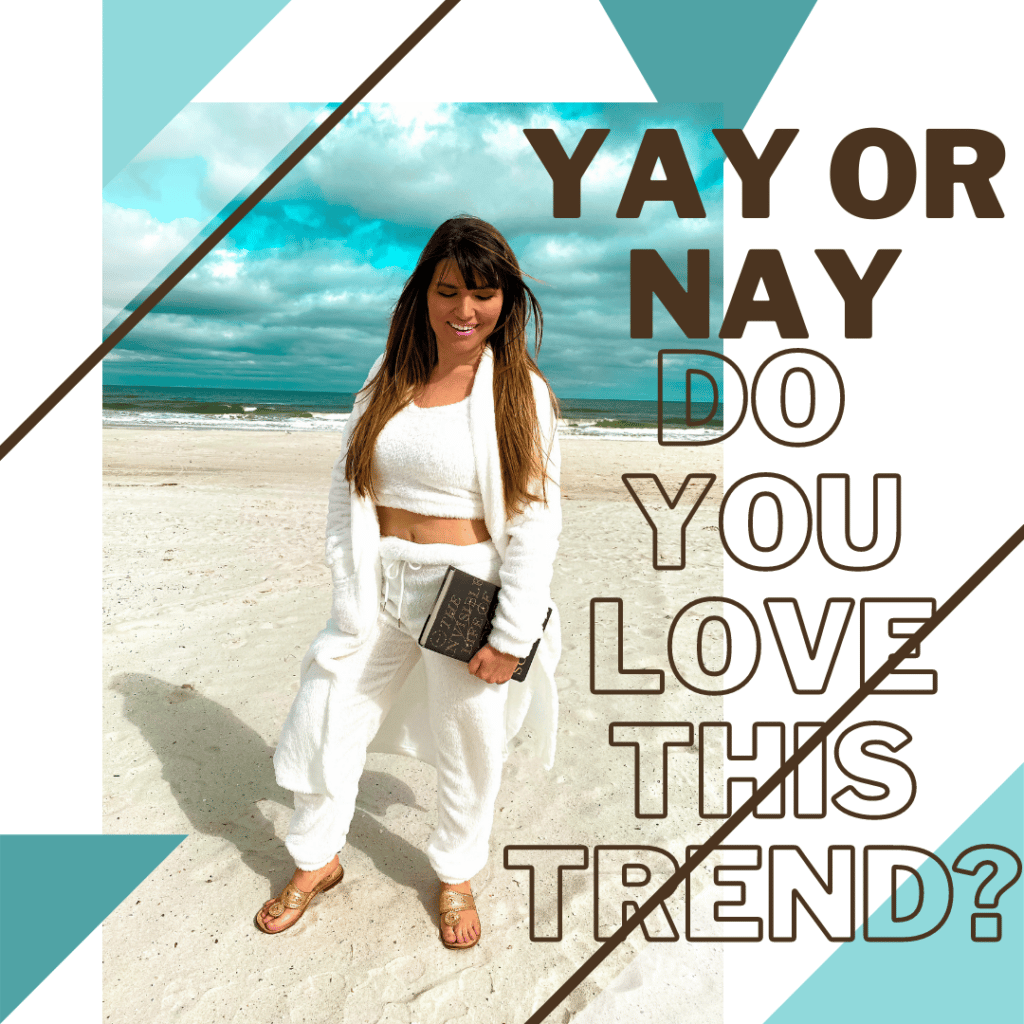 While browsing Shein, yes, I have an obsession. I found this three-piece fuzzy loungewear set. The reason I got it was because the entire set was under $25. I figured I couldn't go wrong with that price tag in trying out this trend. When I got it in the mail, I confess I put off wearing it for a few weeks. I was nervous. I just wasn't sure if I would like it or how it would look if it wore it out of the house to do errands. Finally, I took the leap and wore it.
It was a chilly day at the beach, and I figured, why not?
The set is a size medium, and it fits me snugly. The pants are SUPER soft. Again, it feels like I'm wearing a teddy bear! The top is cropped and balances out the fuzzy pants. Over the top and pant set is the matching throw-on sweater. It has pockets. POCKETS! It matches the outfit, and I think, adds a trendy twist. I cannot tell you how comfy it is! I couldn't get over it the entire time I was at the beach. It was thick enough where the cold wind did not affect me either.
I love how you can wear the sweater on the shoulder or off the shoulder too.
The color of the fuzzy loungewear set offsets any accessory too. I paired this with my favorite Jack Rogers in gold/rose gold as I do with most of my looks. Seriously, I cannot tell you how many compliments I got on this outfit. I definitely recommend joining this trend. Comment below if you have a fuzzy loungewear set!
Fuzzy Loungewear FAQ's
Who has the best loungewear?
You can shop the best loungewear from Amazon fashion, Daily Sleeper, Lunya, VS Pink, Nordstrom, and Tribe Kelley.
Where can I buy cute loungewear?
You can buy cute loungewear from many stores. Target, Nordstrom, Victoria Secret, Athletica, Lululemon, Gap, and Aerie are all great stores to shop.
Can you wear loungewear in public?
YES! You can wear loungewear in public. The best part about loungewear is it is made to wear to bed or for running errands. The material is soft and comfy. Most of the time the waist is adjustable too!
What does loungewear mean?
Loungewear means attire you wear around the house. However, now loungewear is made to wear out of the house as well.
Do you have more questions or want to see your business/product featured? Contact me. Also, don't forget to check out my feature on Feedspot's Top 100 YA Book Blogs!