This post may contain affiliate links, which means I may receive a small commission, at no cost to you, if you make a purchase through a link!
This post is all about the best tarte products.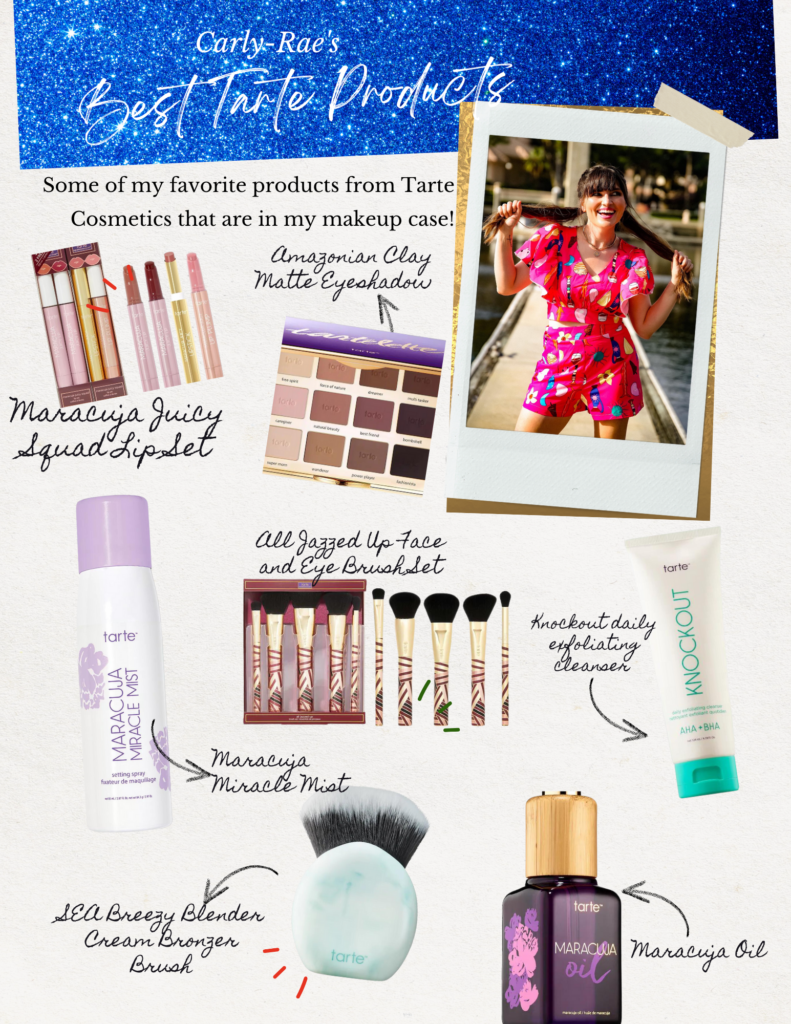 There are so many Tarte Cosmetics products on the market. It can be overwhelming. Where do you start? What do you buy? What works?
Everyone's skin is different. We are all unique, so what works for me may not work for you. BUT I am very picky when it comes to makeup products. I love buying new products and trying them.
Tarte Cosmetics has been a staple makeup brand in my cosmetic case over the years. The reason? Living in Florida with the humidity, it can be so hard to find products that actually remain on your face all day long. Not only that, but I also find good face products that don't make me break out.
I wanted to do the leg work for you and share the best Tarte products.
Whether you are shopping for new makeup for yourself, a friend, or a family member, all these products could work. And what I like is with these best Tarte products, you can purchase one or more!
"I love this palette. I use it at least four times a week. The colors are a natural hue, and I can make it as dark or as light as I want depending on the look I'm going for."
"I had the hardest time finding a good brow pencil. I have bangs, so I never really did a lot with my brows because all the pencils I used never looked natural. I use this brow pencil and tinted gel almost every time I do my makeup."
"I have a weak spot for highlighters. When I tried this champagne highlighter, I fell in love instantly. It gives me just the right amount of shimmer."
"The wand always ensures I get the perfect coverage when I'm applying my makeup. No matter how tired I am, this glow wand always ensures I look my best for my photoshoots."
Best Tarte Cosmetic Products
I love using my Tarte Moisturizer Mini knockout brightening gel at least twice a week. It gently exfoliates my face while making it feel fresh and clean.
I know a lot of my friends always message me about masks to use at night after wearing makeup all day.
This one never fails me and is one I always text my friends to get.
Peaceful (soft nude-peach) is my favorite hue in the Amazonian Clay 12-Hour Blush.
I first got this blush only because I was curious to find out if it lasted 12 hours. I used it when I knew I was going to the beach. The good news is it lasted all day.
The blush comes in over eight hues, so you can find the perfect shade for your skin tone.
It's so hard finding a primer for my face. I struggled for eight months to find a primer that didn't leave my face super oily.
When I tried the hydrating primer underneath my liquid foundation, I made this a staple. I never apply my foundation without this primer.
First, let me say my eyes are SUPER sensitive. I have such a hard time finding eyeshadows that not only stay on but don't burn my eyes.
I got this palette and was very excited. It was not only one that didn't hurt my eyes, but it stayed on.
The colors are also great because I can wear this and give myself a natural look by only applying the lighter hues. OR use it for a smokey look.
I never thought finding makeup brushes was a hard thing until I actually needed a new set. It was so hard to find a new brush set I liked. I literally tried drugstore brushes to Chanel brushes.
When I came across Tarte brushes, I stopped looking. What I really like about this brush set is the bristles. It allows my makeup to apply just right and I think they are easy to clean.
My face is naturally dry, but it can get super oily. Using oils is not something I wanted to do because then I thought my face would be super oily and I'd break out.
I decided to give this oil a try because I wanted something with Vitamin C in it. I also liked the fact I could use this on my hands or in my hair.
So far, this vegan oil remains a staple in my skincare routine.
Mascara can be something that is hard to find that actually works. I can't tell you how many times I've ordered mascara because of BookTok, only to find out it doesn't work for me.
I'm particular about my mascara. I like small wand brushes, which was why when I saw this one, I ordered it.
I fell in love with how my lashes looked. I applied a few coats and was finished. The best part is I wear this even when I'm not wearing any other makeup!
I'm a sucker for anything lips in my makeup case. This lip set is great because it hydrates my lips while giving me some color.
I used to have such a hard time blending in my makeup. I was one of those people who would have a line right where my blush was on my cheek.
When I found this brush, I got it and never looked back. I always use this now when I apply my foundation and contour and use my blush.
This is my favorite product from Tarte. I love the shade, Funny Girl. I literally use it almost every day.
On days I want a more natural look, I only apply Charmer and Flower Child. I get so many compliments!
Dark Brown is the color I use in this Tarte Sketch & Set brow pencil and tinted gel. My favorite part about this product is the small brush. It always allows me to apply the gel evenly.
Another plus is the product is easy to pack, so I keep it in my purse when I travel and always keep my brows on point!
Tinted moisturizers are tricky for me. They either are perfect for a day of errands, or I regret ever wearing anything on my face. The great thing about this one is I can wear it as a primer or wear it on its own.
There are so many shades, so if you're looking for light coverage, I'd recommend this product.
Finding the perfect highlighter can be tricky for me. While I'm a sucker for shimmer, I don't like a highlighter that is so shimmery it doesn't highlight. I also don't like a highlighter that offers too much highlight.
The Champagne hue is light enough that it offers me a natural shimmer that is perfect for when I don't want to wear a full face of makeup. Although, I admit to wearing this on date night.
Setting spray is something that I use anytime I do a full face of makeup. I've come to love this setting spray. Not only because it's lightweight, but when it dries, my makeup still feels natural.
This wand never fails to give me just the right amount of coverage. I bring this with me whenever I travel and want that fresh-faced look.
There are a variety of shades, so finding my perfect color was easy to do.
I was on the hunt to find a good poreless primer. Trust me. It was not the easiest thing to look for and find. But I came across this one and purchased it.
Again, my skin tends to run dry and then oily if I don't use the right products on my face. Using this one is perfect for me. It goes on light and can be worn on a day I don't want to wear a lot of makeup. Or I can wear it under a thicker foundation. Either way, I feel confident.
This pressed powder I use in 'fair.' I use an oversized brush and lightly apply it when my makeup is finished. It always sets my makeup just right and never gives me a creased look.
The powder is another makeup staple for me.
I always try to use different exfoliating cleansers on my face. Finding those that work can be tricky, but I use this one at least a few times every week. My face always feels fresh, especially when I've been at the beach all day.
Using a primer on your mascara really does work…at least for me. When I'm doing a full face of makeup, I ALWAYS use a primer on my lashes to ensure I get that full plump lash look.
This one always does the trick. I use this before a photoshoot!
False lashes, for me, are a hit or miss. I can either apply them quickly or not at all. Thankfully, I found these ones by Tarte and have yet to look back. I always know when I need a set of false lashes, Tareist, will do the trick.