This post may contain affiliate links, which means I may receive a small commission, at no cost to you, if you make a purchase through a link!
This high waisted bikini with ruffles is my new favorite bikini! Seriously, between the print and the high waisted bottoms, I am loving it.
Personally, I love high waisted bikinis because they are always a flattering cut. The trick for me is to get the bottoms a little snug. That way, they flatten my midsection. 😉 We all have those areas we want to hide and for me. I have always been subconscious about my abdomen. So for me, the trick I always use when shopping for high waisted bikinis is getting a size smaller. Do you do that? Do you get a size smaller than usual?
I was shopping on Amazon for some new bikinis when this high waisted one came up on my search feed. It is by Sporlike. Immediately, I clicked on it. First, I loved the high waisted style. Two, the added ruffles on the top and bottom, I thought, were super cute. Three, I loved the triangular top. I will say even though there are ruffles on the bottoms. It does NOT make you look wide. To me, the added ruffles add a trendy touch. I personally do not think it gives anyone the illusion of looking wide. However, I understand bikinis are all about what makes you feel comfortable. This, however, truly does make me feel comfortable and confident.
I did get a size medium which means size medium in the bottoms.
I will say the top fits me perfectly. The bottoms I wish were a little snugger but still work. Even though you have to get the same size on top as the bottoms—I think it still works.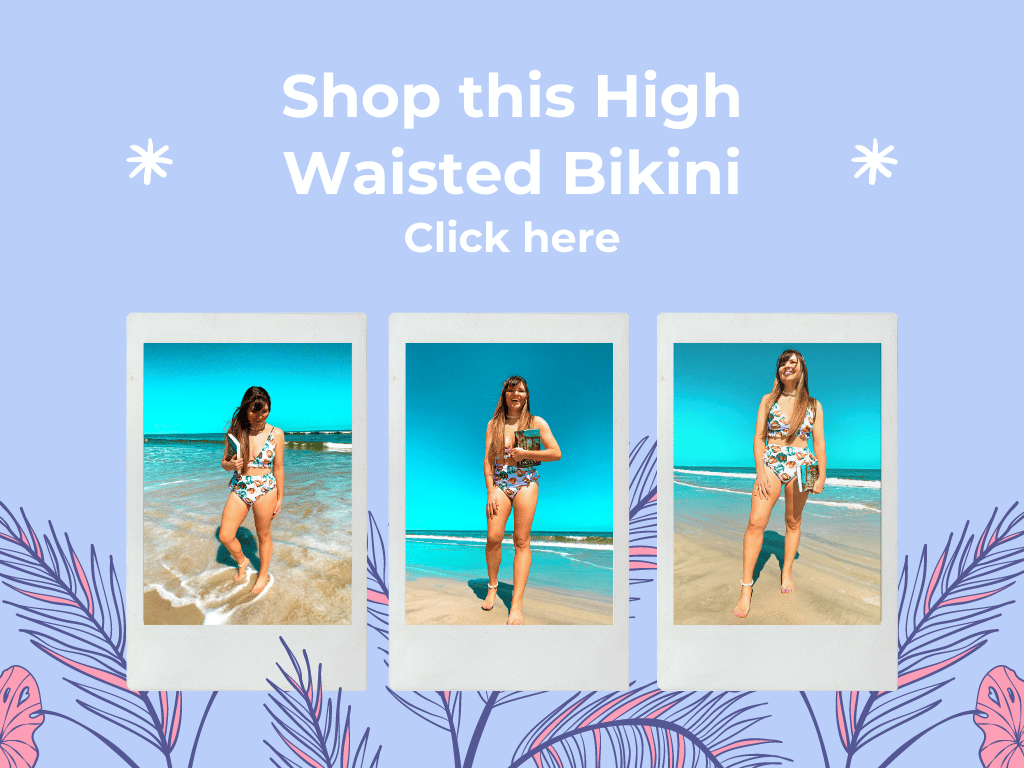 I will say, the top had me thrown for a loop. I had no idea how it tied or how to put it on. Two straps go over the shoulder. But you have to adjust them in the back FIRST and then tie it. Otherwise, one of the straps is super loose. It makes you think one of the straps goes under your arm. Again, do not be fooled like me. Simply adjust the top.
My favorite part of this high waisted bikini with ruffles is the pattern. The fun floral print and mix of hues give this bikini a down-to-earth touch. I love that. I wore my favorite shell necklace and matching anklet and was good to go. Personally, I felt super confident in this bikini and will definitely be wearing it again.
What do you think? Would you wear this bikini? Are you a high waist bikini person?
High Waisted Bikini FAQ's
High Waisted bikinis look good on hourglass body shapes, diamond body shapes, and pear body shapes. However, with so many different styles high waisted bikinis are for all body shapes.
Yes! They allow your hips to look less wide. High waisted bikinis also cut in at the waist giving you a smaller waistline look.
Personally, I think high waisted bikinis hide love handles. I always get a smaller size on the bottoms or try to in order to have a snugger fit. It allows the bikini to hold in my midsection more.
YES! High waisted bikinis are in style for 2020 and for 2021. Seriously, high waisted bikinis continue to make a statement from bold colors to gorgeous patterns and fits.
Current Read The Last Garden in England by Julia Kelly! CLICK here to get your copy!!
Do you have more questions or want to see your business/product featured? Contact me. Also, don't forget to check out my feature on Feedspot's Top 100 YA Book Blogs!