This post may contain affiliate links, which means I may receive a small commission, at no cost to you, if you make a purchase through a link!
Book Dress: A Good Girl's Guide to Murder Edition is here. I'm so excited to feature another book cover to dress look. I absolutely adore working with Jacqueline. I interviewed her on my site and learned all about her design process. If you missed it, check it out HERE.
For this Good Girl's Guide to Murder book dress, I got so many questions and comments about it on social media. It got such a massive response that I am happy to get the opportunity to feature this one. As many of you know I love thrillers and YA so combine those two genres into one…you know I'm ready to read any and every book I can get my hands on in that genre.
A Good Girl's Guide to Murder always stood out to be. For book 2, I even ordered the UK version so I could read it ASAP! But one thing I got asked over and over was…
Why did we pick A Good Girl's Guide to Murder?
Well, what Jacqueline and I do is first we both pick out a book we love. For me, I was always a huge fan of Holly Jackson's book. I loved how fast-paced it was, and overall I think it is a great YA mystery read. Jacqueline was already reading it, and we messaged about the plot, the characters, and the setting. It hit the marks on everything, so Jacqueline went to work on the design process. She decided to keep the murder board look and incorporate it into the dress.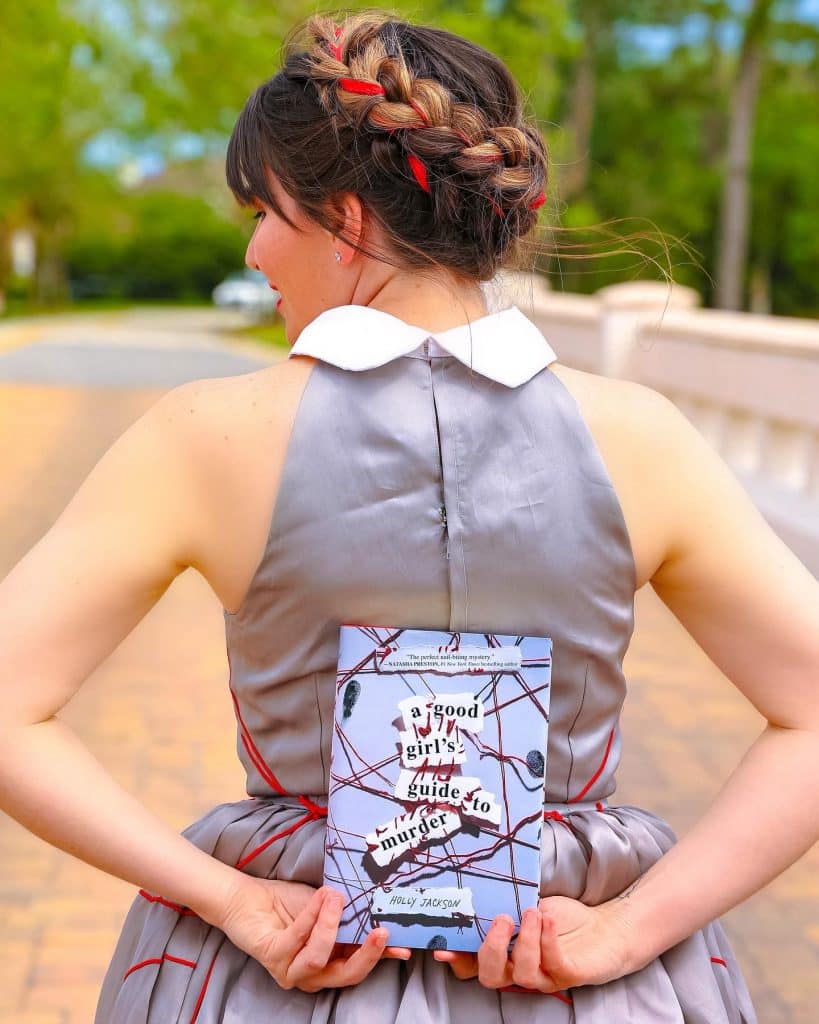 Do you think the book dress matches the cover?
I think the book dress truly captures the cover and is a book dress dream come true. For my hair, I did a crown braid with a red ribbon braided in to tie into red string both on the cover and the dress. I wanted that part of the dress to stand out, so I kept the shoes basic with a simple white tennis shoe. It allowed the dress to stand out on its own and the added bows on the front to pop.
One of my absolute favorite parts of the book dresses I get to feature is being able to see the sheer talent Jacqueline has in doing something truly original. The book community is diverse, and we all see different things in books and learn different things about books. To be able to bring a book cover to life as Jacqueline does is fantastic. Stay tuned for more amazing book dresses coming your way! If you want to see a specific book cover, come to life on my page, comment below and let me know! I'd love to hear from you!
Stay tuned for more book shares! You can follow me on Instagram, Twitter, Facebook, and Pinterest. Don't forget to check out my feature on Feedspot's Top 100 YA Book Blogs! You can also contact me about new reads today!