This post may contain affiliate links, which means I may receive a small commission, at no cost to you, if you make a purchase through a link!
This boho strapless maxi dress is a maxi I could not wait to get! I got it from Amazon after seeing it as one of their bestseller items. Now, I am short, so I was not a hundred percent the length would work. BUT I decided, why not? The blue color, the pattern, and the added ruffle on top were something I could not pass up.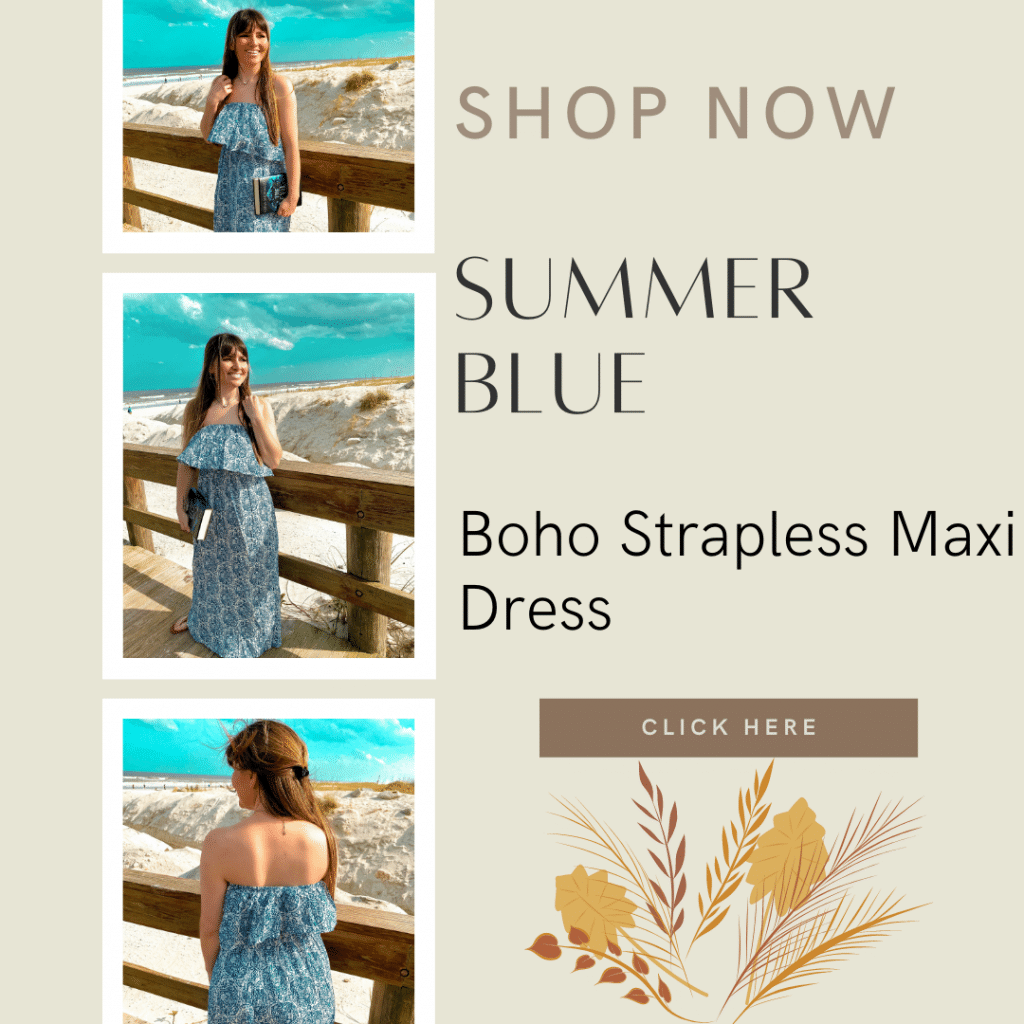 I opted to order a size small. With it being a maxi, I did not want it to be too big. Well, I guessed right! The size small fits me perfectly! It is a little long with sandals but is definitely something I can work with. The ruffle on the top of the maxi adds a trendy twist that I love. It does not swallow me in the maxi, which I love!
Now let's talk about the pattern.
The bohemian pattern is GREAT. I love blue. It is my favorite color. Between the color combo and the bohemian pattern, it really offsets this maxi. I can wear this maxi any time of the day as I can dress it up or down too. It is always a plus when a maxi can be worn day or night!
For a more casual look as pictured, I let this maxi do the talking. I kept it simple, pairing this bohemian maxi dress with a pair of sandals. I also brought a denim jacket to throw on over it for the cool night. However, if I want to dress this maxi up, I will pair it with my Jack Roger wedges. I may even add a chunky necklace to really step up my trendy sparkle look.
Maxis really are one of my favorite staples in my wardrobe. I love them because maxis make their own statement. If you know me, you know I am not a HUGE accessory person. I try to be. However, I am always on the go and sometimes forget to grab accessories. When I wear a maxi, for instance, I feel like if I forget a necklace or bracelet, it's okay. Maxis allow me to feel confident in my own skin because they are bold on their own.
I am so glad I decided to get this Summer Blue Boho Strapless Maxi Dress on Amazon.
It is soft, comfy, and has a pattern that I feel will never go out of style. The boho print is something that allows this maxi to be dressed up or down. In short, do I recommend adding this maxi to your wardrobe? YES! I definitely do! Seriously, do not miss out on this maxi that you can wear year-round and feel confident in. I LOVE it!
The book I am reading is The Evil Queen by Gena Showalter too!
Boho Maxi Dress FAQ's
YES! Maxi dresses are still in style in 2020 and 2021! Maxi dresses come in a variety of patterns, fabrics, and style. You can wear maxi dresses anywhere and be in-style!
You can wear a boho maxi dresses with neutral tones. A neutral pair of sandals or wedges always look great with a boho maxi. You can also pair an oversized sweater with the maxi along with a denim jacket. The main thing is to let the maxi do the talking.
Maxi dresses are definitely faltering. There are so many different styles and patterns that you can find a maxi to fit your shape. Some have empire waists others have the shift style. Some of have straps or sleeves. The best part about a maxi is there are so many options!
Do you have more questions or want to see your business/product featured? Contact me. Also, don't forget to check out my feature on Feedspot's Top 100 YA Book Blogs!