The Guncle by Steven Rowley Review is here. I recently read The Guncle by Steven Rowley, and I am excited to share my review with you today.
Synopsis: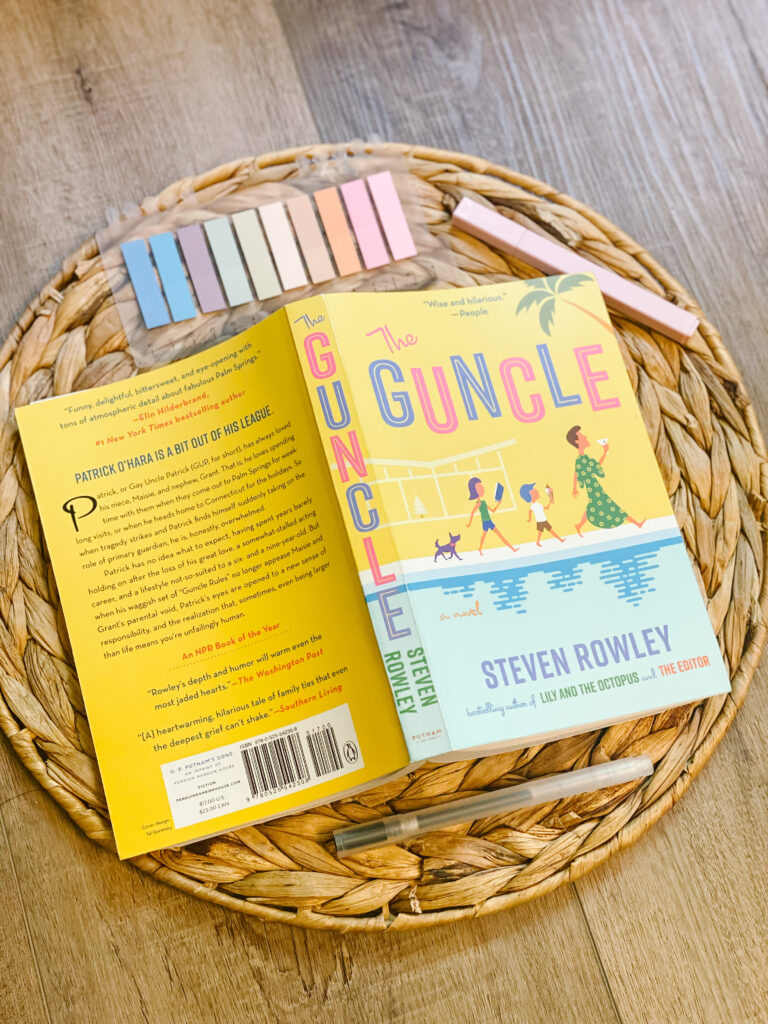 This book follows Patrick O'Hara (Gay Uncle Patrick or GUP) as he travels home to Connecticut for his sister-in-law's funeral. During his trip, his brother confesses that he is struggling with addiction and needs Patrick to watch his children for the summer. Patrick is hesitant to care for his niece and nephew but ultimately relents and takes them back to his home in Palm Springs. The plan is for Patrick to keep them for the next eight weeks while his brother attends a nearby rehab program.
Throughout the book, the reader gets a front-row seat watching Patrick adjust to unclehood and the challenges of caring for his six-year-old nephew, Grant, and nine-year-old niece, Maisie. It is a major adjustment for this former actor and someone who has lived kid free for his entire adult life.
At first, he is overwhelmed with the responsibility, especially since he isn't in the best place in his life. He has never recovered from the traumatic loss of his partner in a devastating car accident. Patrick has spent the last decade avoiding life and people.
Patrick is determined to make this summer fun and educational for his new houseguests. With an extensive and eccentric list of "Guncle Rules," Patrick spends the summer helping his niece and nephew navigate the heartbreaking loss of their mother. However, they might not be the only ones who changed by the end of it.
My thoughts:
I absolutely adored this book and gave it five glowing stars. It will be my new life goal to convince everyone to read it.
The Guncle had me laughing, crying, and smiling. Rowley expertly details the nuances of grief in a raw and relatable way. This book was thoughtful, funny, heartwarming, healing, and an absolute delight. I highly recommend highlighting all the "Guncle Rules" as you go along because they are perfection. My favorite was Guncle Rule #16, page 301, "I need you to remember something. We'll call it Guncle Rule sweet sixteen: I want you to really live. To live is the rarest of things. Most people merely exist."
Here is your homework assignment: Go read The Guncle and come back and tell me your favorite Guncle Rule in the comments below! Happy Reading!
Get your copy on Amazon! Find out more about Influencer Kate A. on our Influencer page and you can contact us to let us know which book you want to see reviewed next!