This post may contain affiliate links, which means I may receive a small commission, at no cost to you, if you make a purchase through a link!
The matching two-piece outfit set is a trend I have wanted to join for so long. But I could never find a two-piece outfit I liked. The fit never fit properly, OR the sets were so expensive I could not afford them.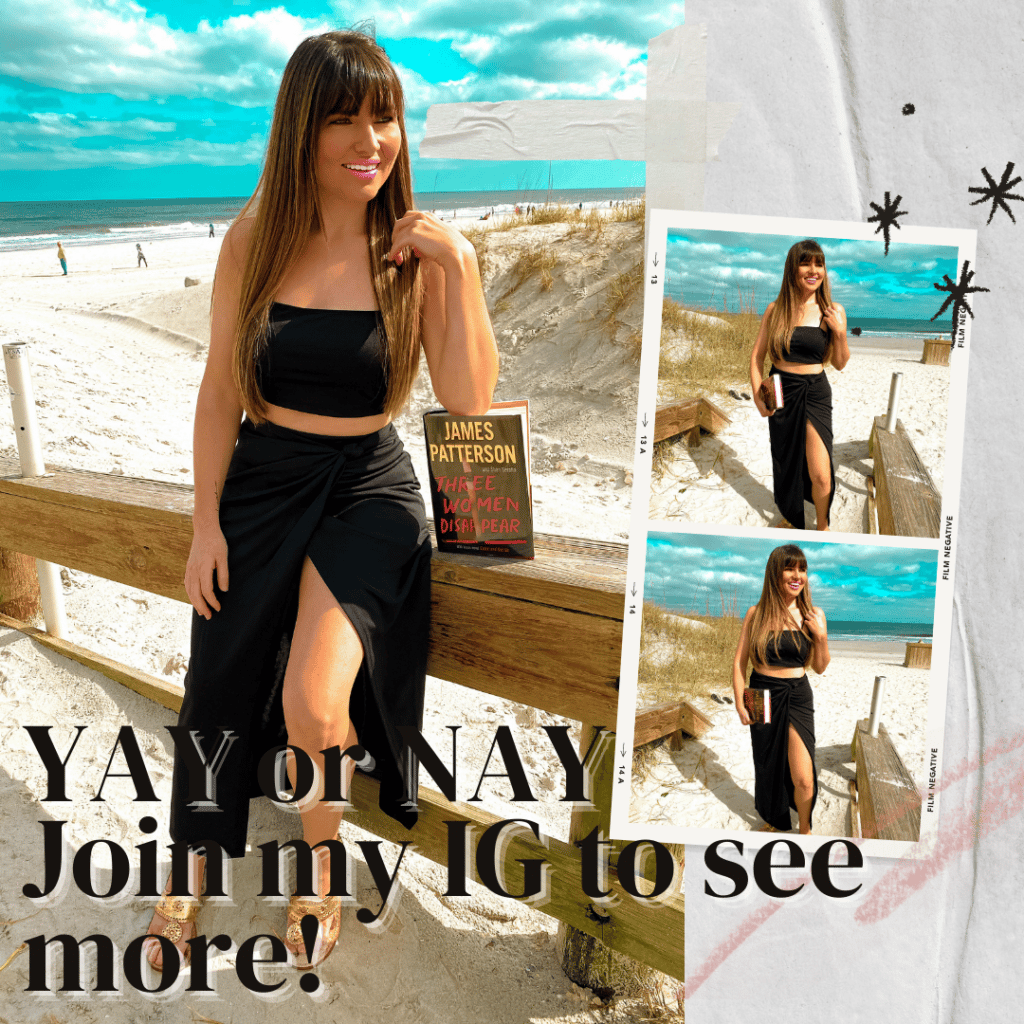 I pulled up so many matching two-piece sets I lost count. There are shorts, pants, skirts, tops, crop tops, and even shirts with jackets. Each comes in a variety of colors and patterns. Still, every time I got one, the bottoms either fit too loose or too snug. The tops were too short or too long. Seriously, none of the sets looked like they did on the models online. Has that happened to you? You order something, and when it arrives, you are like, oh my gosh, what did I order?!
I gave up for a while, thinking I would find a matching two-piece outfit that would fit me and look good.
While searching online on Shein, yes, my guilty pleasure of a website.
I found this matching two-piece outfit set. Seriously, I could not stop looking at it. I LOVED everything about it. First, it is all black, and you cannot go wrong with all-black. Second, I LOVED the crop top with the high waist skirt. Third, that slit y'all! How cute is the side slit!
BUT I was unsure of the sizing. When I order from Shein, I usually don't return anything because it is a hassle, so I always try to guess the right size. I went with a size medium, thinking, well, if it is too big, I can work with it. Well, the size medium fits me perfectly, with the skirt fitting a little snug at the hips.
Do not be fooled. That slit is a slit, okay? There is nothing underneath, so you have to position that skirt to make sure it does not show too much. The top fits snug also, allowing me to have some room between the top and the skirted bottom, giving it the crop top—high waist skirt look.
The material is thick and of good quality, which is a huge plus.
I paired this look with a neutral pair of Jack Roger sandals. They are gold and rose gold, giving it a sophisticated twist. I will say my favorite part about this look is that this two-piece outfit does the talking. What does that mean? It means you do not have to worry about your hair or accessories. Wear neutral makeup, hair down or up, and let this matching two-piece set make the statement. The added illusion of a tie waist helps give this look a trendy twist too.
Overall, I recommend getting a matching two-piece set. You will not be disappointed. I am SO glad I am apart of this trend now. Again, this one is from Shein. But below, you will find an array of two-piece sets on Amazon you can purchase.
Matching Two-Piece Outfit FAQ's
A matching two-piece outfit is a set where the top and bottom match. The two-piece outfit can be a crop top, shirt, or spaghetti strap top. The bottoms can be shorts, skirts, or pants. As long as the top and bottom match you have a two-piece outfit!
You can shop a matching 2 piece set on Shein, Amazon, Forever 21, Asos, Pretty Little Thing, and more. There are so many options of where to shop the matching 2 piece set.
YES! The matching two-piece set is even more popular. I see two-piece sets on so many websites. You simply need to search your favorite shop or boutique and the sets will appear. You can now get the sets in a variety of colors and patterns.
Depending on the style and cut, matching 2 piece outfits are comfy. They come in a variety of patterns and fabrics. You can get cotton and get shorts with a jacket.
COMMENT your thoughts on this look below! You can also LIKE the post!
Do you have more questions or want to see your business/product featured? Contact me. Also, don't forget to check out my feature on Feedspot's Top 100 YA Book Blogs!