Marlowe Banks, Redesigned book dress is here! This dress is based on Jacqueline Firkin's latest novel, who also designs every book dress I feature. I was so excited when she sent me and my contributors ARC copies of her novel!
For those who don't know what Marlowe Banks, Redesigned is about, it centers around Marlowe Banks, a costume designer whose life isn't exactly going in the right direction. She owes a ton of money for her student loans, and her latest design isn't a critic's favorite. On top of that, her parents aren't exactly proud of her.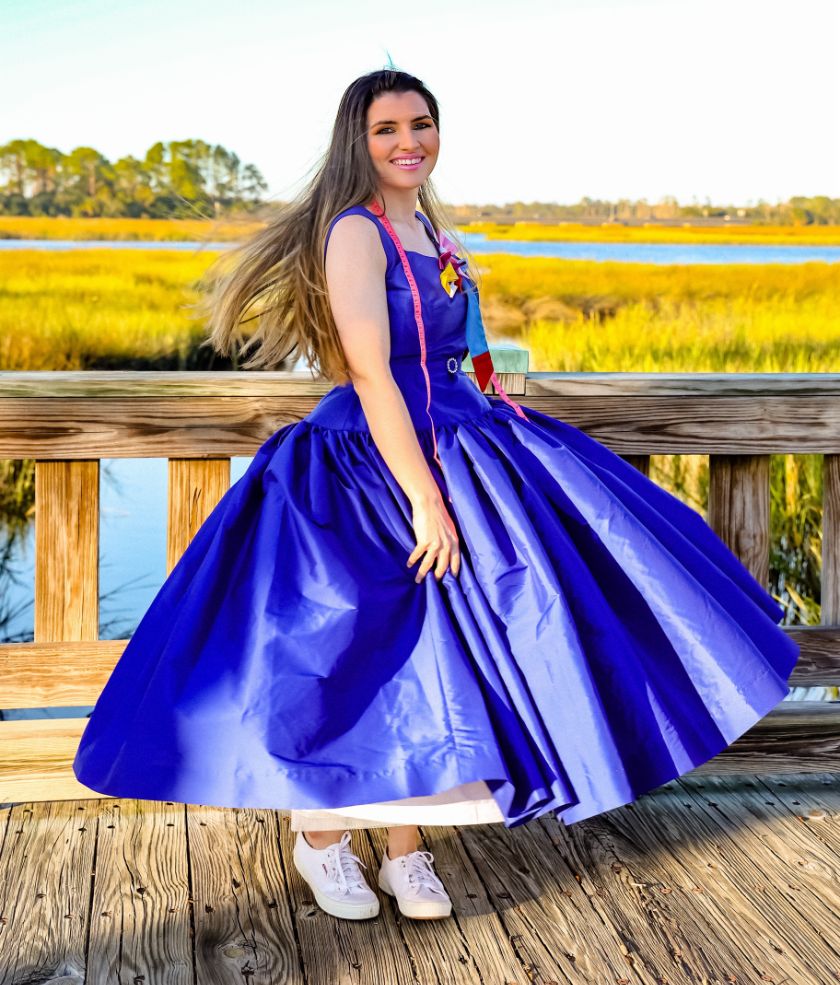 So what does Marlowe do? She decides to change her entire life and move to Los Angeles. There, she starts working on the set of a TV show s as the assistant to production. But when the bad boy on set, Angus Gordon, casts Marlowe in the spotlight, there is no more hiding. But both of them have baggage. Will they decide to move forward with their lives separately or together?
You can read the full book review here to find out what me and my Contributor team thought about it.
In short, I enjoyed the book and immediately told Jacqueline I'd love to feature a book dress. She started pulling fabric and made magic happen yet again.
"For the design, this was my second Marlowe dress, having made one for my cover reveal, so I wanted to interpret the design in a slightly different way," said Jacqueline. "I still adore the bright blue as a base, but this time I used a lightweight taffeta instead of cotton voile, adding a bit of shine and a crispness that matches the cartoon feel of the cover sketch. Instead of adding a jacket to bring in the colors of the cover detail, I used a cluster of bows, which allowed me to sneak in reference to the red Converse Marlowe wears, one of my favorite details on the cover illustration, as they also appear on my debut book! The dress might be a *bit* formal for most of Marlowe's activities, but since the story is a romance, a perfect date night on a warm Southern California evening might be in the cards."
I am definitely a huge fan of how formal it is. The cobalt blue fabric is my new favorite color, and the added pleated skirt really made this dress pop. One of my favorite aspects of this book dress is the drop waist. It is unlike any of the other book dresses I have featured, giving this it a different spin that suited the cover.
I will say that the cover of Marlowe is a touch tricky, as there are a ton of colors and shopping bags. But Jacqueline made the dress her own by putting pieces of ribbon fabric in different colors on the bodice. It really made this dress stand out against the others and kept reminding me of the character of Marlowe. I love how Jacqueline incorporated the aspect of the character's costume design background into the design of this dress.
---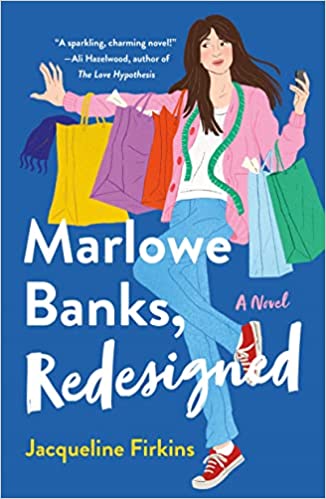 Marlowe Banks, Redesigned by Jacqueline Firkins
Genre: Fiction/ Romance
This story follows Marlowe who moves to LA and starts working as a costume designer on a TV show. But when Angus casts more attention on her than she bargained for she must decide if it's time to move on with this new life.
Read more reviews on the book index here
Buy this Book: Amazon| Barnes & Noble | Books-a-million | Audible
---
I decided to pair the garment with white tennis shoes.. While the dress is formal, I like offsetting fancy with casual, and I thought the white added more of a pop.. I didn't do much for accessories because I wanted to let the dress do the talking with the added ribbons across the bodice.
What do you think of this Marlowe Banks, Redesigned book dress? Is this your new favorite?