This post may contain affiliate links, which means I may receive a small commission, at no cost to you, if you make a purchase through a link!
I have gotten hundreds of messages about this floral print outfit with kimono on my platforms. I decided to showcase it today and talk about the fit, the print, the colors, and even the shop where I got it!
So let's talk the fit…
The fit of this floral print two-piece with the matching kimono fits snug. I got a size small in this two-piece because I thought the shorts looked flowy. I did find that although the shorts have an elastic waistband and were a loose fit. The shorts fit snug. The top was a little tight, and the zipper in the back of the crop top is just for show. Therefore, there is hardly any stretch in the crop top. Again, if you do get your actual size, it will fit, but count on it being a snug fit. Personally, I wish I would have gotten a medium, so I had a little bit of extra room. But I felt like if I did go up, the kimono that came with it might have been too oversized.
So let's talk the print…
I LOVE this floral, botanical print! It is absolutely gorgeous! It is perfect for spring and into summer. You seriously cannot go wrong with this print. It can be dressed up with wedges or dressed down with flats.
So let's talk the colors…
AH—the COLORS! They are gorgeous! As you know, I have a thing for bohemian and earthly tones. When I saw this color hue, I had to get it. I thought it was so trendy and so gorgeous. In-person, the colors are even more gorgeous! I also love the fact these colors allow you to accessorize in various ways. You can pair simple jewelry with it or go chunky and pair some trendy pieces with it.
So let's talk the shop…
I got this outfit from Shein for only $25! Yes, you read that correctly. For all three pieces, I only paid $25, and the quality of this outfit is there. It is definitely worth the price tag. You know Shein is the store I always go to to try out trends at great prices. I have to say I haven't gone wrong yet. If you want looks for less, I recommend this online shop. Yes, it can be tricky to get the right size, but I say when in doubt, go up a size! You can always pull it in if you need to!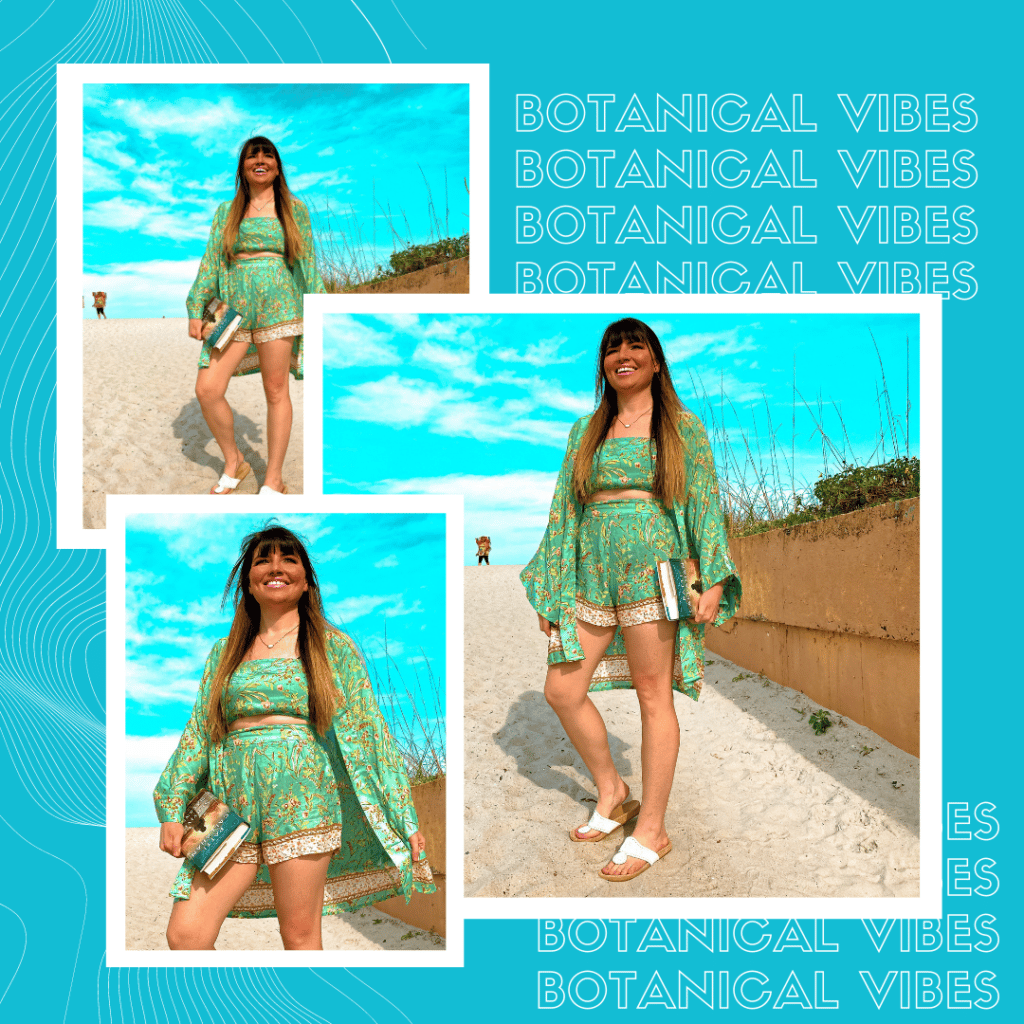 So overall…
I definitely recommend checking out a matching outfit with a kimono! This look I love and will be rocking it for fun nights out with wedges or running errands with sandals. I am so excited, so many of you wrote in asking for details! 😊 I hope this helped, and as always, message or comment if you have any additional questions. Let me know your thoughts on this look.
My current read while rocking this look was Surviving Savannah by Patti Callahan. Find out why it is on my top 3 historical reads! Shop Surviving Savannah today!
Kimono Outfit FAQ'S
You can wear jeans, a skirt, and even shorts with a kimono. A kimono is versatile and can be worn to dress up or down an outfit. It depends on the print and material of a kimono. Personally, I love wearing a kimono with a solid shift dress.
You can wear a kimono with a short outfit, a denim skirt, and even leggings. Now, you can find a summer printed kimono to wear in various colors to make your summer looks pop.
You can wear either a long or short kimono with jeans. If you are wearing a solider shirt with your jeans, you can pair a printed kimono with the look. If you have a fun print top with jeans, you can wear a fun print kimono to finish the look.
Yes! You can wear a kimono with a dress. If you have a solid dress, go with a bold print kimono. If you have a printed dress, go with a bright colored kimono to complete your look!
Do you have more questions or want to see your business/product featured? Contact me. Also, don't forget to check out my feature on Feedspot's Top 100 YA Book Blogs!