Bright Side by Kim Holden Review is here and it is a yearly must-read! Bright Side is the nickname of the main character, Kate Sedgwick. This book is a commentary on how she lives, sees the world around her, and treats everyone around her. Bright Side takes place in what is Kate's first year of college, and the narration is mainly from Kate's POV but also splits with Keller Banks. Also, our hero, as the story develops. The cast of characters have honest, open, and often hilarious interactions, and their love for Kate, along with her love and encouragement for them, are the foundation of the story. While this book is not an action-packed adventure, the rollercoaster of events and emotions is unparalleled, and I cannot thank Kim Holden enough for the messages she gave us through Bright Side.
Kate is one of my all-time favorite heroines.
Kim Holden describes an obsession with "badass heroines" in her letter to her readers, and she has written just that. I adore this story, plus the ones told in Gus and Franco (the two books that follow), and here's why.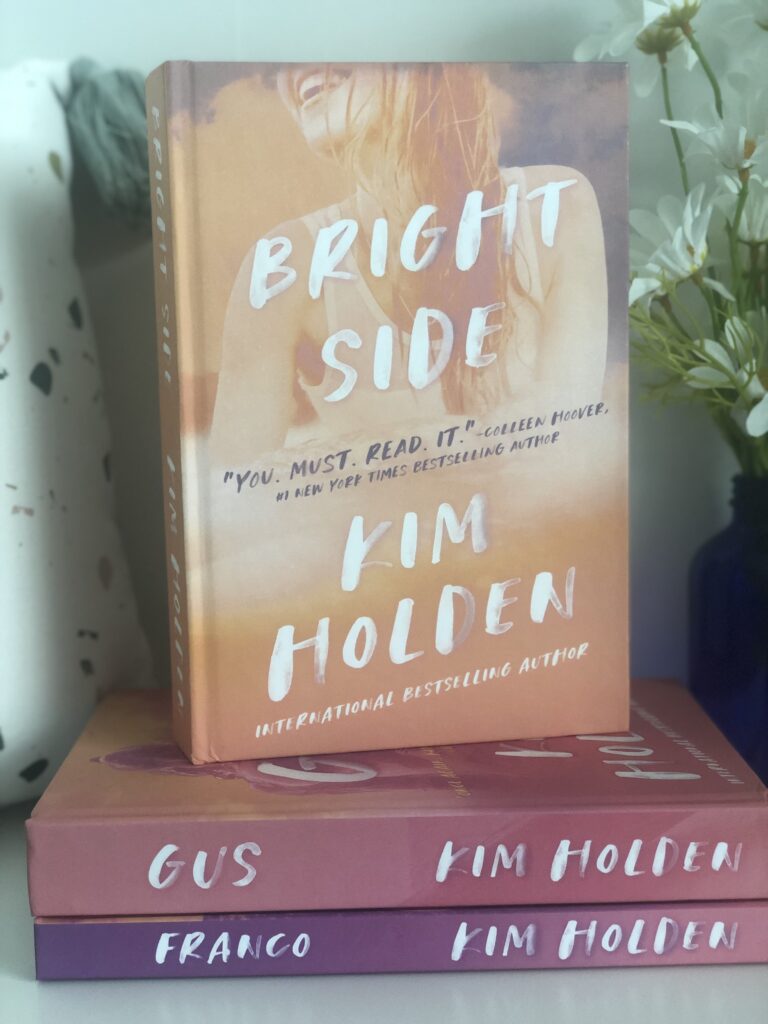 I read Bright Side shortly after my son was born. This tiny human relied on me for all things, and I was head over heels in love with him. But I also grappled with wondering what I had signed up for. I was struggling with postpartum depression. I was blaming myself for every moment of insecurity, doubt, and ineptitude I experienced. Reading Bright Side, while making me bawl my eyes out (TW: loss, illness, abortion, mental health), allowed me to cry for very specific and easily identifiable reasons.
Then, it made me realize that it was okay to cry and struggle and no one is perfect. Kate reminded me that everyone is trying and struggling. The best kind of people chooses not to judge others (especially themselves). Everyone battles to do their best, and living life on the "bright side" is a possibility. It will take work and potentially medication, but it definitely helps with love, and hope. If Kate Sedgwick could live on the bright side, I could, too. It was a choice, a battle, and many people's love and friendship and shoulders to cry on, but since then, I have chosen to "be brave" and "do epic" as much as possible. And I have Bright Side and Kim Holden to thank for that.
Find out more about Influencer Andrea on Meet the Influencer page! Get your copy of Bright Side on Amazon! Want to see another book reviewed. Contact us today!