Adult Assembly Required by Abbi Waxman Review is here! I love reading. Books have a unique ability to completely transport us to new worlds with new people and places. When life gets crazy, or things are hard, they allow me to mentally and emotionally recharge, and I can't get enough of them!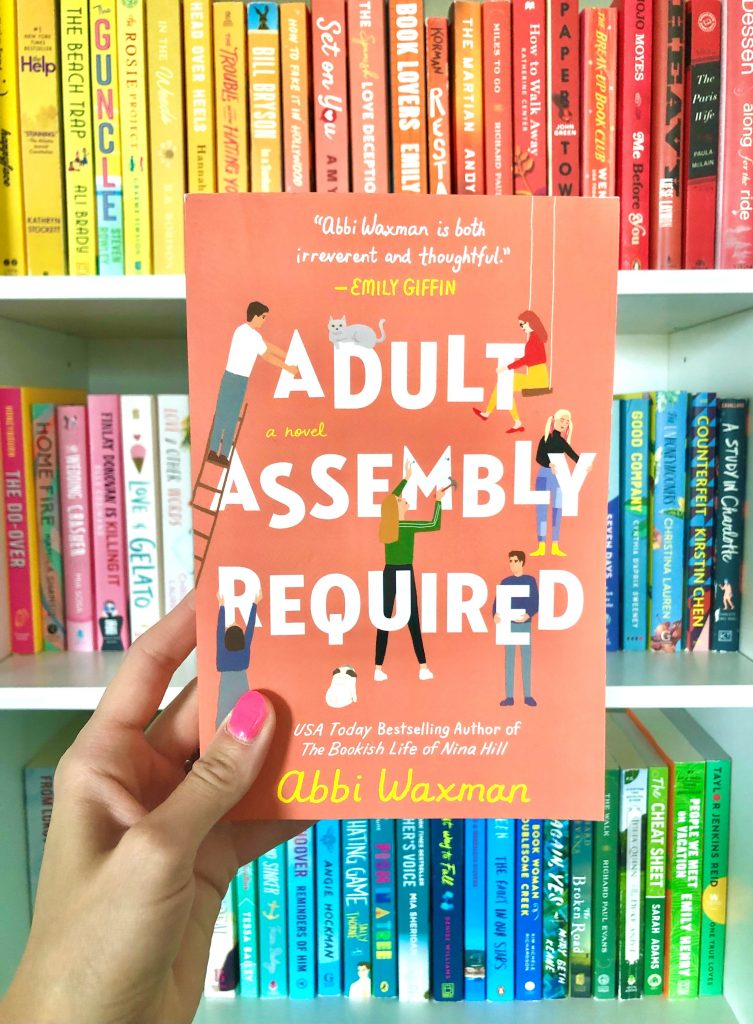 My reading mood shifts from week to week. Sometimes I want a twisty thriller. Other times I crave a happily ever after rom-com. Some days I want something heartfelt and genuine with characters that leap off the page, a book that leaves me smiling and satisfied. Adult Assembly Required by Abbi Waxman was exactly that!
Summary:
Adult Assembly Required follows Laura. A New York native in her 20s who's determined to leave her past behind. From an overbearing family that doesn't understand her to a persistent ex-fiancé that won't take a hint, she is tired of feeling smothered. When she arrives in LA, an unfortunate series of events results in her immediate homelessness. Lucky for her, she stumbles into a bookstore, meets a few familiar faces, and moves into a semi-illegal boarding house full of people (and animals) that will change her life forever.
My thoughts:
Abbi Waxman is such a gifted storyteller. This is not a book that you'll breeze through. The humor in this one is subtle and quirky and made me want to sit back and savor it. Adult Assembly Required is a very slow-burn romance. But even more than that, it's a story of a young woman who pushes past her family's limits to become the best version of herself.
I loved revisiting the characters from her previous book, The Bookish Life of Nina Hill, as well as getting to know some new favorites! Laura is struggling with PTSD after surviving a severe car wreck a few years earlier, and I was so impressed with Waxman's portrayal of her trauma. Laura's family thinks she should just get over it and that her anxiety is a sign of weakness. (Her family was seriously lacking in the emotional department.) I loved how supportive and steady Bob was as he slowly helped her first acknowledge her fears and then begin to tackle them. It was such an important reminder that healing could be a team effort. Laura thrived when she was finally shown some love and support. And let me say, Bob was the sweetest, most timid, and lovable love interest!
I was chuckling all throughout this book.
It's written with an omniscient narrator, so you get a peek inside all the characters' heads. The pets in the boarding house were so hilarious! Their little moments were some of my favorite parts of the book.
All in all, I enjoyed this one so much! If you're looking for a book that leaves you smiling, then pick this one up! Better yet, start with The Bookish Life of Nina Hill so you can really appreciate the secondary characters in Adult Assembly Required. Fingers crossed that we get to revisit the Larchmont area again in the future!
Learn more about Influencer Kara V. on our Meet the Influencer page. Also, thank you Berkley Publishing for sending this gifted copy.