This post may contain affiliate links, which means I may receive a small commission, at no cost to you, if you make a purchase through a link!
A Brush with Love by Mazey Eddings Book Dress is one of my new favorites. I say that every time—but look at the print on this fabric! It is a toothbrush and toothpaste. If you aren't familiar with A Brush With Love, let me give you a quick recap.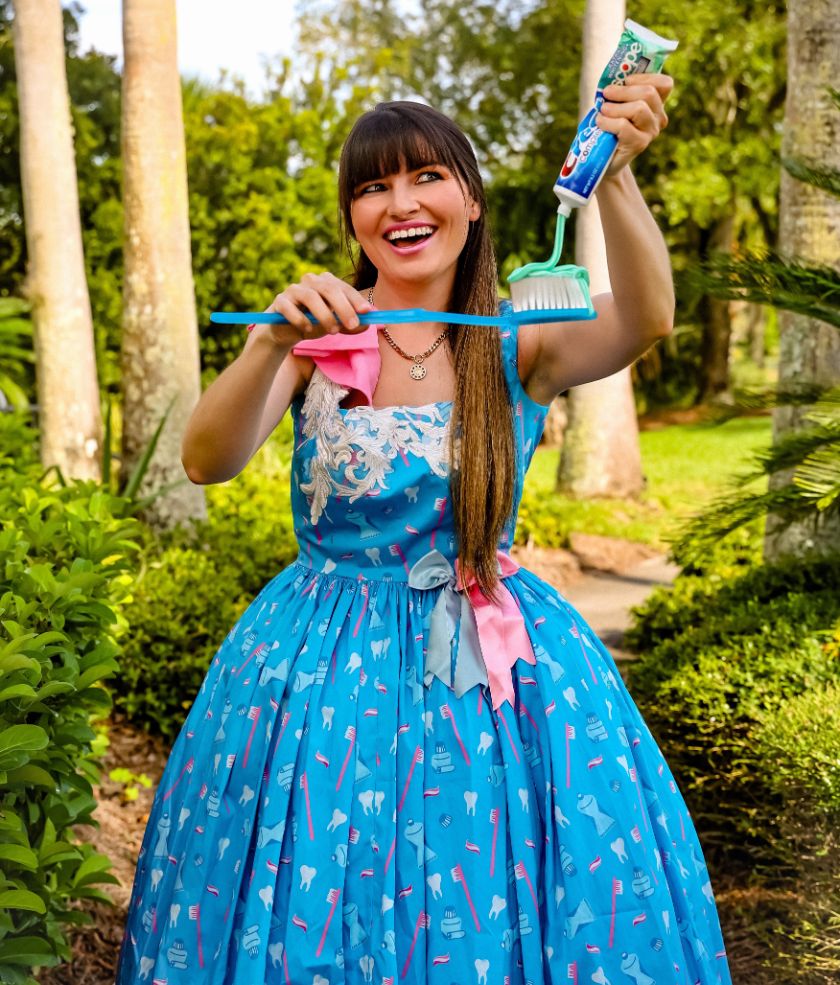 A Brush With Love tells the story of Harper. She is laser-focused and about to find out which residency program she got accepted into for oral surgery. She doesn't expect a distraction at this stage in the game, but no one can predict romance. Dan is gorgeous and at school due to his family being a legacy. But Harper is stubborn and not willing to compromise her grades now, even if she is letting her mind wander to thoughts of Dan. Both soon find it hard to stay acquaintances but is Harper willing to stop being all about dentistry and let herself also find happiness with Dan? Find out when you read A Brush With Love.
I thought this storyline was unique and fun to read. It was original, as I haven't read many dentistry-related books or romcoms. I thought it was a fun mix-up to my reading!
As some of you may know, Jaqueline Firkins designs all my book dresses. You can read her full interview, where she chats about designing book dresses. I messaged her about A Brush With Love, and since we both loved it, we decided to collaborate.
I was so surprised when I saw the pattern of the book dress. The toothbrushes and toothpaste make this dress, along with the color! It matches the book cover perfectly. Here's what Jacqueline had to say about designing the book dress: "I got the dental-themed fabric custom-printed because I couldn't resist. The match was so spot on thematically and visually. Since the print was fairly busy, I wanted to keep the details bold and simple for a sharp contrast. This was another dress where I tried a few different things for those details—lace, cording, eyelet, satin ribbon, etc. Still, the full design came together when I finally found the swirly lace applique that *could* be toothpaste gushing out of a tube when cut and pieced in the right direction. A simple, angular shape provides a structured background for the swirls and the dancing print, while a pair of sweet satin bows stand in for the couple."
For the photoshoot, I decided to bring the design to life. I ordered an oversized toothbrush from Amazon. Yes, they do make giant toothbrushes. Then, I used my favorite toothpaste by Crest. I wanted to highlight the fun print alongside the romcom element of the book. I kept neutral shoes by pairing a white pair of tennis shoes to the look because I wanted to let the book dress do the talking while highlighting the bow accents.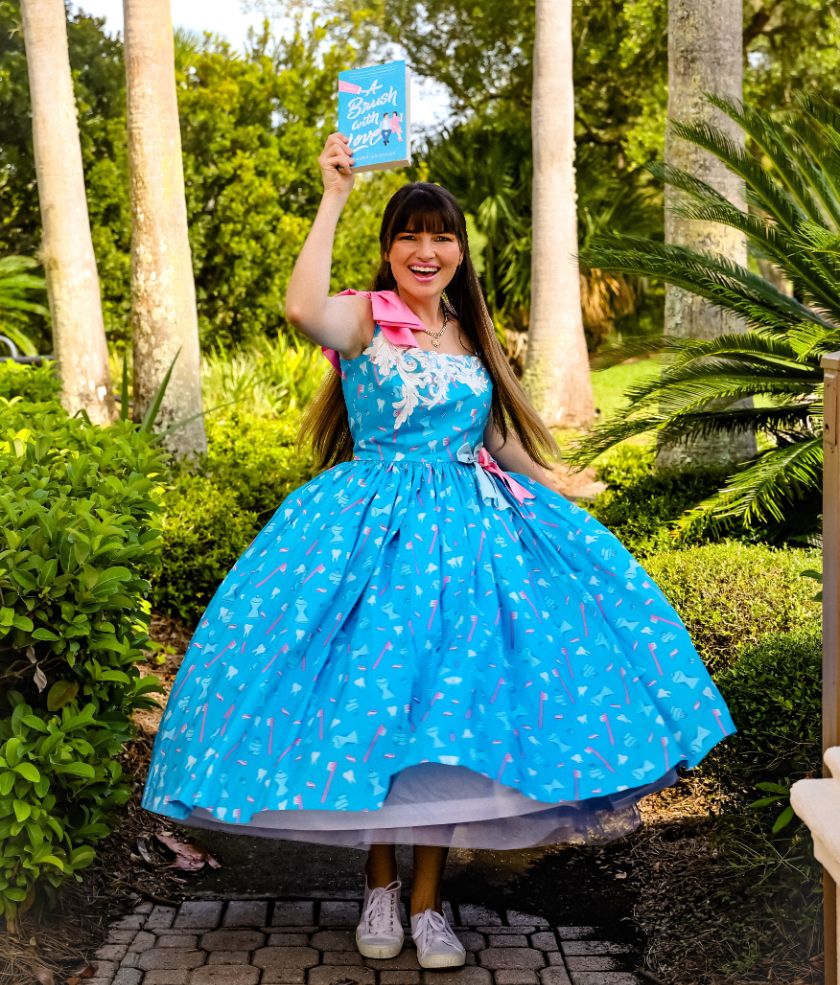 What do you think of A Brush With Love by Mazel Eddings Book Dress?
Drop a comment or click an emoji below. I'd love to hear your thoughts. You can also contact me if you'd like to see another book cover turned into a book dress. Stay tuned; I have more book dresses coming your way!
Popular books from Mazey Eddings
---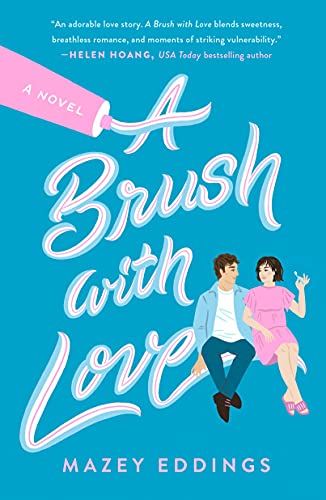 A Brush With Love
Genre: Fiction/ Rom-Com
A Brush With Love tells the story of Harper. She is a dental student who against what her mind wants, finds her heart falling for Dan. Can she balance residency and her feelings new feelings? Will she decide to follow her heart?
Read more reviews on my Book Index.
Buy this Book: Amazon | Barnes & Noble | Books-a-million | Audible
---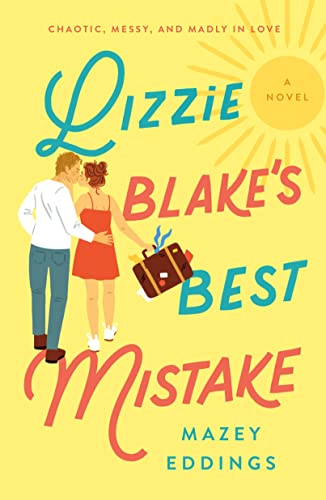 Lizzie Blake's Best Mistake
Genre: Fiction/ Romance
Lizze Blake' Best Mistake tells the story of Lizzie who after a two-night stand finds herself pregnant with Rake's baby. Neither Lizzie nor Rake will lower their guards and be vulernable, but will that change? Find out!
Read more reviews on my Book Index.
Buy this Book: Amazon | Barnes & Noble | Books-a-million | Audible
---
The Plus One
Genre: Fiction/Romance
The Plus One follows the story of Indira who hates her childhood nemesis Jude. The feeling is mutal, but when they start to find out they need each other, will those feelings change?
Read more reviews on my Book Index.
Buy this Book: Amazon | Barnes & Noble | Books-a-million