Weather Girl by Rachel Lynn Solomon Book Review is here. This is a popular book with an adorable cover. After seeing it all over the internet, I was excited to read this one. While I did enjoy it, there were some areas that I struggled with.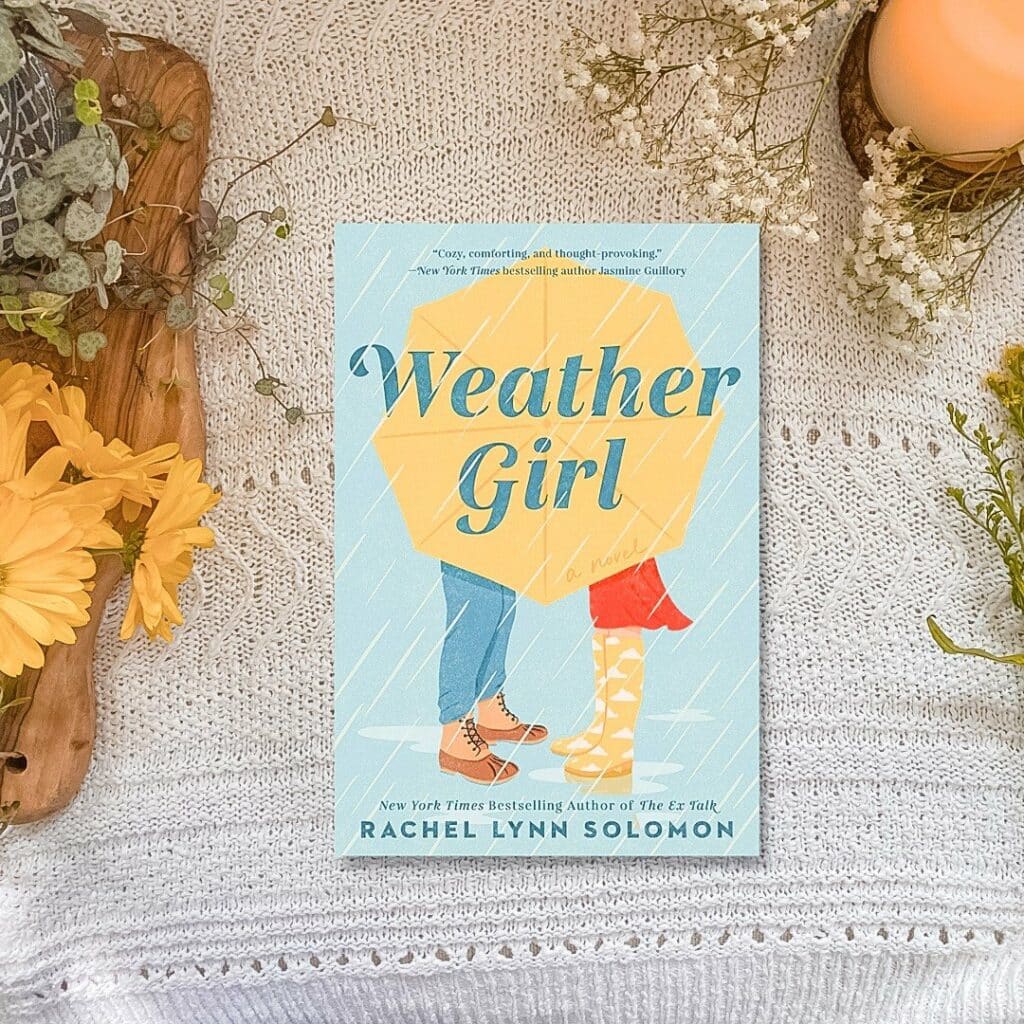 Synopsis:
Weather Girl is about Ari Abrams, a meteorologist in Seattle. She loves her job, but her bosses, Torrence and Seth, have been causing a lot of drama in the workplace since their divorce. This makes tensions high at work for Ari and her peers.
After a bad fight between Torrence and Seth at a holiday party, Ari confides in the handsome Russel Barienger. A sportscaster on her news channel. They both believe their bosses love each other and want to get them back together for the sake of their office. During their scheming, they realize they have feelings for each other.
It is a sweet story about family dynamics, mental health, and the challenges of adulthood. Love is not always easy. Ari and Russell will have many hurdles to jump through to move forward. Can they make it work?
Rating:
What I loved about this book:
I enjoyed the whole news agency/weather aspect of this book. I thought it was unique. And I truly loved how much Ari cared about the weather and climate. I also enjoyed how Russell and Ari started scheming to get their bosses together. This allowed them to get to know each other with less pressure.
A huge theme in this book was mental health. I think many books touch upon it, but I felt this book dove much deeper into depression and therapy. Ari's mom also struggled with mental health, and that relationship took its toll on her perception of herself. Things got better for both Ari and her mother through medication and therapy. I thought this book's portrayal of mental health issues was well done. Everyone either has a mental health condition or knows someone who does, and I loved seeing that reality come through in the story.
Another thing I enjoyed was the Jewish representation, which I don't often see in books. The food references and Jewish humor were relatable as we were both raised in a half-Jewish family! In one part of the book, they put a menorah on the Christmas tree for the Jewish guests. This made me LOL because it is so true in the real world.
I also loved the "forecast " that started each chapter. This was a one or two-sentence summary of what you could expect in the chapter. I had never seen that before, and I enjoyed predicting what was going to happen in each chapter!
What I didn't love about this book:
My main issue with the book was that it read more like women's fiction than romance. This may be a plus for some readers, but it was not what I was expecting. There was romance and even some spicy moments, but I felt it lacked some of the connection and swoon I look for in a romcom.
I had a very hard time with some dialogue in this book being overly awkward. One theme in the book was body positivity, as Russell was considered overweight. I thought some of the dialogue within those moments was very repetitive and would have appreciated it more if it had been done in a more positive light.
All in all, this book touched on some very important themes that occur in real life. While these topics seemed to take precedence over the romance aspect, it was still refreshing to see a novel that was messy and honest. I look forward to reading other works by this author!
Get your copy on Amazon! Find out more about Influencer Ali & Kim on our Influencer page and you can contact us to let us know which book you want to see reviewed next!