Waking Fire by Jean Louise is her first published book, and the first in the Waking Fire series. I had not heard of this book, but when Carly Rae gave me the opportunity to read it, the fantasy fangirl inside of me was excited.
Synopsis
Naira Khoum lives with her brother, Nez, and their parents in the village of Lagusa. It is protected by the Lagusa Wall, which is a thick stone wall meant to keep out the Vra Gool Dambi. The Dambi were created by Sothpike, a Waldyrian warlord who rips the dead from tombs and graves, and turns them into monsters–monsters almost impossible to kill. When the Khourm family hears the warning drum that the Dambi have reached the wall, they are thrown into action. The only people who are able to protect the village of Lagusa are those who live there, so it is all hands on deck.
Refugees fleeing the Dambi head to Lagusa for safety. When the villagers open the doors to let them in, the Dambi also enter the village. Kal Sayeed and his father are among the injured, and Naira helps care for Kal while the others take care of his father. Unfortunately, Kal's dad does not make it, leaving Kal alone in a village where he doesn't know anyone. Thankfully, Naira and Kal become fast friends.
During another raid from the Dambi, a woman called "The Mistress" appears. She informs the village she will spare them from the Dambi as long as they give her their children. Naira decides The Mistress needs to be stopped. The trio–Kal, Nez and Naira–sneak out one day to go and kill The Mistress. The only problem is that if The Mistress is killed, the Dambi will be let loose to attack.
At the start of their journey, Naira and her companions come across an old friend, Rima, who is now part of the Resistance. The Resistance is trying to fight back and keep the children in the village safe. Along the way to find the Mistress, family secrets will be revealed, and they will have to find a way to unite and save the village they all love.
---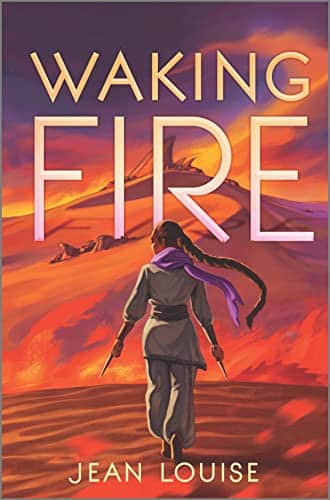 Waking Fire by Jean Louise
Genre: Fiction/Fantasy
When the village of Lagusa is attacked, Naira decides she needs to do something about it. Along with her twin brother, Nez, and her friend, Kal, the trio heads out to hunt down the source of the attack and bring peace to their home.
Read more reviews on the book index here
Buy this Book: Amazon | Barnes & Noble | Books-a-million | Audible
---
Review
The lead protagonist in this book, Naira, is well-developed and easy to like. She is a strong female character who is independent and willing to fight for what is right. The relationship between Naira and her Oppa (father) is so sweet. I loved how close they are, and that whenever he winks at her he is telling her he loves her. It is clear that her Oppa would do anything for his daughter, and she would do anything for him.
I am a sucker for a little romance while reading. I wish there had been more chemistry between Naira and Kal, and that it felt a little less like insta-love. However, it was a good amount of romance for a young adult novel.
Nez and Naira had a special twin relationship. I would have liked to see more recognition of and character development for Nez. He was clearly a huge part of the story, and I wonder if we had heard from his POV too, if I would have felt more connection to his character.
The pacing of Waking Fire was slower than I would have liked. It kept dragging, and new underdeveloped characters were tossed in. Towards the end, however, there were secrets revealed about Naira's family that felt rushed. For a young adult novel, some of the descriptions of the fights and killings were a little too descriptive. There were also quite a few curse words throughout this book that I was not expecting. The twist at the end left me disappointed. I wish it had been left out of the book, as it felt like unnecessary sadness for Naira who had already lost so much.
Overall, this will be a good book for young adult readers who enjoy fantasy. Look for Waking Fire when it's released on January 10, 2023. Thank you Inkyard Press for this early copy.
What is your favorite young adult fantasy book?