Young Adult fantasy has been my comfort genre for years. There's something so wonderful about being able to sit down, crack open the pages of a book, and be instantly transported to a world where magic is real. When I first saw teasers for Twin Crowns, I added it to my TBR. I was even more delighted when it arrived in my most recent LitJoy book box!
Synopsis: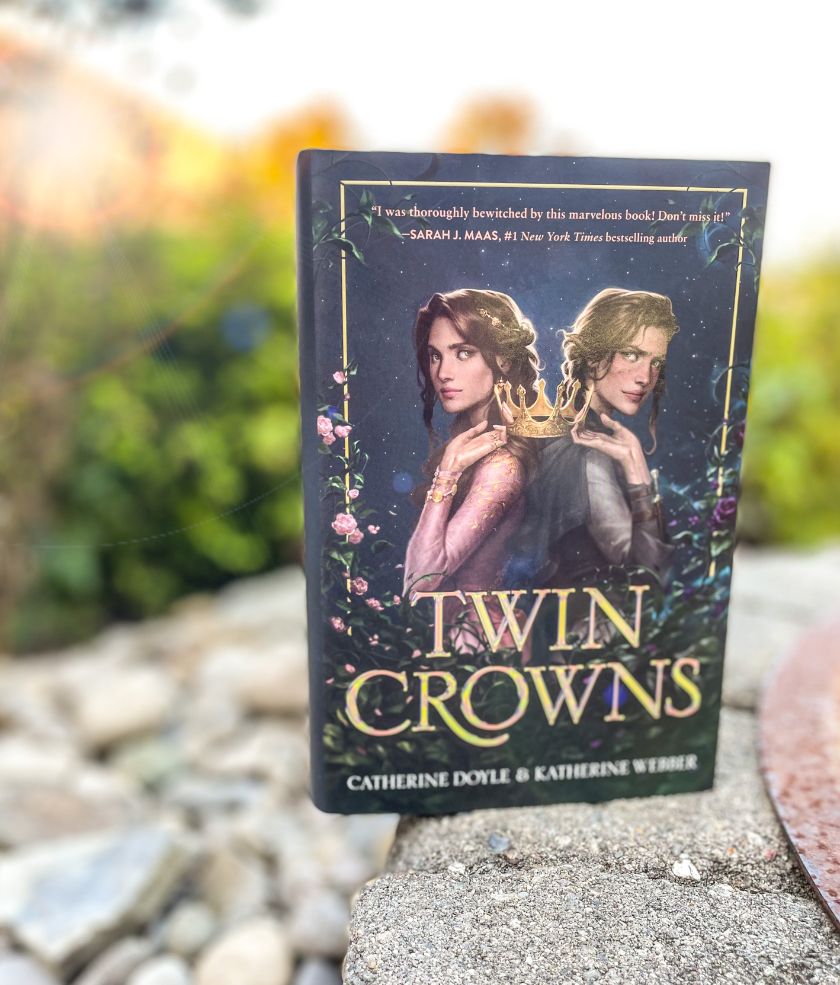 Wren is a 17-year-old witch raised among other witches in a hidden sea-side town, far away from those who once tried to kill them all. Rose is an orphan princess, destined to take the crown on her 18th birthday. But her kingdom has long been the persecutor and destroyer of witch-kind. Wren is determined to take Rose's place on the throne and steal the kingdom back for the witches. But Wren won't do it by revolution or murder; she'll make a perfect swap. How hard can it be, after all? Because Wren and Rose are twin sisters.
Twin Crowns opens with Wren using magic and sneaking her way into the palace. Rose is swiftly kidnapped and carted off to Wren's remote witch village by her best friend, Shin. The book is written in dual POV from both sisters and swaps back and forth between the two as they step into one another's lives.
Future queen Rose has never left the palace. She's been sheltered by the Kingsbreath, her foster father who has taught her to believe all witches are evil and must be killed. When she's stolen away by the handsome Shin, her eyes are slowly opened to the truth of the witches' fate and her own heritage. Together, Rose and Shin make their way across a desert and into the realm of the witches.
Meanwhile, Wren has trained her whole life to pass as her sister, Rose, and claim the throne in her stead. She uses earth magic to tweak her appearance into the exact likeness of her sister. But Wren must adapt quickly to the palace setting, because a plot is afoot that will take the kingdom away from her forever. She must navigate fooling Rose's best friends and her newly betrothed prince, seek to discover what the Kingsbreath is up to in a tower at night, and stop an impending war. If only her bethroth's guard, Tor, wasn't so handsome.
---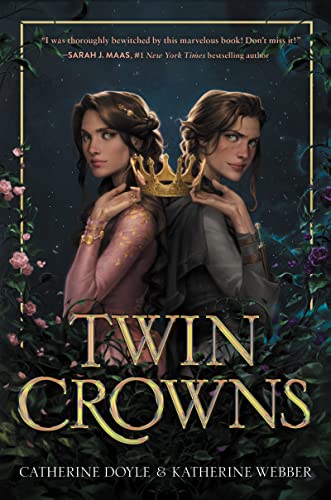 Twin Crowns by Catherine Doyle and Katherine Webber
Genre: Fiction/ YA Fantasy
Wren and Princess Rose got separated at birth. Wren was raised with one goal: steal Rose's crown and overthrow her. But the return of an enemy threatens to derail both from their birthright.
Read more fantasy reviews here
Buy this Book: Amazon | Barnes & Noble | Books-a-million | Audible
---
Review
Twin Crowns is an excellent YA fantasy. So many times fantasy novels get bogged down in endless pages of world-building, to the point that it takes a while to jump into the story. Fortunately, that isn't the case with this book. It opens on a bang – with Wren and Shin plotting a kidnapping and a path around palace security to get into the castle. Once the action starts, it doesn't stop. The magic system of the book is also unveiled in an easy-to-understand way.
The secondary characters in Twin Crowns are well developed. Celeste, Rose's best friend, is full of spunk and courage and steals the show every time she waltzes onto the page. Both love interests – Shin and Tor – have great roles in this book, though I was itching to know more about their respective pasts. Both men simultaneously serve as supporters and sacrificial rescuers for Rose and Wren.
The ending of this book, while it wraps up well, definitely indicates that there will be a sequel. I cannot wait to see how Wren and Rose grow as they have each other to rely on in subsequent editions. The community of witches are also a great part of the story. I loved seeing a small dose of their magic at work and look forward to reading more about it in the next book.
Clocking in at 480 pages, this book is lengthy for YA, but I still managed to binge read it in a few days and enjoyed every moment.  
What did you think of my Twin Crowns by Catherine Doyle and Katherine Webber Book Review?
What young adult fantasy novels are your favorites? Share them in the comments!
Popular books by the authors
---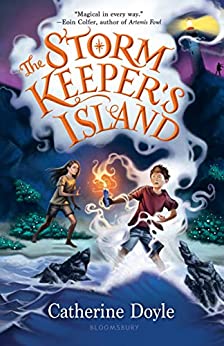 The Storm Keeper's Island by Catherine Doyle
Genre: Fiction/Fantasy
Catherine Doyle is also the author of The Storm Keeper's Island. In this magical book, once a generation, the island selects a person as the keeper of its magic. The time has come for the aging keeper to step down and the new keeper to arise. But sinister magic is awakening, and something much more frightening is about to arise.
Read more reviews on the book index here
Buy this Book: Amazon | Barnes & Noble | Books-a-million | Audible