When I first heard of The Witches of Moonshyne Manor by Bianca Marais, I could not wait to read it. The idea of a modern coven of witches combined with a magical heist that goes wrong had me hooked.
The story centers around five witches who are determined to save Moonshyne Manor from a mob that threatens it. All the witches turn to Queenie, who usually knows exactly what to do. But now Queenie admits they've gotten severely behind on their mortgage. Rather than accept defeat, they've decided their hope at saving the manor has arrived in the form of Ruby. She's been gone for over three decades, but the manor is safe with her back, right?
Wrong.
Queenie makes a dangerous bargain, causing the five to face a danger unlike ever before. It soon becomes apparent the witches aren't as close as they thought, and secrets threaten to destroy not just the manor but the sisterhood. Will the five be able to rally in time to save the manor and themselves?
Review
Overall, I really enjoyed The Witches of Moonshyne Manor. The different POVs, the storyline, and, more importantly, the manor is three of my favorite aspects of this book. The coven aspect of this book came across strong on the pages and was something I found myself loving. I haven't read too many coven-themed books, but now that may have to change. Queenie also had a great voice throughout, as did Persephone. I give this book four stars because I wish there weren't so many POVs. With that said, I thought the concept was original and fast-paced, and I definitely recommend giving this a read, especially for October!
---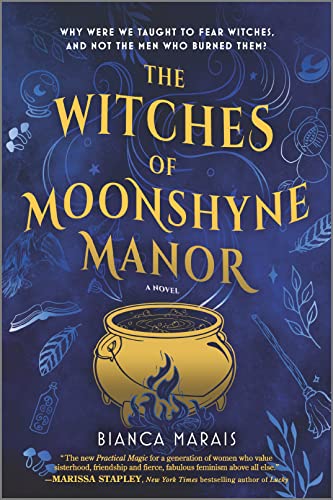 The Witches of Moonshyne Manor by Bianca Marais
Genre: Fiction / Fantasy
The Witches of Moonshyne Manor tells the story of a group of witches. They begin an adventure that leads them unearth secrets of the path which changes the future.
Read more reviews on the book index.
Buy this Book: Amazon | Barnes & Noble | Books-a-million | Audible
---
What do you think of The Witches of Moonshyne Manor by Bianca Marais Book Review?
Drop a comment below!
---
More Reviews from our Contributors
Kelsey H.
The unique witches made this story shine. Each had their own specialty among the group. They are all different from each other, but they create a perfect setup for the manor.
One chapter discussed how the witches came to live at the manor as children. This short section stuck out to me and has me wishing for a prequel. I would be ecstatic to read more about their childhoods and how the witches' bonds formed early in life.
The plot made for a suspenseful, but lighthearted and easy-to-follow story. The witches are waiting for Ruby to return home and disclose the location of a "hidden treasure" that will have their home. Things don't go according to plan in the past or present. I enjoyed the humorous moments and the subtle undertones toward societal issues.
My favorite aspects were the strong sisterhood bond the women shared and the importance of chosen family. There is also an overall message of women supporting women. It was heartwarming how they took Persephone under their wing and how far they would go to protect each other.
My only issue was with the many points of view. The chapters were short, which meant the narrator changed often, and I found myself uncertain at times whose point of view I was reading mid-chapter. For this reason, I would rate the book four stars. Considering how much this witchy read made me excited for Halloween, I absolutely recommend that you add it to your shelf!
Nicki C.
This book was my first Bianca Marais read and it is a perfect early autumn book choice. It revolves around the relationships between the witches that live at Moonshyne Manor and their attempt to save it from the patriarchal men of the town. Right off the bat, this story switches between multiple viewpoints and attempts to set the stage and backstory for the rest of the book. Part of the reason for docking a star was that it felt quite overwhelming to read all the different points of view and keep all the characters straight. Personally, it was too much for me. I struggled with the pacing and keeping track of the characters while staying invested in the story.
On the other hand, what I enjoyed about this book was the overall witchy vibes, the way their antics (especially Jezebel) made me laugh, and their overall devotion to each other. I found the story to be witty and delicious like the Golden Girls or Sex and the City, but with even feistier witches. The atmosphere and overall tone of this book makes you want to snuggle up on a cool autumn day and lose yourself in their world. When Marais throws in a heist gone wrong and a deal with a dark wizard, what else do you really need? Obviously, you need a TikToker that is as tough as she is quirky and cool (Persephone).
Overall, I found this book to be rather unique in its approach and filled with humorous modern-day references that had me chuckling. It was a successful witchy read.
---
Lindsey S.
The Witches of Moonshyne Manor by Bianca Marais is a magical celebration of friendship, found family, love, and "aging disgracefully." The book focuses on the six octogenarian witches who live at the manor. When their home is threatened, they band together to save it, but it is quickly apparent that they all need to forgive each other for one thing or another. If they can't, the house won't be the only thing they lose.
I loved the unique personalities of each of the witches and that they stayed honest to themselves well into their elderhood. I also appreciated that they were older, save for young Persephone who was a fun addition. As someone who's closer to 40 than she is 20, I've found myself connecting with more mature characters lately. This book was a reminder that you do not have to lose yourself, or your spunk, or your magic as you age. This is exactly the kind of coven I would want to belong to.
The reason this was a four-star read was because around the 75% mark the book hit a lull. It dragged a bit getting toward the end. But when it finally arrived there, I flew through the last 50 heartwarming pages, and then had myself a nice cry.
I truly loved this book. I was enchanted by the writing, the humor, the friendship, and the honest look at sisterhood and getting older. I can't wait for Marais' next book.
---
Jessica R.
The Witches of Moonshyne Manor is an ode to "aging disgracefully." Within the walls of the old house is a coven of witches in their 80s, each with her own spectacular personality and specific type of magic. I admit, the number of characters first introduced was a lot to figure out. I had to take mental notes on who was who by connecting their names to their magic. But once I settled into the story, each witch was more easily distinguished by her personality.
I love that this book is infused with laugh out loud humor. Jezebel, in particular, is bawdy and full of affirmations, both for herself and her sister witches. Persephone, a local teen girl who is all about women's rights and sticking it to the patriarchy–along with her dog, Ruth Bader Ginsberg–is also a bright light in the story (and she even makes a mention of my favorite witchy book, A Discovery of Witches!).
I loved the shenanigans the witches got up to in their past, and how they had to overcome their own insecurities and personal flaws to work together to solve their present problems. The reason I gave this book four stars is because I felt like a major plot point could have been easily solved with memory magic and I needed an explanation of why that couldn't happen. Still though, I love these mischievous and endearing old women and am happily adding this to my collection of favorite witchy books.
---
Chandler M.
I was so excited to receive a personalized signed copy of The Witches of Moonshyne Manor by Bianca Marais! The Witches of Moonshyne Manor is the perfect book to get ready for the spooky season. This was a lighthearted, easy read that made you feel like you were a part of the coven yourself.
While I was reading The Witches of Moonshyne Manor, I found myself constantly laughing out loud. These witches cracked me up and each one had a characteristic that made them oddly unique. My favorite witch was Quennie. I loved how she showed growth throughout the book. I loved her relationship with Persephone and how she took her under her wing. I also loved the potions that were at the end of some of the chapters. I was calling my friends and reading the potions to them!
I rated The Witches of Moonshyne Manor four stars, only because I kept getting confused over the many points of view. I would think I had it down and then it would switch on me again. I wish I could have turned back to the beginning of the chapter to see the name of the character next to the chapter number.
This is not just a book, it is a whole experience. While reading this book, I went to Bianca Marais's website and took the witches quiz to see which one I was! If I could sum The Witches of Moonshyne Manor up in one word, it would be "fun!" I definitely recommend reading this book this season!
---
Vinsci F.
Six octogenarian witches–Queenie, Ursula, Ruby, Ivy, Tabitha, and Jezebel–draw you in with modern witchcraft and bring as much fun, giggles, and tears as The Golden Girls, you know you are reading a good book. The book was told in multiple POVs. At first, I got a little confused about who was who and I had to write notes about their descriptions and magic. The picture posted on the author's IG helped a lot with the visuals. I love the Harry Potter references by Persephone, the local young girl drawn to the coven and a Women's rights advocate.
I gave this book four stars. I love how the author mentioned the beginning of the coven and how each witch arrived in the manor possessing a special gift. The six ladies were more than witches, they were sisters. They learned magic together, grew up together, and had fun together.
I enjoyed the pacing of the book, although there were some chapters where I felt the story slowed down. The author could have rushed the story and gone straight to what happened to send Ruby away, but she built up great mystery and suspicion with the secrets and guilt some of the characters kept.
This book was more than magic, spells, potions, and flicking of the wands. It was an uplifting book as a whole because it discussed family, friendship, grief, forgiveness, love in different forms, acceptance of oneself, and finding your home. This book also emphasized that we should not be afraid of witches, but rather be afraid of men persecuting and burning them. This is a book I will recommend to all witch-loving and magical readers, especially for Halloween.