I was drawn to The Stardust Thief by Chelsea Abdullah first when I saw the Fairyloot version, and then again when a good friend raved about it. The book did not disappoint. It brought me to a new and different world rich with adventure and history.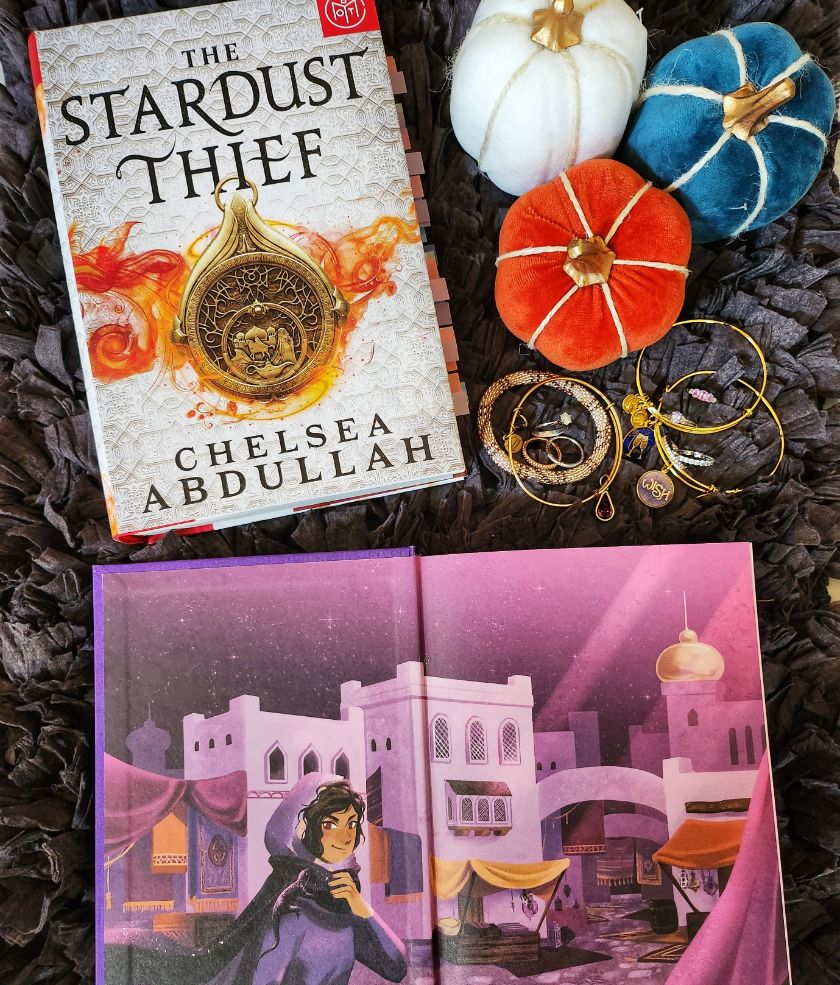 Synopsis
Merchant Loulie al-Nazari finds and sells illegal magical relics with her jinn bodyguard Qadir. Loulie's life changes when she saves Prince Mazen and she draws the attention of his father, the powerful Sultan. Confident in her talent, the sultan blackmails her into finding a powerful, ancient lamp. If Loulie refuses, she will be executed. Left with no choice, she agrees.
She makes the journey with Qadir, as well as the sultan's oldest son, Prince Omar, and Aisha, one of his Forty Thieves. The group must survive a vengeful jinn queen, ghoul attacks, and come to terms with the secrets and deceptions between them. Loulie is also forced to confront a malicious killer from her past. This fantasy novel is inspired by One Thousand and One Nights.
Review
This book was one epic tale. It was told from three points of view: Loulie, the coward-prince Prince Mazen, and Aisha, a mysterious thief with secrets of her own.
The author did a wonderful job taking readers to the Sandsea deserts. The way she described this imaginary world was so vibrant and mesmerizing that it felt like an oasis came to life. The incorporation of Arab folklore was enthralling. The author also gave a new definition to jinns and genies.
In the book, jinns were not fun-loving, hilarious, animated genies. They were more powerful. Some were good and some were evil. They were so magical that they were persecuted for their blood to build an oasis, heal wounds or illnesses, and were used in wicked things. I enjoyed reading the different stories of the jinns, their powers, and how their relics were used. There is also the conflict between good and evil in this novel. The darkness in the story was not from vengeful and power-hungry jinns alone; humans were equally wicked.
I got lost in this magical world. It was easy to connect with the characters, especially Loulie, Prince Mazen, Aisha, Qadir, and even the vengeful jinn. They had struggles, dreams, and shortcomings, but they all had the will to survive. The lies and deception between the characters kept me on edge. I had moments when I questioned things like Loulie did. Not everything she believed in the past and present is what it seems.
---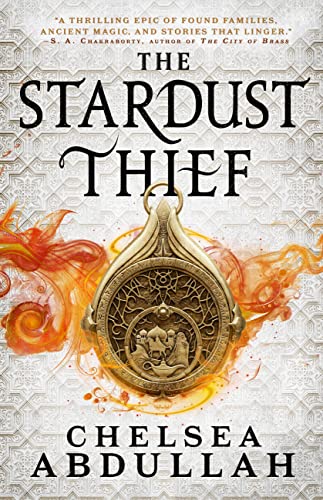 The Stardust Thief by Chelsea Abdullah
Genre: Fiction/Fantasy
The Stardust Thief is a fantasy novel about a Midnight Merchant and her quest to find an ancient artifact. It is inspired by stories from One Thousand and One Nights and centers around Merchant Loulie al-Nazari.
Read more reviews on the book index here
Buy this Book: Amazon | Barnes & Noble | Books-a-million | Audible
---
The whole adventure was so well written that I felt as deceived as the characters. I wondered if what the group was experiencing was real or magic. There were many twists and turns in the story. I did not expect Omar's story and motives at all. I knew he had plans of his own with regard to the ancient lamp quest, but I did not see where his retaliation was coming from. I was expecting something big for Qadir but I did not see the big jaw-dropping revelation.
Although I know this book was the first of a trilogy, the cliffhanger at the end left me with so many questions. There are a lot of things that need to be explained in the next books, but I can not wait to read more about Qadir and the jinns. The author is a great storyteller and it's hard to believe this is her debut novel.
What did you think of my The Stardust Thief by Chelsea Abdullah Book Review?
If you've read One Thousand and One Nights, which story is your favorite? Mine is Aladdin.