The It Girl bounces back between "before" and "after." Hannah is the lead protagonist and the story is told from her point of view. In the "before," we are introduced to a group of friends who are all extremely close. There is April, Hannah's best friend, who is dating Will. Then there are Emily, Ryan, and Hugh. Emily and Ryan are also a couple. One night, Hannah and Hugh go to check on April and they find her murdered in her apartment. When going to check on April, Hannah saw a man nearby. Thanks to her testimony, John Neville was sentenced to jail.
In the "after," Will and Hannah are married and have a child on the way. One day Hannah gets word that that the man convicted of April's murder died in prison. Reporters start to flood Hannah's inbox, and she finally agrees to meet with one. The reporter talks to Hannah about how he has reason to believe that they convicted the wrong man. This leaves Hannah anxious, and needing to know the truth. Did her statement all those years ago convict the wrong person?
Although Will wants Hannah to drop the whole thing, Hannah goes back to Oxford with April's sister to try to discover the truth. WIth her doubts about John Neville being the murderer, it makes everyone in her life start to look like suspects. Even the love of her life, the father of her unborn child, is a suspect.
---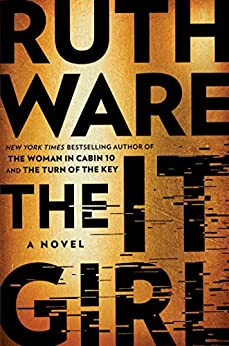 The It Girl
Genre: Thriller/ Suspense
The It Girl tells the story of Hannah in her 'before' and 'after' flashbacks. We learn about Hannah's life in college and about a mysterious death.
Read more reviews on the book index.
Buy this Book: Amazon | Barnes & Noble | Books-a-million | Audible
---
Review
When I found out that Ruth Ware had another book coming out, I was SO excited. I have read almost every single one of her books. I didn't even read the synopsis to know that I wanted to read The It Girl. When The It Girl was chosen for a Hey It's Carly-Rae influencer pick, I was even more excited to have a group of people to buddy read with!
With a Ruth Ware book, you just KNOW there is going to be a twist. I liked that this book was told from both before and after perspectives, adding to the mystery of "what is going to happen next." I enjoyed Hannah's character. Her emotions lept from the page and into my mind. When she was anxious, I was anxious. When she was sad, I was sad.
I went back and forth between listening to this book and reading it, so the lack of chapter numbers was very challenging. I wish that there had been more of a connection between Will and Hannah during the "after." The picture painted of Will still made me not really like him as a character. He seemed controlling and a bit crazy.
Like all other Ruth Ware books, I really enjoyed The It Girl. It had twists and turns, and my thoughts were all over the place. As soon as I thought I knew what was happening, BAM… I was wrong. This was a four star read for me and I can NOT wait for Ruth Ware to write another book!
What do you think of The It Girl by Ruth Ware Book Review?
Drop a comment or click an emoji below! Thank you Simon & Schuster for sending our team copies of The It Girl!
More Reviews from our Contributors
Lindsey S.
The It Girl has dual timeline (which is admittedly not my favorite) with the before chapters introducing all of the characters and setting up the mystery of April's murder. You can tell that Ware took her time in shaping April, our main "it girl." She came across as the most realistic and fleshed out. I thought her flaws made her a really good antagonist.
The It Girl is cataloged as a thriller, which I don't think is entirely accurate. It's more of a mystery / whodunnit as it begins to piece together the murder of April and plants doubts of whether or not the man convicted really was the culprit. I think it's also more psychological, but in the sense of what happens when the fabric of everything you've believed for so long starts to unravel. This is the journey Hannah, our protagonist and April's best friend, goes on. Her paranoia begins to reshape her reality, casting distrust on everything and everyone.
This novel also gives an honest look at how we as a society are obsessed with true crime, and especially with the idea of seeing perfect, beautiful people stripped down to nothing. Overall, The It Girl was an easy read, nothing was overly complicated, and the mystery of it is resolved satisfyingly enough at the end.
---
Kelsey H.
This story is told from Hannah's point of view and in a dual timeline. The before and after writing style was wonderful for the character development of April. Ware did an excellent job developing her character into the beautiful, rich "It Girl." April being a prankster kept the story interesting and helped to give everyone a motive. I wish there had been more extensive development on the other characters, including Hannah. She came off boring and repetitive at times. John Neville was a great addition to this book, and I found his interactions with Hannah intriguing. The Oxford setting was pleasing to visualize, and the group of friends made for a compelling read.
The beginning was rather slow and took me longer than I liked to get into. The ending, though, still had me shaken days later. The details of the murder were very clever, and I had to reread it because I did not fully understand what happened at first. It was smart, twisted, suspenseful, and unexpected. I went back and forth on suspicion of several characters being the killer. It was fun to keep guessing while reading! I appreciate a slow burn if the ending plays out just right, as this one did.

I considered a four star rating given how impressed I was with the unpredictable final chapters, but given how slow the beginning was, I will be rating this a three-and-a-half star read.
---
Kara V.
The It Girl centers around the murder of "It Girl" April, a wealthy socialite and first-year Oxford student. The book is told through April's friend and roommate, Hannah's, point of view. We get to see life before and after April's murder in—my favorite—a dual timeline format.
I liked getting to know the other members of the friend group and learning who April was before her death. Unfortunately she was pretty terrible, in my opinion. I honestly cannot picture her and Hannah really being "best friends." I would have loved to read more development with April's relationships because I could not understand why anyone hung out with her.
I love the dual timeline format for mysteries. It's so fun to slowly unravel all the secrets and details in the book, and this one kept me guessing until the end.
Much of the book focused on Hannah today, 10 years after April's murder, as she struggles with feelings of guilt, fear, and PTSD. I would have loved to get to know the other characters a little better, but Ware is such a great storyteller that I still felt completely immersed in the story while reading.
Overall the book started out a little slowly, but picked up around the halfway mark. I flew through the last 150 pages! I really enjoyed this book and would recommend it to anyone looking for a mysterious thriller that will keep you guessing.