The Codebreaker's Secret by Sara Ackerman Book Review is here! Isabel Cooper hums while she tries to decipher a Japanese coded message that has stumped the cryptographers in her Washington D.C. office. Meanwhile, WW2 rages on and The Naval Command in Pearl Harbor steps up their efforts to defeat Japan.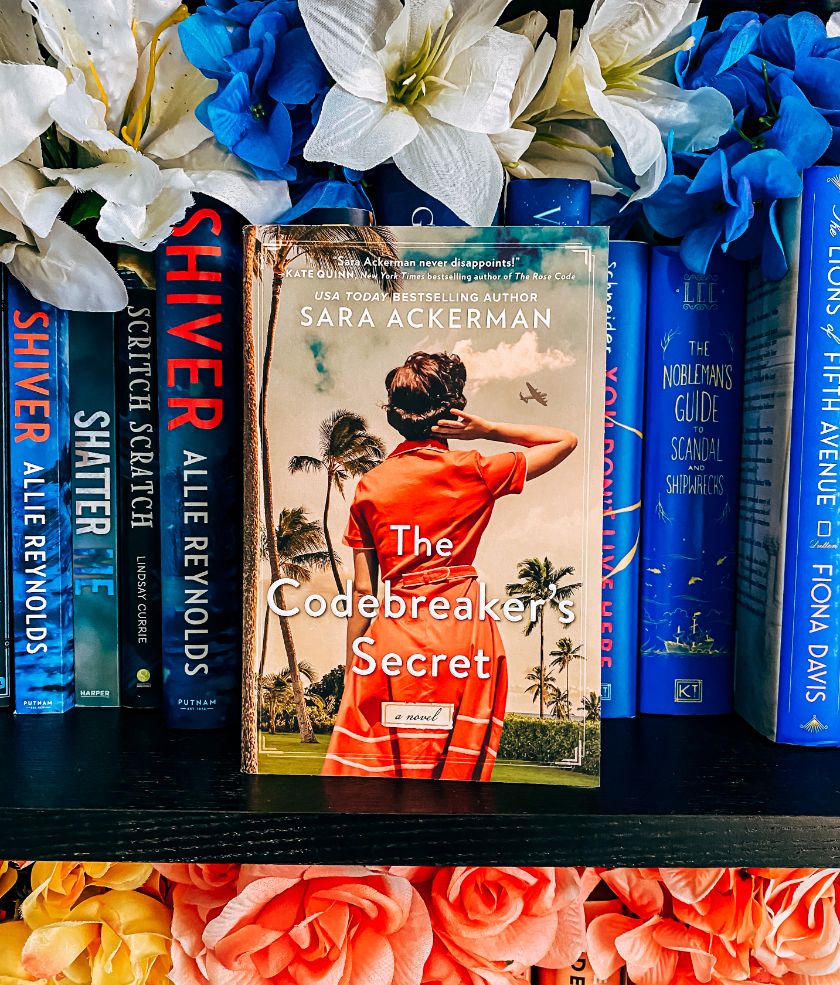 Isabel is one of the few selected to relocate to Pearl Harbor to assist in this ongoing mission. She is dedicated to her charge, but more than anything, she desperately wants to avenge her brother Walt's death caused by the bombing of Pearl Harbor just last year.
While working in Hawaii, Isabel meets new friends including her brother's best friend, Russi. Despite never having met before, they have an incredible connection to one another. They spend a lot of time together visiting her brother's favorite places, enabling them to relive some of his most memorable experiences. Rossi shows Isabel around the island, gives her surfing lessons and challenges her to try exotic foods. Russi has a carefree attitude and also a bit of a reputation with the ladies, but Isabel ignores the rumors and enjoys her time with him. They appear to be growing closer which thrills her roommate, Gloria, but Isabel feels that he may be holding back. 
Isabel and Gloria confide in each other about the men in their lives, as young women tend to do. There is something about Gloria's beau that bothers Isabel, but she lets it go. It isn't until Gloria goes missing that Isabel remembers something that Gloria once said about her boyfriend. Something that raises concern and a decades long mystery.
Twenty years later, journalist Lu Freitas returns home to Hawaii to cover the grand opening of a grand hotel. Many influential people are invited to stay in the luxurious resort, making the festivities a photo worthy event. When a V.I.P. hotel guest disappears, Lu meets a photographer named Russi and the two work the angles of the story and discover a connection to the past that they both share. 
Review
This historical fiction novel was a joy to read! I loved the well developed characters of Isabelle, Russi, and Lu and especially the strength of both women. The setting was beautifully described throughout and I could easily picture the gorgeous beaches and lush landscapes of the Hawaiian Islands. Dual timelines are always a favorite of mine, but the manner in which this was written added a surprise element that I did not see coming! The stories were woven together seamlessly between wartime and post war bringing out all the emotions of love and loss. I'm so glad I have another book by Sara Ackerman on my shelf waiting for me! My rating for this book is four-and-a-half stars because I would have liked a little more insight on what may have transpired between the two timelines. 
---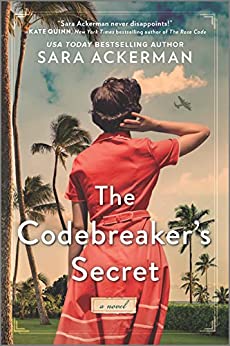 The Codebreaker's Secret by Sara Ackerman
Genre: Fiction/ Historical
The Codebreaker's Secret tells the story of Isabel Cooper. She is selected to go to Pearl Harbor to decipher code where she meets a handsome pilot. But he has secrets of his own.
Read more reviews on the book index.
Buy this Book: Amazon | Barnes & Noble | Books-a-million | Audible
---
What do you think of The Codebreaker's Secret by Sara Ackerman Book Review?
Drop a comment or give this post an emoji below! Thank you Mira Publishing for sending copies of The Codebreaker's Secret.
More reviews by our Contributors
Chandler M.
This is my first Sara Ackerman book and it left me excited to read more! The Codebreakers Secret has everything you want in a book: mystery, suspense, twists, and a love story.
The Codebreakers Secret bounced back and forth between 1943 and 1965. There is one character in common in both time periods: Mateo Russi. While reading this I was disappointed every time we switched time periods because I was so enthralled in one storyline, only to switch and get completely absorbed in the new time period.I absolutely loved Lu (the main female protagonist from 1963) and Isabel (the main female protagonist from 1945). They were both great strong female characters. The end of this book is what made this book a four-and-a-half star rating instead of a four.
The only thing that could have made this story better was more scenes between Russi and Isabel from 1943. I wish they had more time together back then, but it was still amazing.
I will definitely be reading more Sara Ackerman and am thankful to Carly-Rae for introducing her to me! I have not stopped raving about The Codebreakers Secret to all of my friends! 
---
Jennifer G.
Historical Fiction has always been one of my favorite genres, and The Codebreaker's Secret by Sara Ackerman reminded me why I love it so much! Ackerman weaves a beautiful story full of mystery and romance into the rich atmosphere and history of Hawaii, alternating between the 1940s and the 1960s. I really enjoyed reading about two interesting historical time periods. It added so much depth, not only to the characters' stories, but also to Hawaii's history. It was fascinating to see the incredible changes that took place on the islands in a relatively short period of time, from pre-World War II to Pearl Harbor and its aftermath, and the 1960s when it became a tourist destination.
The female main characters, Isabel and Lu, are enjoyable and give this story so much heart. They are both intelligent, navigating careers in male-dominated fields, and have tenacity and inner strength that is inspirational. They are also both in the heart-wrenching position of being in love and in war. The aspiring writer in me loved Lu's ambition as a journalist, but I preferred Isabel's storyline in the 1940s for both the codebreaking work and the sizzling chemistry between her and Matteo. The scenes of them together on the beautiful beaches of Hawaii and the juxtaposition of paradise in the midst of a horrific war, showed how precious those moments were. It's a powerful reminder to live in and appreciate the present and those we love.
This is a suspenseful, romantic, and beautifully atmospheric work of historical fiction that I give an enthusiastic five stars! While it has depth and tension, it does not have the heaviness of some historical fiction reads. This was my first book by Sara Ackerman, and I guarantee it won't be my last! 
---
Vinsci F.
The Codebreaker's Secret is a historical/mystery book narrated in two interlaced timelines of 1943 and 1965. The story is set in the beautiful and lush Hawaiian islands. World War II historical fiction is one of my go-to genres, and Sara Ackerman reminded me why I love it. The author's writing style was captivating and well-researched. She was able to draw me into both time periods, and I loved how her two main female characters were smart, fierce, and brave. 
I was fascinated by Isabel Cooper's job as a codebreaker. Reading how codebreakers operated to help decode enemy messages during WW2 made me appreciate their mission and their hard work behind the fields during the war. I also enjoyed reading  about aspiring journalist, Lu Frietas, as she covers the grand opening of the Mauna Kea Beach Hotel in 1965. One character's appearance in both periods both surprised and intrigued me. It made me wonder about the relationship between both periods and how Matteo Russi is involved. Stirring and intriguing with the mysterious disappearance of two women and one possible suspect, The Codebreaker's Secret is a riveting story about war, friendship, and love.