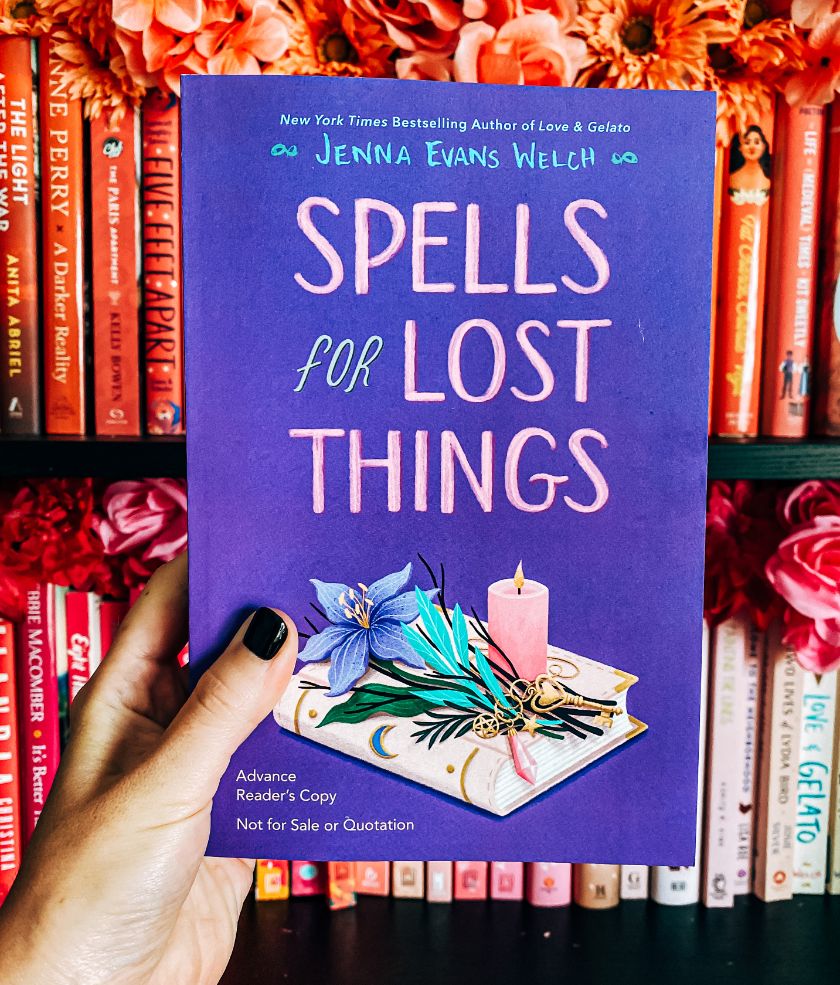 Spells for Lost Things by Jenna Evans Welch book review is here and is her newest novel. This book is a twist on Welch's signature heartwarming family stories, as she seeks to capture a heartfelt story involving witches in Salem, Massachusetts. But is it another hit for Welch?
Welch's ability to portray believable YA characters is immediately evident when the story opens with Willow lounging on a pool floatie in the shape of a pizza. Willow wants to travel the world, see everything, and find her true home. Her grand plans dissolve, however, when Willow's mother takes her to Salem after receiving news that her aunt Sage – who she never even knew existed – has died, leaving her mother the family home. Returning to the town brings secrets to light from her mother's past, which involves witches and magic. One thing her mom makes clear? She does not want the family house and is determined to sell it, while Willow feels a connection and wants her mom to keep it. Is there enough magic to mend this mother/daughter relationship that seems to have lost its foundation?
The book also switches POVs to Mason, who is in and out of foster homes. His new foster parents, Emma and Simon, appear nicer than the rest, but Mason convinces himself it is all temporary. Mason is holding out hope he will find his mom again, even if she isn't clean, and he will finally have his family back. Meeting Willow makes Mason question himself and he considers staying because being around her stirs something in him. He gets whisked into Willow's mysterious and magical family history, setting them both on a journey of not just uncovering the past, but discovering who they are.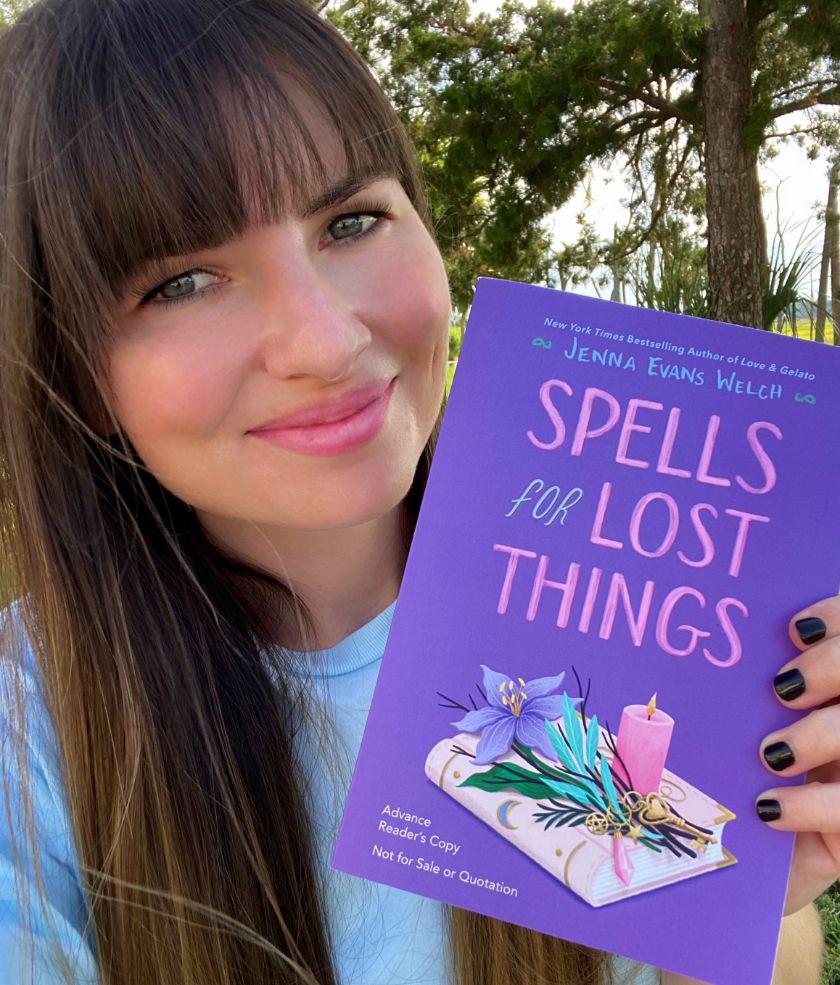 Review
Welch captures the magic of a family relationship like no other YA author. The characters are well-rounded and interesting, and their goals are clear in the first few pages. Willow wants to find a home, while Mason wants to find his mom. The storyline of witches was an unexpected, yet brilliant, addition to this story. I enjoyed learning about Willow's past, becoming fully enveloped in the historical aspects of this novel. One thing I did want was more of a punch in the writing. At times I felt like there was too much detail, making me wish the book wasn't so long. But it did have a strong ending that did not feel rushed, and I connected with all the characters. Overall, I recommend this book if you are looking for a heartwarming read that is unlike others out there.
Share your Spells for Lost Things by Jenna Evans Welch Book Review below!
I'd love to hear your thoughts! You can also read my exclusive interview with Jenna Evans Welch.
---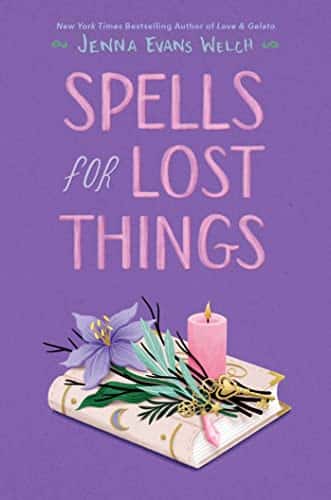 Spells for Lost Things by Jenna Evans Welch
Genre: Young Adult/ Fiction
Spells for Lost Things tells the story of Willow who wants to travel the world when fate takes her to Salem unraveling family secrets, and throwing her into handsome Mason's path. A coming-of-age story that will warm your heart.
Read the more reviews on my book index.
Buy this Book: Amazon | Barnes & Noble | Books-a-million | Audible
---
More Reviews from HeyitsCarlyRae Contributors
Chandler M.
Spells for Lost Things was my first book by Jenna Evans Welch and I loved it. Even though this book takes place in the summer, the modern day witch vibes have me feeling very festive and ready for Fall!
I love when books are written through dual points of views. It helps me connect to both characters. Willow was so relatable to me. My parents split up when I was in high school and reading about her feelings of loss and sadness makes me wish that I had her as a friend. I loved Willow's personality, drive for adventure, and kindness.
Mason was such a breath of fresh air. I absolutely loved his character, particularly because he loves science. Who doesn't love a book with astronomy AND sloth facts?! His growth throughout this story was one of my favorite parts. I loved how he was able to go from a place of complete darkness to shining his own light.
Spells for Lost Things was a four star read for me because it took me a little while to get hooked on the story. I hope other people read this book and feel a sense of relief knowing that they are not alone with their lost feelings, and can always believe in magic!
---
Jessica R.
Spells for Lost Things has so many characteristics I love in good books. There are elements of magical realism, found family, broken people finding healing in one another… and witches!
Both main characters – Willow and Mason – are crafted with equal amounts of brokenness, quirkiness, adorableness and something that makes you want to grab them and pull them into a tight embrace. And the premise of this book is well done. I love stories with scavenger hunts, clues, and research — and Spells for Lost Things has them all.
I especially love how much emotional depth Mason has (I feel like teen boys don't always get portrayed with so many layers), and how his personality manifests both in his notebook and how he treats his young foster siblings. He's not perfect, but his heart is stitched together with gold.
I also adored the witchy great aunties! I wish they had a bigger role in the story, but I ate up every second they were on the pages.
And finally, I love a book that can make me emotional. And this one yanks hard at those heartstrings.
Lindsey S.
Fifteen pages into Spells for Lost Things by Jenna Evans Welch, I posted on Instagram stories that I had a feeling it was going to destroy me. While it didn't break me like I thought it would, I still loved this book.
Willow and Mason, the main characters, are well-crafted and came across as real people. They're both struggling to find their place in the world. Willow feels ostracized from her parents post-divorce, and Mason is attempting to navigate yet another foster family who he perceives is trying to keep him from his mother. While I enjoyed their separate stories, I couldn't wait for them to intertwine.
I smiled like an idiot while reading their interactions and was reminded of that first-love feeling. Together, Willow and Mason rely on one another to help them find the thing they're craving the most: home.
This book was so close to being a five-star read until the very end. It wrapped up a little too quickly and perfectly. I understand the desire for a happy ending, and I'm okay with it when it feels natural. But there were a couple of plots in this book that were anticlimactic or felt rushed.
Spells of Lost Things was a quick read filled with great major and minor characters. I loved the lessons on healing and forgiveness, and the reminder of how important it is to be true to yourself. This was a truly beautiful story about finding your place in the world and about making your own magic–whatever that looks like.
Nicki C.
This was my first Jenna Evans Welch read, and I can say with confidence it will not be my last. This book had all the swoony feelings I love in young adult reads. The characters were well developed. I felt like I knew them and could relate to all their teenage feelings of wanting to belong. Willow and Mason were such strong individuals who came together to solve a family curse, unravel secrets, and eventually find what was lost to them. I loved the dual POV of both main characters. It gave insight into everything going on under the surface of Willow and Mason. The setting of Salem, Massachusetts, along with the coven of family witches, gave me feelings of Practical Magic and autumn coziness. While this story had all the witchy elements I love in a fall read, it really was about family. Willow lost her nuclear family and was desperately trying to figure out where she fit in her new one, while Mason never had any family he could rely on and was unable to trust the new family he was placed with.
Salem, family, witches, teenage love, and family secrets made this book something I would absolutely recommend as a fall read.
The only reason I gave this book four stars was because of the ending. I loved the ending, but it felt rushed. I would have liked a little more time with the characters' conclusions or an epilogue to see where they ended up.