For those that don't know, I am a huge fan of Jenna Evans Welch's writing style. Her Love & hooked me, and ever since I've read every book she's written. When she contacted me about her new book, I was so excited. I got even more excited when she sent me ARCS and was inspired to do a Spells for Lost Things by Jenna Evans Welch Book Dress.
My contributors and I did a featured review of Welch's new book, Spells for Lost Things, and we all really enjoyed this book.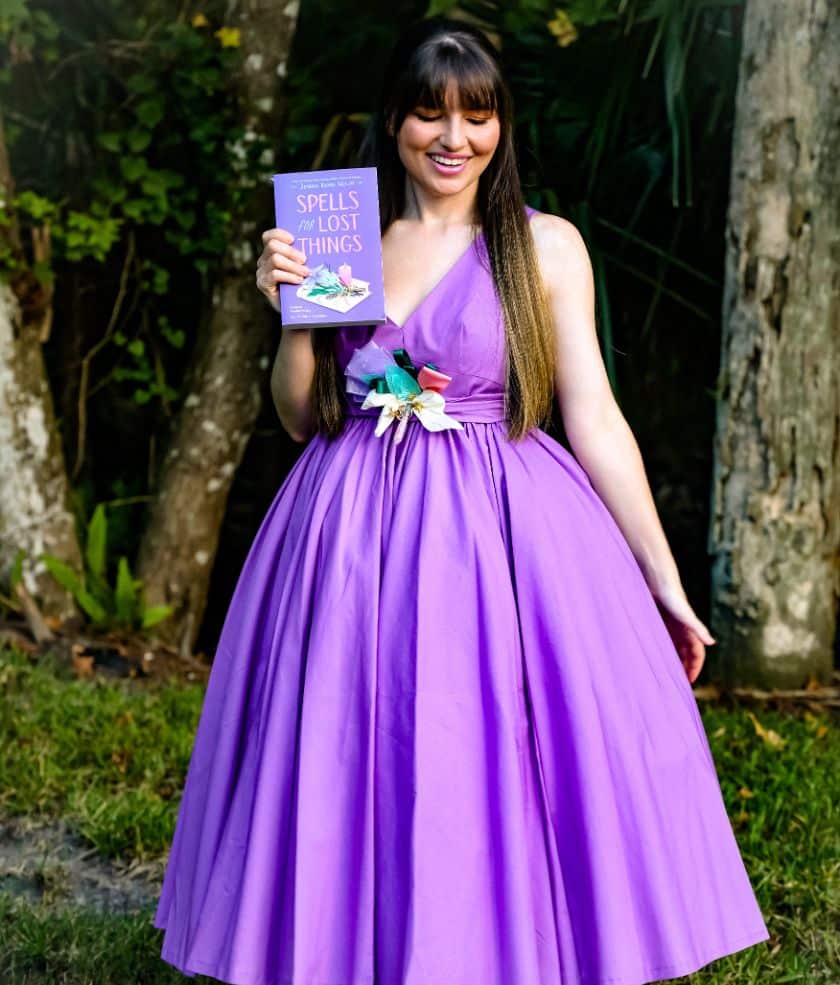 Spells for Lost Things tells the story of Willow who feels as if she has never found home. Instead, Willow's idea of finding a home is by traveling. However, Willow's idea gets halted when her mother takes her to Salem, Massachusetts, after an aunt Willow never knew existed dies–a long-lost aunt who, Willow finds out, was a witch.
While in Salem, Willow uncovers secrets about her mother and a part of family history she never knew about. She also meets Mason and the two form a strong bond. Yet Mason is also searching for home. He's been in foster care for a while and is trying to find his footing after going to yet another brand-new family in Salem. Told in alternating POVs, readers get both Willow's and Mason's perspectives while discovering how their stories weave together.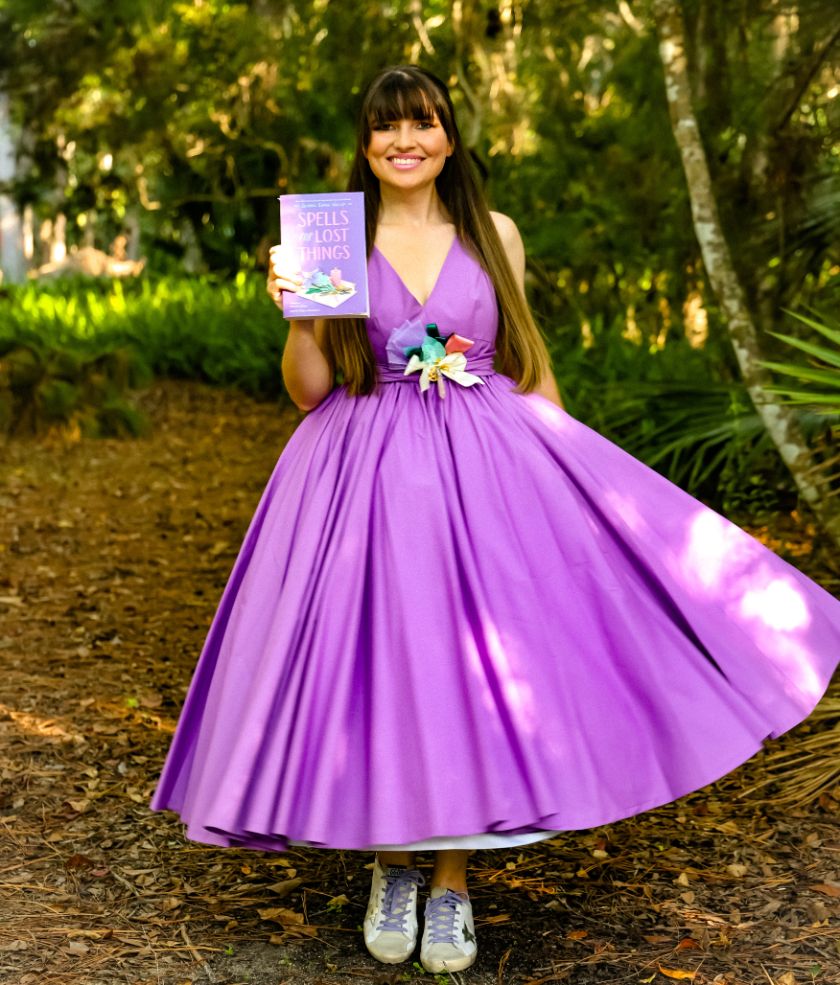 I reached out to Jacqueline about this book before I even got my hands on it because I knew I'd love any book from Jenna. The moment, I saw the cover, I fell in love with it. The unique purple hue with the spell-themed book, candles, and crystals is so fun.
Jacqueline says, "I wanted a sweet, simple shape that would mirror the simplicity of the cover design, with just the title and a small but symbol-laden graphic in the center. Without going too literal with the details, I tried to capture the essence of the colours and textures, mixing leaves, ribbons, and a variety of charms to bring in the book's light hint at witchcraft. A set of long waist ties finishes the dress, a nod to the idea of two stories that twist together to become one, paralleling the book's central structure."
My favorite part of this dress has to be the detail under the bodice. The crystal detail adds the perfect touch to pull out the fun of the cover. I also really like the unique purple hue of the fabric. Not only does it perfectly match the cover, it sets this book dress apart from the others.
For the photoshoot, I decided to let the dress do the talking by keeping accessories to a minimal. I paired it with my favorite Golden Goose sneakers with the purple heart to pull out the color hue, while choosing a delicate necklace to accent the neckline.
Drop a comment below about your thoughts on this book dress!
---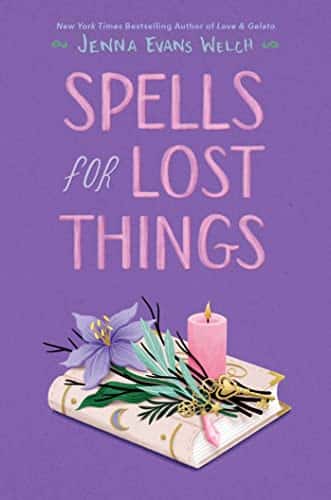 Spells for Lost Things by Jenna Evans Welch
Genre: Young Adult/ Fiction
Spells for Lost Things tells the story of Willow who wants to travel the world when fate takes her to Salem unraveling family secrets, and throwing her into handsome Mason's path. A coming-of-age story that will warm your heart.
Read the full review here.
Buy this Book: Amazon| Barnes & Noble | Books-a-million | Audible