Soul Taken by Patricia Briggs is the thirteenth installment in the Mercy Thompson series. Like the first 12, this one centers around a mystery that must be solved by Mercy, a coyote shifter, and her mate, Adam—who is also the alpha of the Tri-Cities werewolf pack.
The story opens with a familiar vampire, Marsilia, making a strange appearance to warn Adam and Mercy that they must find Wulfe – a very old vampire who has suddenly disappeared. She warns that if they don't, the hard fought peace that the pack has established between humans, fae, vampires, and other supernatural creatures will come crashing down around them.
Meanwhile "lightweight" supernaturals are dying – apparently sliced up by a sickle. The whole mystery parallels a new horror movie about a Harvester. How does it all tie together? Mercy and Adam are on the trail to get answers. And this time, Mercy is more connected than ever, experiencing visions and a connection with both the killer and some of the missing vampires.
If you're a fan of the Mercy Thompson series, you may have noticed that more recent volumes spend a lot of time explaining pack structures, alpha relationships, and relationships between species. And I suppose with any series running this long, that is necessary. You will find that to be the case in this edition. About the first 70 pages are given over to explaining backstory and relationship explanations. This same information also appears frequently throughout the book.
---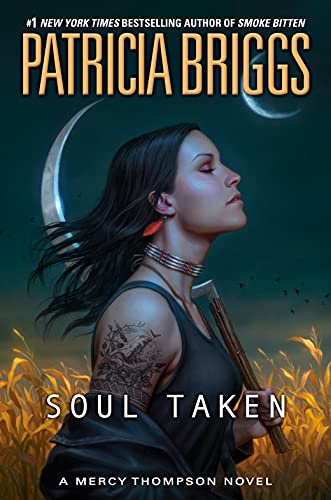 Soul Taken by Patrica Briggs
Genre: Urban Fantasy/ Paranormal
Soul Taken centers around Mercy Thompson who is a shapshifter and her mate. It's another installment in the series where Mercy must solve another mystery in time!
Read more reviews from our Book Index.
Buy this Book: Amazon | Barnes & Noble | Books-a-million | Audible
---
Review
I've read all 13 books in the Mercy Thompson series and these books have become comfort reads for me. I knew all the characters and the settings going into Soul Taken. I knew I was going to get a fun mystery, a little romance, funny characters and some crazy supernatural creature stuff when I cracked open the pages. I love Mercy and Adam – both as a couple and individuals.
Although this installment does check all the regular boxes, so much of Soul Taken was given over to backstory and explaining supernatural relationships, that it didn't leave much room for the story and adventure itself. I found that to be frustrating. I miss the first books where we jumped into the mystery immediately and got healthy doses of character development. The mystery didn't really ramp up in this book until the last 80-100 pages (out of 380).
I gave Soul Taken three stars (a far departure from my usual four to five star ratings for books in this series) because, in addition to the aforementioned issues, this particular volume also has several inconsistencies. While the book primarily is from Mercy's first person POV (per usual), Soul Taken also had a random chapter from Adam's perspective in third person that doesn't actually add much to the story. It's bizarre. Additionally, near the beginning of the book, Mercy went into a dangerous situation first because of her immunity to magic, but later she's placed away from danger as the weak link. We also didn't get much of the pack in this installment, which was disappointing.
The story was redeemed in the last quarter with action-packed confrontations and mystery resolution, but I had to push through a lot of other things to get to this point. I'm going to hold on to hope for the next installment. The way it ended, Briggs is obviously prepping for more Mercy.
Did you enjoy this Soul Taken by Patricia Briggs Book Review?
Drop a comment or give this article an emoji! Thank you Random House for sending free copies of Soul Taken!
More Reviews from our Contributors!
---
Natalie B.
I normally don't go for paranormal books, but when I read the synopsis of Soul Taken, I was intrigued. I have never read anything by this author before and I am slowly stepping outside of my reading bubble by trying new genres. Here are some of my thoughts on Soul Taken by Patricia Briggs. 
I really enjoyed the author's writing style and she did a fantastic job with describing everything that was happening. Never having read any of her books before, I was able to fully visualize what I was reading. At various points in the book, Briggs really captured my attention and had me wanting to continue reading. I felt that Mercy was a strong character and you really got to see the many sides of her. Her bond with Adam was sweet and I really liked how they connected. 
The reason I ended up giving this book a 3.5 star rating was simply because I felt like there was too much thrown in my direction. Even though I was able to read this book without having read any of the other books in the series, I found myself confused and it was difficult to follow along. I also felt that the book skipped around quite a bit and I ended up having to re-read passages just to try to understand what was happening. Even though I was confused during this book, the author's writing style and concept hooked me and I do genuinely want to go and read the other books in the series. I did enjoy this book, but I think that in order to better understand it, it would be beneficial to go back and read the previous books in this series.