I typically dedicate the month of October to spooky reads, but when Season of Love by Helena Greer unexpectedly showed up in my mailbox, I set those aside for this delightful sapphic holiday read. Greer has mentioned that with this debut book, she set out to write a queer holiday story with all the makings of a Hallmark movie. I'll say she definitely succeeded.
Synopsis:
Antique bedazzler Mariam Blum has made quite a name for herself over the last 10 years. She's amassed a following of supporters online who love her wacky and eccentric art, found a group of friends who share her passion for antiques, and has finally opened her own shop. Just as Mariam's life is starting to settle into place, the death of her Great-Aunt Cass knocks it down.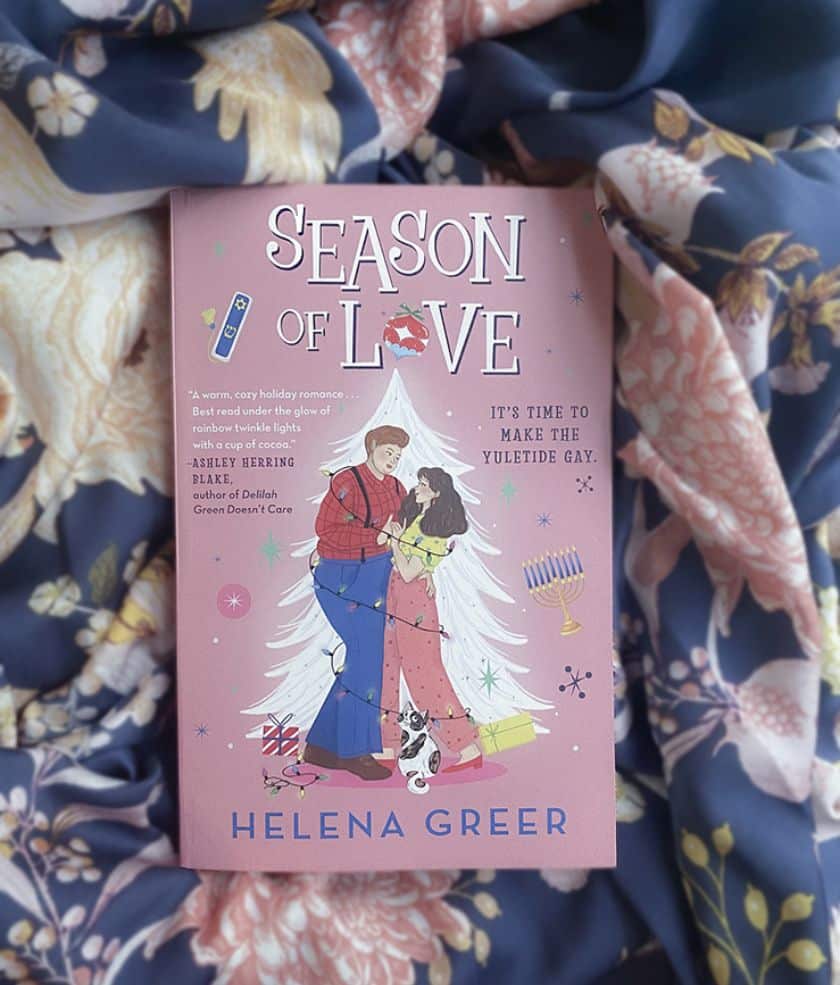 Mariam spent her childhood at Carrigan's Christmasland, the tree farm her aunt owned. However, it's been 10 years since she left and refused to look back. With Cass' death, Mariam is called back to the town of Advent to sit shiva. Not only must she face Carrigan's without her aunt, she must also make amends with those she left behind, including her cousin Hannah. Mariam intends to return to her decoupaged life until it's revealed at the reading of Cass' will that Mariam is now a part-owner of Carrigan's. The longer Mariam spends at the farm, with its twinkling lights and sugar-dusted memories, the harder it is to leave.
Part of that could also be because of tall, broad, lumberjack Noelle Northwood, the manager of the tree farm. Noelle has heard all about Mariam over the years, and knows just how devastating her abandonment was to Cass and Hannah–the two people she cares about the most. Everyone else may be willing to welcome Mariam back, but Noelle isn't. Her angry, preconceived ideas of Mariam don't do much to lessen the attraction between them, however.
Carrigan's survival is threatened numerous times throughout the novel, and as Mariam, Hannah, and Noelle work together to save it, Noelle's feelings about Mariam begin to shift. The more she gets to know the sprightly, tiny Jewish woman, the more her thickly-built walls start to crumble. Due to her fear of abandonment, Noelle has worked hard to keep her heart to herself, and running away has always been Mariam's MO, but what if Mariam was to stay? With Carrigan's–and possibly love–on the line, is there enough magic left on the farm for everything?
---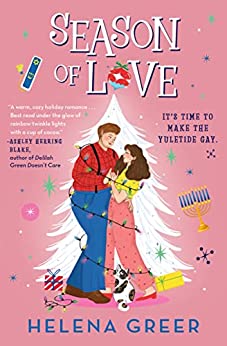 Season of Love by Helena Greer
Genre: Fiction/Romance
After the death of her great-aunt, Mariam Blum returns to Carrigan's Christmasland, a place she left behind a decade ago. When Carrigan's survival is threatened, Mariam must work with the people she abandoned, prove to them she isn't going anywhere, and try to keep her attraction to Noelle, the farm manager, from setting the whole place on fire.
Read more reviews on our book index here
Buy this Book: Amazon | Barnes & Noble | Books-a-million | Audible
---
Review:
I don't often read books that make me yearn for a place I'll never be able to go–probably because most of the time they're haunted by paranormal entities–but I want to pack a bag and go to Carrigan's. I want to befriend Mariam, Noelle, and the rest of the crew. I want to snuggle with Kringle the cat and shop for trinkets in the tiny town of Advent.
Greer did such a great job packing this book full of beautiful descriptions and honest, flawed characters.
Normally, romance novels are formulaic and tightly plotted, with one dramatic-filled incident that carries readers to the very end of the book. But Season of Love didn't feel that way. There were multiple, small incidents that moved the story forward. The plot and writing were quite loose and, at times, feel a bit disorganized. However, I didn't mind this. Real life is messy and chaotic; it isn't edited and carefully plotted. This looseness helped shape the honesty and realism of the book.
I love that the romance genre is seeing more inclusivity in terms of sexual orientation, body size, ethnicity, and religion. The town is full of unique individuals, from Ernie, the female owner of the bar, to the old, recovering alcoholics insistent on meddling in Noelle's lovelife. Noelle is a big woman, but at no point is her size spoken of negatively. In fact, the only time it's really mentioned is when Mariam is fawning over it.
This book is a hot cup of cocoa enjoyed by a blazing fire, and an easy four-and-a-half stars. It is one of my top reads for 2022 and I cannot wait to return to Carrigan's Christmaland in future books.
What did you think of this Season of Love by Helena Greer Book Review?
Do you have a favorite Hallmark movie? Let us know in the comments!