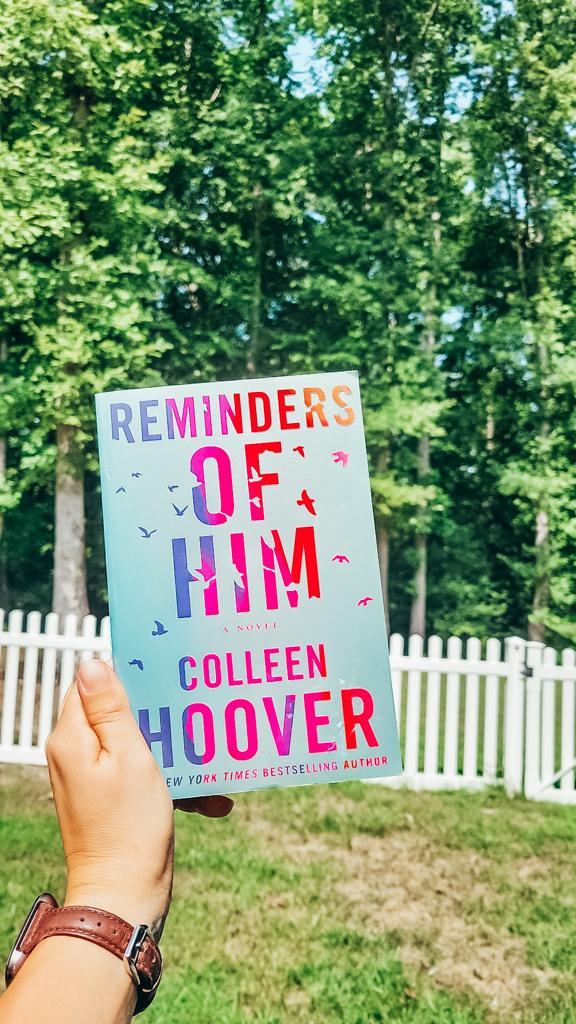 I stumbled upon Colleen Hoover, as many people did, through Instagram. The first book I devoured was Maybe Someday, and I was hooked after that. Book after book, Colleen Hoover broke my heart, but I always went back for more. Reminders of Him came out in January this year, and I actually checked it out from my local library. I loved it so much that I still bought a copy of it for my own library.
Synopsis:
Kenna is returning home after serving five years in jail for leaving the scene of an accident. However, this was not just any accident. This was a car crash that left the love of her life, Scotty, dead. She discovered she was pregnant soon after and had the baby in jail. After her daughter Diem was born, she went and lived with Scottie's parents, and they had full custody. Now that Kenna has returned, the only thing she wants is to be a part of Diem's life. Unfortunately, Scottie's parents do not want her in Diems' life because they still hold Kenna responsible for their son's death.
On Kenna's first night back in town, she meets a guy who works in a bar and has an instant connection. It turns out that he is Ledger, Scottie's best friend. He is like an uncle to Diem, and once he finds out who Kenna is, he doesn't want anything to do with her.
Kenna has spent all her money to get to this town to meet her daughter but soon realizes she will not be allowed that opportunity. She has no money to leave, and Ledger offers her a job at his bar to make some extra money on top of her grocery store job. The more money she makes, the sooner she will be out of the town and out of Diem's life for good.
Kenna and Ledger have so much connecting them, their love for Diem and Scotty. This mutual love brings them closer over time; eventually, they can't ignore their feelings for each other. One day Ledger finds letters Kenna has been writing to Scotty, and his feelings start to soften even more.
Thoughts:
One of my favorite parts of this book was the dual points of view, going back and forth between Kenna and Scotty. I finished this book in 24 hours because I HAD to know what would happen. This story RIPPED my heart out and then put it back together again. As a mom, I cannot imagine the hurt Scotties parents were going through or the pain Kenna was feeling. My emotions were all over the place. I LOVED the ending. This is one of my favorite Colleen Hoover books that I wish I could re-read for the first time.
What is your favorite Colleen Hoover book?
Learn more about Influencer Chandler. on our Meet the Influencer page. Also, thank you Simon & Schuster for sending this gifted copy.