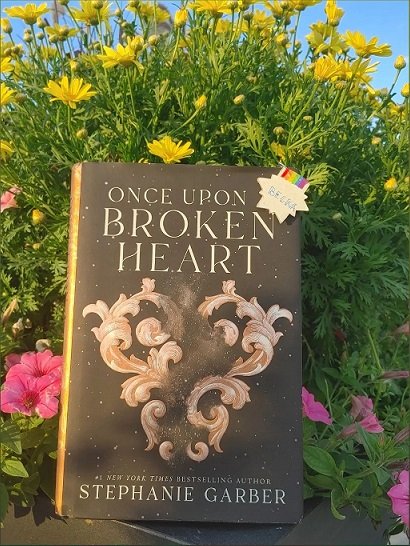 Once Upon A Broken Heart by Stephanie Garber Book Review is here. Let me tell you this book was even more than I hoped for! I picked this book as my Bookish Besties Influencer's July read. Why did I pick it? The cover is gorgeous, and that title had me curious. Did I know what this was about? Nope. Had I read any Stephanie Garber before? Also, no. Did any of this matter? Not a lick.
So what's this book actually about?
It's a twisted fairytale of sorts (right up my street). Our MC Evangeline thinks the love of her life has been enchanted to marry another. Of course, this means she makes a deal with an evil fate (The Prince of Hearts) to stop the wedding. This story gets all kinds of excitement right away.
The book is an interesting mash-up of more than one fairytale. There is some Cinderella, some Alice in Wonderland, and bits and pieces of several others included. Garber manages to throw all these bits into a melting pot and create something entirely new and fascinating.
Review:
I absolutely loved everything about this! There's a morally grey hottie (that oozes sex appeal). I hope book two focuses more on him because he's still a bit of a puzzle that needs solving, and I want that sex appeal put into play! Our MC, Evangeline, is a sweet, smart(ish), and feisty gal you really enjoy traveling through adventures alongside. And there are adventures to be had throughout this entire book.
The world-building is awesome, well developed, and totally easy to visualize. There are many evil plots to be thwarted, mysteries that need unraveling, betrayal, love, and magic. Stephanie Garber manages to accomplish all this with perfect pacing and gorgeous writing. To say this was highly addictive, and I am itching for the next book (releases September 13th, thank goodness!), would be an understatement. I cannot wait to get lost in the conclusion of this story while traveling through the beautiful world of fairytales Garber has created. This was an easy five stars for me. I hope you love it as much as I did!
Learn more about Influencer Becka W. on our Meet the Influencer page.