I was first introduced to Kerry Rea when Berkley Publishing sent me her first book, The Wedding Ringer, which I really enjoyed. When I saw Lucy on the Wild Side would be released, I reached out to Kerry. She sent  my team and me copies of her new book. I could not wait to read it because the cover is so so cute!
The story follows Lucy Rourke, who loves two things: her gorillas and watching reality TV shows. Lucy is determined to become the head keeper of gorillas at the Columbus Zoo, but things hit a snag when Kai Bridges, the hotshot host of a wildlife documentary series, shows up. And he just so happens to be filming at Lucy's zoo. At first, Lucy is excited to share her gorillas with the world, but when Kai shows up, Lucy is less than impressed.
All he seems to care about is the show's ratings, but as Lucy gets to know him, she learns Kai is deeper than he first appeared. But when secrets start to unravel, they threaten to destroy their newfound romance. Will the two be able to overcome the odds? Find out when you read Lucy on the Wild Side.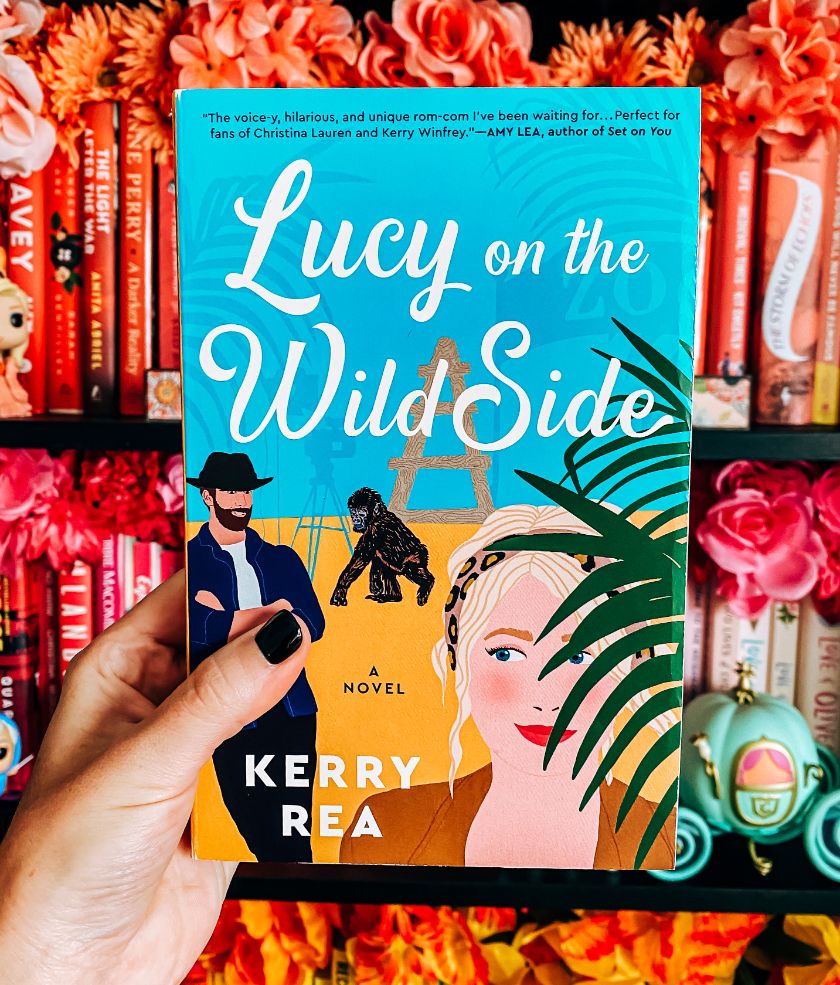 Review
Lucy on the Wildside was another great rom-com read from Kerry Rea! I definitely judge a book by the cover, and I was a fan at first glance. But what kept me interested (and a fan) was the story. Rea does a great job with characterization, laugh-out-loud moments, and crafting a plot that kept me engaged. My favorite part was definitely the backdrop of the zoo combined with the gorillas. Having her love interest, Kai, be a part of a docu-series was a fun twist I enjoyed, as well. I felt that their relationship developed in a natural way, although I could've done with some more romance. While I did love Lucy's voice in the story, I almost wish I got to experience some chapters from Kai's POV. I think it would have added a fun twist to the story! Overall, it's a fun read that I recommend!
---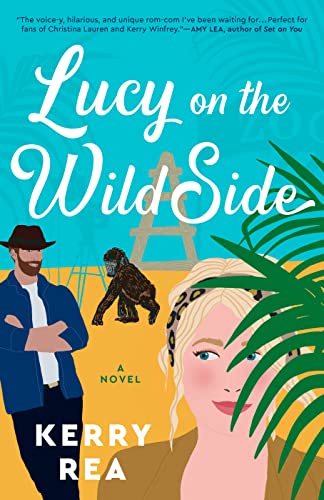 Lucy on the Wild Side by Kerry Rea
Genre: Fiction/Romance
Lucy on the Wild Side tells the story of Lucy Rourke who loves her gorillas. She wants to become the head keeper but Kai isn't helping.
Read more reviews on the book index
Buy this Book: Amazon | Barnes & Noble | Books-a-million | Audible
---
Did you enjoy this Lucy on the Wild Side by Kerry Rea Book Review?
Drop a comment below or give this post an emoji bookish besties!
More Reviews from our Contributors
---
Sarah B.
I have always been a huge fan of animals, zoos, Animal Planet…you name it. This book brought together romance and the behind-the-scenes of a zoo keeper.
Lucy, the junior zookeeper, is so good at pushing the important things of her life behind her and only focusing on her job. At times, I wanted to yell at her and tell her to open up! But also I understood her character. It's hard opening up to people and telling them your secrets.
Kai, the outdoorsy, handsome, and famous host of On the Wild Side, isn't what Lucy expected. She is surprised when she dislikes him. Kai is initially rude and not kind to her, and his personality often feels like an act. Their relationship changes a lot through the story and I love the banter between them.
Overall, I loved this book! I loved the animal/zoo factors and the relationship between Lucy and Kai. I also appreciated how Lucy learned to overcome her own obstacles by talking to others and listening to the help offered to her. Lucy was surrounded by loving friends and family, but she was so disconnected from them, she didn't realize it. It was great to see her grow and learn how to make the best of her past. This was a great rom-com and made me laugh a lot, but it also had a deeper storyline than what's on the surface. There was a little spice in there, too! I highly recommend this book! 
---
Chandler M.
Lucy on the Wild Side was a fun, quick read that made me laugh and smile while reading it. 
I absolutely loved learning all of the fun facts about animals. I was constantly texting my friends about everything I learned, like that sloths don't fart and about the mating habits of hyenas (look it up). I would even Google the facts at first because they were so wild.
The character Lucy felt very relatable to me. While I try to be a "Positive Patty," I find myself being a "Negative Nancy" quite often. I feel like Lucy definitely had some negativity radiating off her. The ending was cute, though, and left me feeling all bubbly inside.
I wish there had been a little bit more chemistry between Lucy and Kai. Maybe being able to see Kai's point of view, or feel more of the tension building up, would have helped. Lucy on the Wild Side did have a little bit of instalove, as well as the miscommunication trope, which I sometimes struggled with.
One really important reminder I took away from Lucy on the Wild Side is that things aren't always what they seem. While from the outside something might look perfect, that doesn't mean it actually is.
This was a four star read for me. I will definitely be reading Kerry Rea's first book, The Wedding Ringer!
---
Natalie B.
I had the pleasure of meeting Kerry Rea at a book signing. With the way she talked about her book, I was already invested. So of course I jumped at the opportunity to read her second novel, Lucy on the Wild Side. This book was such a fun and quick read. It really made me feel for the main character.
Lucy is a complex, career-driven person. She starts off as someone who doesn't want to let anyone in because they always leave. Throughout the book, you get to experience her open up and challenge herself. Kai really pushes her to be her best self and even though they start off rocky, they eventually create this unique and beautiful friendship that turns into more.
I adore Kai and how he helps Lucy overcome her fear of cameras. He starts off grumpy towards her, but underneath he is this giant, nerdy teddy bear. People aren't always what they seem, and the author really showed that with Kai. His affection and friendship with Lucy had me smiling and laughing throughout the book.
I rated this book four stars because I was hoping for more intimate and cute moments between the two of them. We only got one scene and the rest were more closed-door. Although I loved all the moments between the characters, I felt like sometimes their relationship was a tad rushed and we didn't get to see it blossom as much as I would have hoped. That was just a minor thing amongst a generally good book. Rea's writing style made me want to go out and read her debut novel.
---
Jessica R.
I met author Kerry Rea when she hosted Elena Armas's book signing a few weeks ago. In person, Kerry was hilarious and so cute and quirky. It made me even more anxious to get my hands on Lucy on the Wild Side.
This book was such a fun surprise. I love that not only did I get a great romance, but I was also served so many interesting facts about animals during Lucy and Kai's awkward, nerdy banter. The plot with the surrogate baby gorilla was interesting and made me invested in the gorillas of the story.
I also loved the plot about Kai and his famous gorilla conservationist mother. And the fact that all of this is set in Ohio made me happy!
I loved everything about this book, but wanted a little more chemistry between Lucy and Kai. Lucy was so mean to him in the beginning, that it was a little hard for me to imagine why he was interested in her. I also wanted a little more epilogue, but that's just the sign of a good book.
---
Jennifer G.
When I was a kid, if you asked me what I wanted to be when I grew up, the answer was always "veterinarian," although zookeeper was probably a close second. If this was you too, run – do not walk – to pick up this unique, witty, sexy, heartfelt, and utterly bingeable rom-com! Lucy on the Wild Side made me laugh, cry, and wish for more time with these lovable characters.
This book has all the hallmarks of a great enemies-to-lovers romance, including some hilarious, sarcastic banter. Beneath the surface though, there is also a compelling and emotional story of self-discovery. Kerry Rea added many unique layers to Lucy and Kai through their shared love of animals, dedication to their careers (the gorillas!), and childhood trauma centered around their mothers.
There are so many aspects of this book that are original and unexpected, one being an interesting twist on the celebrity/normal-person trope (one of my favorite tropes). Lucy is the "normal" person, and Kai is the celebrity, but both their mothers are also celebrities, which affected them in similar ways and made them unlikely kindred spirits. Their friendship, mutual respect, and the loyalty to each other that develops over time is really touching. I was rooting for them so hard, and the ending was everything I hoped it would be!
I adored this book and think it's a must-read if you are an animal lover and a fan of enemies-to-lovers, but are looking for something truly unique. Lucy on the Wild Side is a fresh, smart, heartfelt romance that may just be my most pleasant surprise of the year to date!