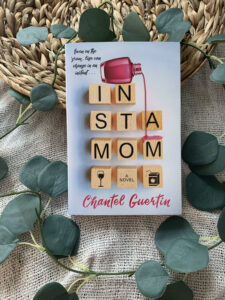 Before finding bookstagram, I am not sure this would be a book that I would have picked up. I would have been worried about not relating to the main character's Instagram life. But I would have been missing out on an adorable read!
Synopsis:
Kit Kidding's life is all about hashtags, promoting brands, and giving women the empowerment to live the life they choose. For most of her Instagram followers, that is a child-free lifestyle. It's not that she doesn't like children, but that all women shouldn't be expected to be mothers. She meets a handsome chef, Will MacGregor, who not only avoids social media but is a single dad. While trying to keep things as casual as possible with Will, Kit realizes that Addie—Will's daughter—isn't so bad to be around. Now Kit must choose between the career she has worked so hard to build or a new path she wasn't expecting.
Review:
I devoured this book. Chantel Guertin's writing was entertaining and made for a lighthearted, quick read. The character development for Kit was fantastic. She slowly molds into the person she wants to be. The way she worked through her situation was relatable. Addie's character was real and authentic. I enjoyed that the author didn't write her as this perfect child. It was emotional to read about her struggles of losing her mom at a young age and how she could connect with Kit in that area.
Some of Will's choices may have seemed harsh, but I liked how he was trying to juggle being a father and significant other. While this is a closed-door romance, the connection that forms between Will and Kit and Kit and Addie is sweet to read. This book focuses on accepting women who choose a child-free lifestyle. But I felt it gave an overall message of not judging others on the lives they choose to live. That includes understanding that we evolve over time into different versions of ourselves and are allowed to change our opinions. If you want a fun and heartwarming read, this one is for you!
Learn more about Influencer Kelsey on our Meet the Influencer page. Thank you Kensington Books for this copy!