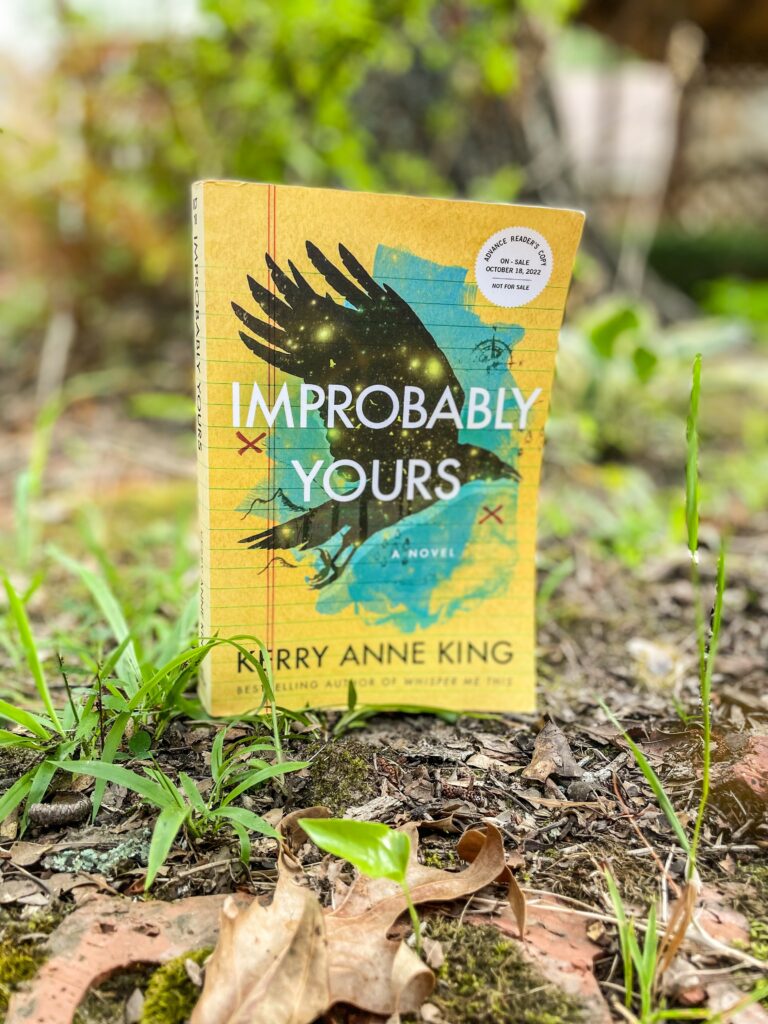 Improbably Yours by Kerry Anne King Book Review is here. I'm new to Kerry Anne King's writing, but as a lifelong lover of treasure hunts and buried secrets, I knew that Improbably Yours was going to be a book for me!
Synopsis:
In its pages, we meet Blythe, who has a seemingly perfect life. She lives with a man who loves her, and he has a successful life plan for both of them. She's even got an interview for an elusive high-powered job. But Blythe isn't exactly happy. She moves through life following the path of least resistance. When her boyfriend stages a grand proposal on Blythe's birthday in front of her whole family, he's interrupted by a singing telegram and a package from beyond the grave.
Blythe's Nona has left her a package with a series of clues and a childhood map to a remote island. And she's instructed her to bury her cremated remains near a specific tree. But she must first navigate a series of clues to find the location.
Upon arriving on the island, she meets a brooding, handsome Viking of a man, Flynn. Plus, she gets wrapped up in the annual touristy treasure hunt. While she's there, Blythe stays in the old, haunted Improbable House. The place where Flynn's sister, Frieda, died. But Frieda's 12-year-old daughter also roams the house as she comes to terms with her grief. Together the three follow a series of clues and embark on a treasure hunt of their own around the small island.
Review:
I loved so much about this book. The allure of hidden messages and treasures has been one that followed me throughout my life. Blythe is a fantastic main character. I loved watching her find herself as she discarded the life everyone else wanted for her and stepped into the one she was meant to have. Flynn has a surprisingly dark and haunted past, and I love how he, too, learns to work through the things that still haunt him. And 12-year-old Savannah is a breath of feisty fresh air that gave the story much-needed depth.
The one major drawback to this novel for me is the instant love troupe. It's never a favorite of mine, but it seems especially weird in this book. Thinking you're in love with someone in only six days after one awkward dinner sort of date and a brief kiss stretches the imagination. Though, to be fair, the island certainly has touches of its own magic that might encourage love.
I'm thrilled that this book will be out in October because it's full of mystery, ghosts, and things that go bump into the night. Not to mention it also has the inadvertent terror of a derpy dog and a talking raven.
I really enjoyed the small magic and found family in Improbably Yours, as well as the wonderful, lovable characters. It made me want to create a treasure hunt for my own family to participate in.
Are there other books with supernatural undertones you'd recommend or want to hear more about? Let me know!
Learn more about Influencer Jessica R. on our Meet the Influencer page. Also, thank you to the author Kerry Anne King for sending this gifted copy.