Before I get into my Five Dates Between Friends by Erin Thomson book review, i first want to thank Erin Thomson for allowing me to read this book before it was published!
I was scrolling through my Instagram feed when I came across Erin Thomson's page where she was offering an ARC for their new book, Five Dates Between Friends. I didn't know much about this book, and I'd never read this author before, but I was hooked by the synopsis. The title sounded fun, as well as the description. I sent a request to the author and was granted access.
Are you a fan of a good friends-to-lovers romance novel? If so, keep reading for my thoughts on this book, as well as my overall rating.
SYNOPSIS:
This book follows two best friends, Chase and Mack, who also happen to own a bar together. After a crazy event, they end up kissing and things between them change. Chase wants to forget the kiss ever happened, but Mack has other plans. He proposes they go on one date, and if she doesn't want anything afterwards, they will remain best friends. One date is all it takes for the chemistry that's been building for 15 years to explode between them–and one date isn't going to be enough. Their romance grows as they go on more dates, but will their individual past relationship struggles and insecurities stand in their way, or can they truly make the transition from friends to lovers?
---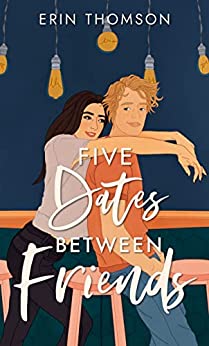 Five Dates Between Friends by Erin Thomson
Genre: Contemporary Romance/ Romance
Five Dates Between Friends tells the story of best friends Mack and Chase. But when one kiss leads to more will they decide to take that leap of faith and go to the next level?
Read more reviews on the Book Index.
Buy this Book: Amazon | Barnes & Noble | Books-a-million
---
REVIEW:
I absolutely adored this book! I appreciated the writing style of Thomson and how she wrote the dynamic between the characters. I related to both Chase and Mack! Thomson wrote their story in such a beautiful way that you can't help but fall in love with them both.
Chase was spunky and fun to read! She grew up her whole life witnessing her mother struggle with relationships, then ended up having her own issues as she grew older. She always felt like she was the throwaway girlfriend who was only good temporary. She fought with herself throughout the entire novel, trying to admit she deserved something more with Mack while also feeling like she would never be good enough for him. Readers can relate to feeling like they aren't good enough, but also sympathize with Chase feeling scared of wanting more with Mack.
Mack was truly a pleasure to read about, too. You could tell Chase was his person before he was even confronted about his feelings for her by multiple people. He'd always wanted her, but had his own reservations as to why he couldn't follow through. For most of his life, he felt like he was only good for a fling, making him unworthy of a relationship. He would date girls, sleep with them with the intention of more, but never pursued them after that. With Chase, it was different, and Mack took his time with her. His issue with feeling like he was stuck in his life without any goals or plans was super relatable. I found myself really feeling for him and understanding how scary it is to go after your dreams.
I truly adored this book, and when I found out it was Thomson's second book, I went back to look at her previous one, The Wedding Planners. It has the same characters as in Five Dates Between Friends, but focuses on a different couple. I will be reading her previous book. I am always hesitant about friends-to-lovers stories, but this one was done beautifully and I ended up giving it five stars.
Did you enjoy my Five Dates Between Friends by Erin Thomson Book Review?
Drop a comment below or give this article an emoji! If you liked what you read in this review, then watch out for more when the book is published on September 7, 2022 through OMC Press.
Popular books from this author
---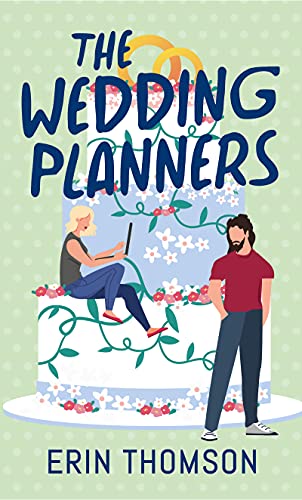 The Wedding Planners
Genre: Fiction/Romance
The Wedding Planners and is first in Thomson's series that tells the story of Nash (a chef) and Jemma (works with a catering business) as they work on building a relationship after a one night stand all while working together on his sisters wedding.
Read more reviews on the book index.
Buy this Book: Amazon | Barnes & Noble
---