Chef's Kiss by T.J. Alexander Book Review is here!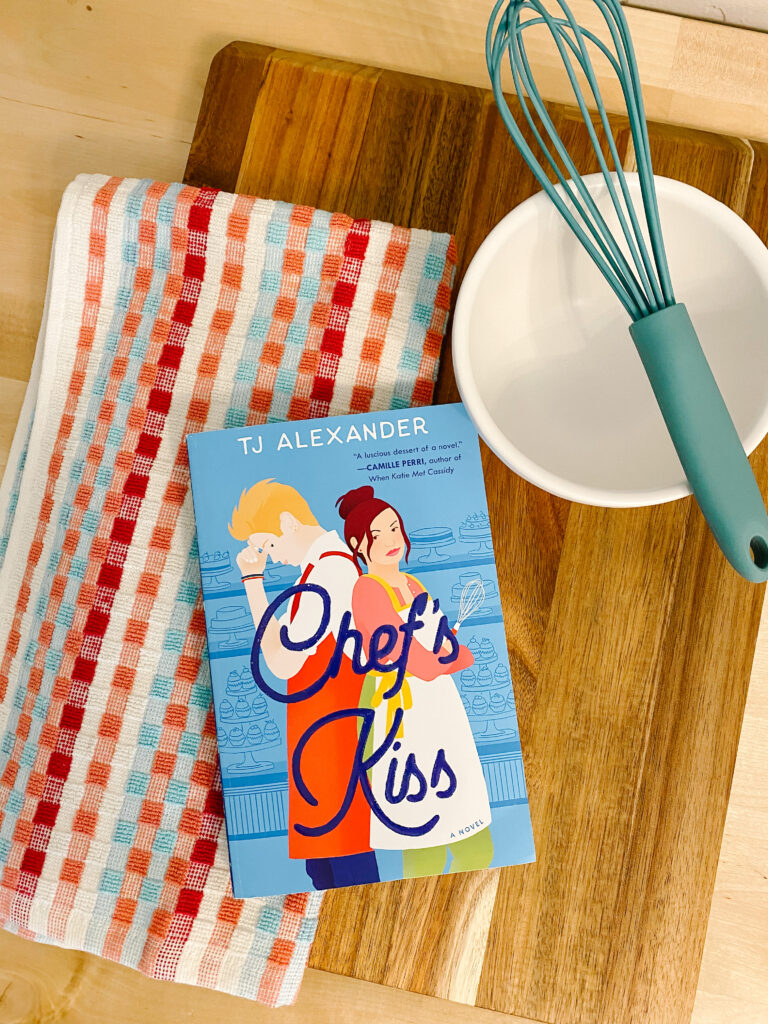 Synopsis:
Chef's Kiss follows 28-year-old Simone Larkspur, a pastry chef at a failing cookbook publisher in NYC. Working at The Discerning Chef is a dream for Simone; she loves the thrill of cultivating new recipes and perfecting old favorites. However, things begin to change quickly at The Discerning Chef when they realize they need to change their marketing and distribution tactics to appeal to modern readers.
Simone is a creature of habit. But to keep her job, she must begin making videos with the new test kitchen manager and internet sensation, Ray Lyton. Ray infuriates Simone. Their constant chatter and easy personality, not to mention reorganization of the kitchen, are challenging her orderly life.
However, as they spend more time together, Simone finds herself looking forward to filming her videos with the charming kitchen manager. Ray eventually comes out to Simone as nonbinary, and Simone finds herself enraged at how The Discerning Chef continues to misgender and hurt Ray.
Through lots of forced proximity and some tender heart to hearts, she finds her feelings growing into something less than platonic for Ray. Can she support Ray and keep her dream job? Or will her dreams change to accommodate a future with them?
Review:
I enjoyed a lot of aspects of Chef's Kiss. But I want to mention that the romance piece of this book was very light, and the ultimate slow burn culminated in a steamy moment. I would consider it more general fiction than romance. The story's focus is on the conflicts, changes, and misgendering at The Discerning Chef. This book was also much heavier than I anticipated but also very thoughtful. It was very insightful to read about the challenges of coming out at work and the constant problems that queer and specifically nonbinary people face.
Things I really liked:
The food references. Read with caution; this book will make you insanely hungry!
I loved Ray; they were by far my favorite character. They are brave, funny, charismatic, and kind. I felt so protective of their character and was so angered by how they were constantly being misgendered.
This book also has wonderful queer representation, including bisexual, lesbian, nonbinary, and trans characters.
Chef Lisette was also a pleasant surprise, and I love how she supported Ray and Simone during the event and the story she shared about her grandson.
Things that weren't my favorite:
I struggled to connect with Simone's character for the story's first half. She is serious, grumpy, and reserved. I normally really enjoy the grumpy/ sunshine dynamic, but I really wanted to know why she was like that. The story doesn't include much regarding her family or childhood, which I think would have been a helpful addition. However, I will say she really grew on me in the second half of the story. She became much more likable when her protectiveness over Ray kicked in.
With Ray being my favorite character, I really wish we could have gotten a dual POV. There were so many moments when I was wondering what was going through their head, and I would have loved to read that.
Overall, I think this was a great debut for Alexander. Chef's Kiss is thoughtful, progressive, and sweet; I look forward to reading their next book! Thank you so much Carly Rae for a copy of this book in exchange for my honest opinion.
Learn more about Influencer Kate A. on our Meet the Influencer page. Also, thank you Berkley Publishing for sending this gifted copy.