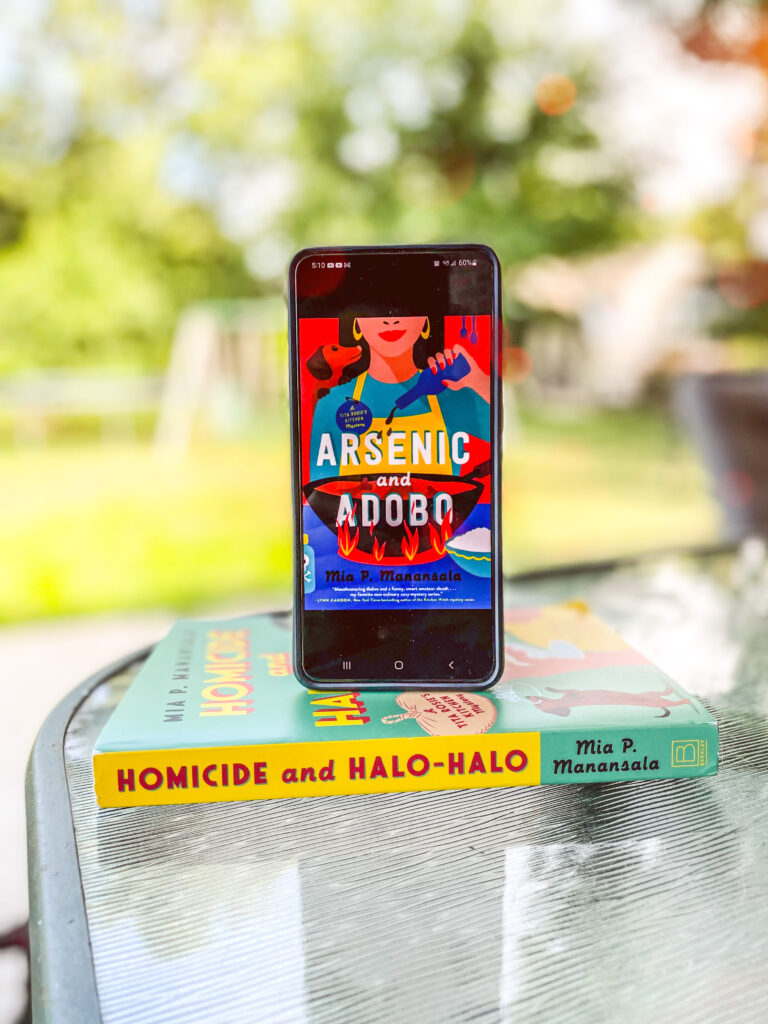 Arsenic and Adobo by Mia P. Manansala Review is here. Before jumping into Arsenic and Adobo, I first picked up Homicide and Halo-Halo, also by Manansala. I was drawn in by its promise of Filipino cooking, a good mystery, and an adorable dachshund on the cover. But after a chapter into Homicide and Halo-Halo, I quickly realized that it was a sequel, and I needed to glean the contents of the first installment before I jumped into the second.
Summary:
Like its sequel, Arsenic and Adobo promise Filipino family and food and a good mystery. In its pages, we meet Lila. She has recently returned to her hometown of Shady Palms to help with her Tita Rosie's restaurant after living in Chicago. And not only is she struggling to readjust to hometown life and her overbearing Aunties, but she's also dealing with her contentious ex, Derek.
And Derek has earned a reputation for giving local restaurants terrible reviews in the local paper. While dining at Tita Rosie's restaurant–despite giving it a terrible review–Derek keels over and dies, landing Lila in the spotlight as the primary suspect in a murder investigation.
Over the course of the book, Lila fights to clear her name. She interviews people who work at other local restaurants that Derek nearly put out of business with terrible reviews and a push for bad health inspections. Lila bounces from business to business and uncovers a sordid affair, an underground drug ring, and a host of nefarious and corrupt practices while trying to rediscover her role in her hometown again.
Review:
I loved Lila! She's feisty, resilient, family-oriented, and loves experimenting with traditional Filipino desserts. She is the heart and soul of Arsenic and Adobo. Her growing friendships and relationships with her best friend, her lawyer, and a local dentist are also very enjoyable to read about. Perhaps my favorite parts were how well food and desserts were seamlessly incorporated into the story. They give it depth and culture.
My biggest hangup was that, as a journalist, I honestly couldn't wrap my head around why a newspaper would continue to publish only bad restaurant reviews. Then there is the fact why readers of the paper would take them all seriously when they were continuously bad. Manansala does note that the paper is staffed by volunteers and interns. But that also seems to undermine the paper's legitimacy. I thought it needed to be better explained for such an important element of the story.
Overall, I really enjoyed this great little cozy mystery and looked forward to jumping back into its sequel! I'm relatively new to the cozy mystery scene, but I'd love to read more. Which titles would you like to know more about? I've got my sleuth hat on, and I'm ready to investigate!
Learn more about Influencer Jessica on our Meet the Influencer page.